James was born with Arthrogryposis Multiplex Congenita (AMC), a condition which affects his upper and lower limbs. Secondary to AMC, James has scoliosis of the spine, and most recently osteoporosis in his lower limbs.
"Just as an add-on!" James joked, citing humour as the best medicine of all.
He may be just 23 but James has already had his fair share of obstacles. Despite this, he has incredible achievements to his name. Coming from a busy family of nine, normalizing disability is something James had great experienced early on.
"There was no time to wrap me in cotton wool or to look at me any differently. It was that model of normalisation that Mam and Dad brought about. And then my brothers and sisters did have as well. And that followed through into primary school when I went into mainstream education."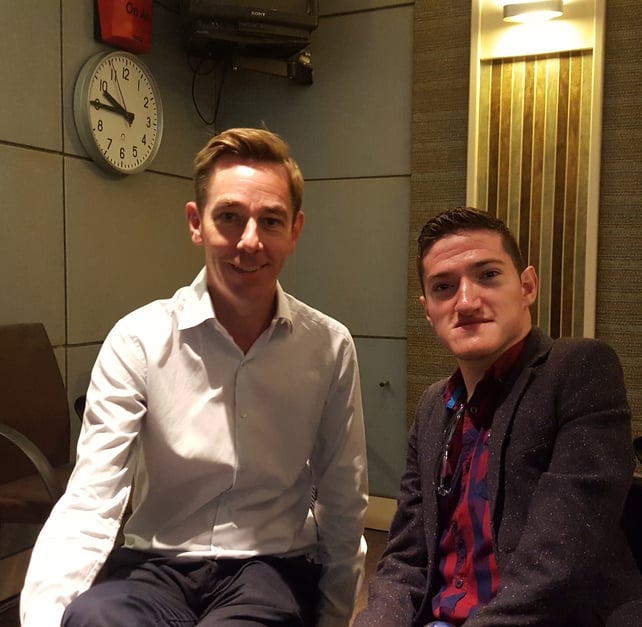 "Like that, I was told to do everything, get involved in everything, and if I couldn't do things, adapt to them" James told Ryan. "Get out there and if you fall, get back up again. That is important because that is life, and it happens everyone."
Normalising disability
James wants more to be done to normalize disability. "When kids see you out, they're just curious. They want to know 'Why is that man in a wheelchair?'"
"Most recently I was in a shop down home. And this little boy goes 'Mammy he has a wheelchair like Grandad.' He identified the wheelchair with Granddad. And instead of the Mother reefing him away, like most Mothers and Father's would do with "Don't be asking that!" she actually said 'Oh it is the same wheelchair. His is black, and yours is Blue.' It normalized the whole conversation. He was happy, I was grand with it. That's the way it should be, it should be discussed. Then when you're home, then tell them 'It's a disability.'
While children are just curious, James told Ryan how adults can be very patronizing to him.
"When we're out, I've a lot of able-bodied friends and I'd be only person in a wheelchair out. And often what happens is people come over when they're intoxicated and they'll say 'You're a great little fella for going out' or I get the pat on the head an awful lot. And I say "Don't ruin the hair". And [they say] I've great courage for going out and I'm being congratulated."
Listen back to James Cawley's interview on The Ryan Tubridy Show here:
"It's water off a ducks back now but again I always take the opportunity to educate them at that point. Every opportunity you get to tell people. Just ask the question. But you're not public property at the same time. Congratulating people? Like come on, it's a bit patronizing."
On his new role as a teacher...
"I've been helped all my life. So I wanted to give something back. Teaching is a really good profession to do that. I just accepted my first teaching job in Maynooth Community College. I'm starting at the end of August and I'm looking forward to that."
Ryan asked James about how students will be with a teacher having a disability?
"It's very obvious I'm in a wheelchair. And again, humour is the best thing. Throw in the odd joke 'That's the way I roll'. The first or second time they're kind of like 'Do we laugh? Do we cry? What do we do? Do we look?' Then they get to know me. At the end of the day if we normalise it.
James went on to explain how we need to get people out in the public to normalize roles for people to see. He frequently gives talks on disability and one talk sticks out in his mind about what we all should be doing.
"I can remember in St. Josephs in Lucan I got the opportunity to give talks about my disability. In my fourth or fifth talk, I get people to identify what part of me is disabled. They might go and say what they see like Wheelchair or brown shoes or something like that. And this girl put up her hand and said 'I just see Mr. Cawley.'
It was at that point James saw what people need to do to pro. and at that point I said this is what we should be doing. Getting people out to normalize these roles because she was just seeing the teacher. There was no wheelchair, no disability."