Growing up as Lottie Ryan must have been a double- edged sword. On the one hand she was the daughter of one of Ireland's most beloved broadcasters, Gerry. On the other hand, she had to deal with what came with that role, and then very sadly, deal with his tragic passing, over six years ago. I mention this purely because I'm very impressed by the lady that stands before me for our cover shoot. Despite the ups and downs in her 30 years, Lottie is strong-minded, very together, sassy, smart and very much in control of her destiny. Could she ever have been any other way – who knows?
There's no denying that big bright smile; she's so much like her dad in her expressions and, combined with the delicate, petite good looks of her mother, Morah – she got the best of both of them. She's initially nervous at the shoot, laughing and cringing "you feel like such a nerd." You wouldn't think it however; she's a total natural in front of the camera. She's very direct on the type of clothes she likes – not too girlie, no patterns, mostly a palette of muted or dark colours, Lottie loves Irish designers and something a bit quirky, she's a straight shooter, which might be some of the reason why she's been at the helm of her own radio show The Early, Early Breakfast Show with Lottie Ryan for two years. She's been up since the early hours of the morning, doing her entertainment news bulletins on 2FM. If she's tired, she doesn't show it as our shoot runs into the late hours.
Her breakfast show airs on Saturday and Sunday mornings from 6am, she's "not a party animal" so the early hours don't bother her and by time she's home at 10am, most of the nation are only getting out of bed. She previously worked for the radio station as the showbiz reporter for The Colm Hayes Show and in the same position for RTÉ's live afternoon show The Daily Show, so to get her own slot seemed like a natural progression.
"I think when the Breakfast Show was put on the table it was all very organic. I had been contributing on The Colm Hayes Show for a long time and then I'd started doing entertainment inserts here and there and then the entertainment stuff went to ve days a week, so it felt right."
Over the last two years, she's impressed on the airwaves in her own slot as well as lling in for her colleagues on Breakfast Republic and The Nicky Byrne Show with Jenny Greene.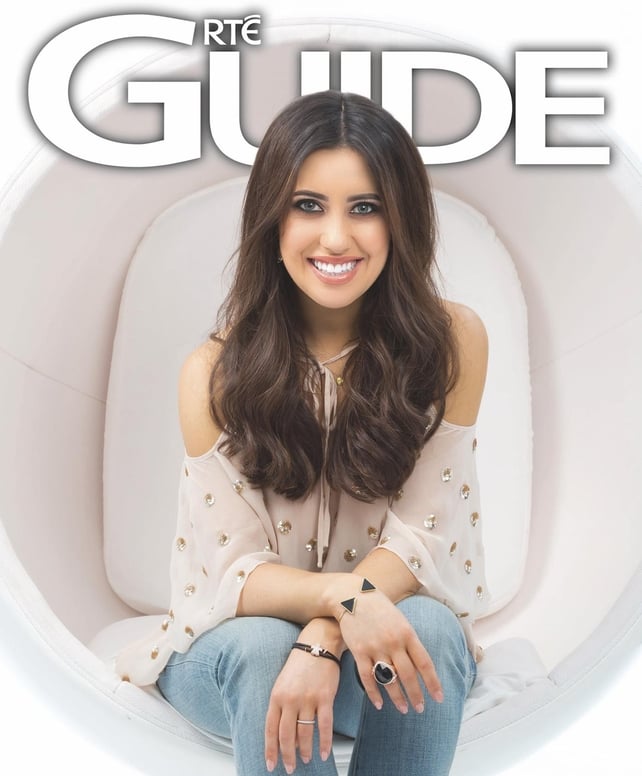 "Confidence is probably the main thing that's changed in me in the last few years, but that's like anything really, repetition is key to getting better at something."
"You learn so much doing that morning slot because you're in here by yourself so you have to do everything. It's a huge learning curve."
Lottie's ability to speak her mind, combined with a childhood spent in performing arts schools and an early career in dancing, left little doubt that a career in the media was always going to be on the cards. Initially she thought it would be in television, until, that is, radio came a calling.
"It was just the way things went, I think I learned through my time dancing that you can't be so rigid in the planning of life, because nothing ever works out the way you think and you end up bitterly disappointed," she says wisely.
"After I finished college, TV was what presented itself and what I went into. I was doing The Daily Show with Claire Byrne and Dáithi O'Sé and it was through that platform that I got the call from radio to do an entertainment slot. Then the balance just started to shift and I really loved how open and opinionated I was allowed to be on radio compared to how structured television can be."
Not one to rest on her laurels, Lottie is always trying to improve. She listens back on the shows and "hates it"; her mum is her go-to person for feedback, but, she laughs, sometimes, like all good Irish Mammys, she can be too honest. "She gets up and listens to the shows and she's texting in while I'm on air. She really knows what she's talking about, she's been in the radio business a long time so her word is gold to me.
"I'd hate to wake up someday and feel complacent about work", Lottie adds, admitting that she's hugely determined. "I'm quite driven, high achieving and very competitive. But, and I suppose it's a cliché, if you like what you're doing it's not really work. I mean look at where I get to come in every day, it's pretty awesome. I'm very lucky and I know that."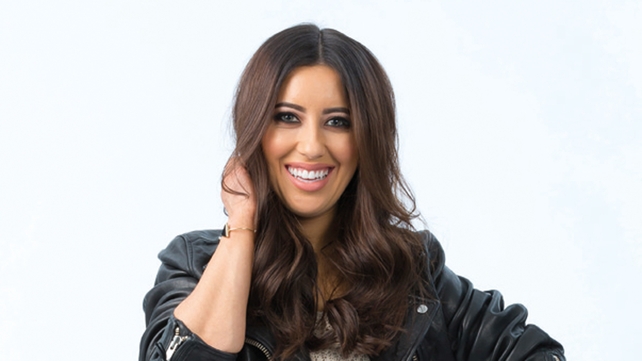 When the conversation veers on to Lottie's younger siblings, (she's the eldest of five), it becomes evident that they're all as ambitious as their big sis. Rex, a rising star in the acting world, is making a name for himself, and according to his sister, it's all down to 'hard work'. "He's got his own production company going now, so he's bringing in plays and he'll cast himself in them. But it's the grind, you have to be really going for it constantly, he's a really high achiever", she beams with pride.
"Babs is only 16, so her biggest concern is if she can go to a disco at the weekend, then Elliott's in college, he's doing Business and Commerce, so he's doing his own thing and then Bonnie's in the music business. So everyone's finding their own way."
She thinks it's only natural that the majority of them have chosen a life in the spotlight, considering their upbringing. "I think whatever the profession happens to be, whether you're in a family of doctors or lawyers or writers, whatever you grow up witnessing, you develop a passion for it. I think it's very normal for children to follow in the path of their parents."
Their dad, Gerry, was probably one of Ireland's most iconic broadcasters – the national airwaves are certainly a quieter place since his sudden death in 2008. It's hard not to reference him when Lottie and I continue our conversation a few days after the shoot in the RTÉ radio canteen, where his bellowing voice can almost still be heard. What does she think he'd make of all their choices now – would he be proud? "Hopefully ya", she says with a smile.
"I think he knew we were performers, he was the one driving us to all the classes at the weekends so I can imagine he knew it was instilled in us. He definitely encouraged us to do whatever it was we wanted to but I think he knew we had all been bitten by the bug."
And what about her sitting down in the studio anchoring her own show at the weekends? "He'd be proud as punch; he'd be delighted. I'd be trying to get rid of him", she laughs. While her dad had an enormous influence on her life and work, there's a sense from Lottie that she's now trying to build her own legacy in 2FM. "I think maybe other people think about the connection more than I do. There's a whole new generation in here at the moment and they're all my friends and new colleagues. There's a new vibe in 2FM and a different generation so I'm creating my own memories now and forging my own path."
When it comes to her personal life, Lottie is a very private person. She got engaged to her childhood sweetheart Fabio Aprile last year but she managed to keep it under wraps until a few months ago. How did she manage that? "I just didn't talk about it," she laughs as we both glance down at her beautiful diamond encrusted band. "You can ask, but I won't answer," is her reply when I ask how he popped the question. "He's super private," she explains. "But it's for the two of us, I'm very protective of the things that I have left that are private. He's not in the business and that has to be respected, so I do." She won't be pressed on the wedding plans, just to say "we're just really enjoying being engaged."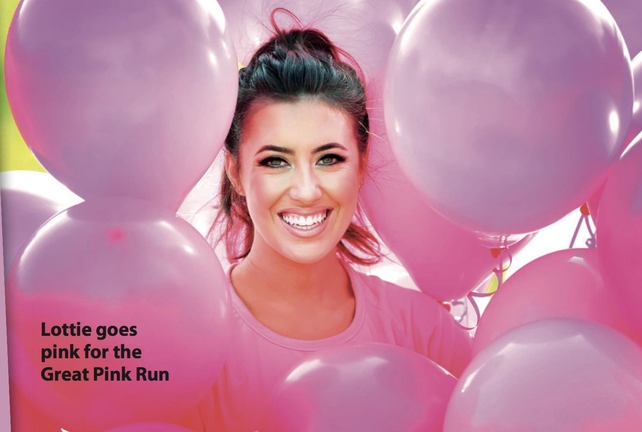 So apart from a wedding to plan, she's going to be taking on her first organised 10k at the Great Pink Run on August 27 with her mum Morah, who Lottie describes as a "running machine".
"I don't know how she does it, she doesn't seem to get tired ever. I've only started, I'm not at that stage where they say you enjoy it," she laughs. "So even if I have to crawl over the finish line on the day, I'm going to do it."
As for work, well the sky's the limit really for this gal. "Everyone's vying for the next gig and to move on, whether that's to the next time slot or a bigger amount of time on air, you're always aiming for the next thing," she says confidently.
"Obviously my goal is to not be doing the 6am slot in ten years' time. I'd love to move onto a better time slot but right now I love it... it's perfect for me." Gerry would be very proud indeed.
For more LifeStyle news check out our Facebook, Twitter and Instagram.