Gutted when the news alert popped up on my phone that Katie Taylor had lost her fight with France's Estelle Mossely yesterday (Thursday May 26, 2016). Shocked that she will not have the opportunity to defend her World Championship title for an unprecedented sixth time. Disappointed too to read just now that Katie Harrington was also defeated  at the final of the World Championship too.
Taylor is an athlete that had made, and continues to make, our nation proud - her skill, determination, drive, professionalism and spirituality on permanent display. To my knowledge she is never papped falling out of nightclubs in a state at all hours or pictured semi-naked on the cover of some, supposedly sports or fitness focused, mag. She surrounded herself with family; Her father and former trainer Peter, mother Bridget and three older siblings namely Lee, Sarah and Peter often pictured by her side. A true role model that I will tell my daughter more about when she is old enough to understand.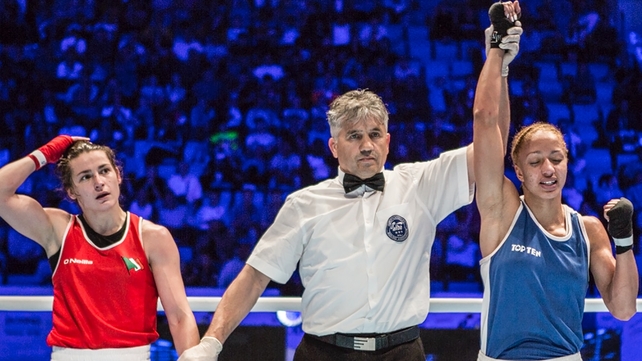 Her gentle but driven voice inspires me every time I hear or see her interviewed. I secretly enjoyed Jennifer Maguire's sketches of her on 2fm's Breakfast Republic – seriously hoping that Taylor did too. 
The fact that she is a woman should be immaterial but it is not. This is, distressingly, still a mans world where female sports and athletes do not get as much attention as their male counter parts. I would like to believe that Taylor's fights and sporting events where watched and supported every bit as much as the men's but perhaps that is a little naive. We have a way to go on this front but Katie has brought Irish and International sports fans, and media, further along that way than most, if not all, female athletes in the country.

Regardless of how they look, successful male sport-stars and boxers such as Barry McGuigan, Michael Carruth and Steve Collins, have always been supported without much comment on their looks, voices or attire (unless of course, they wish for any of these traits to take centre stage as per the stylish UFC champion Conor McGregor). Taylor has received attention of all of these fronts, due to her gender. Yes she is naturally pretty, soft-voiced but more importantly she is one of the most admirable sporting heroes our nation has ever seen.
There is a generation of Irish girls who fight harder, literally and metaphorically, to aim to fulfil their boxing dreams and Katie helps pave their way.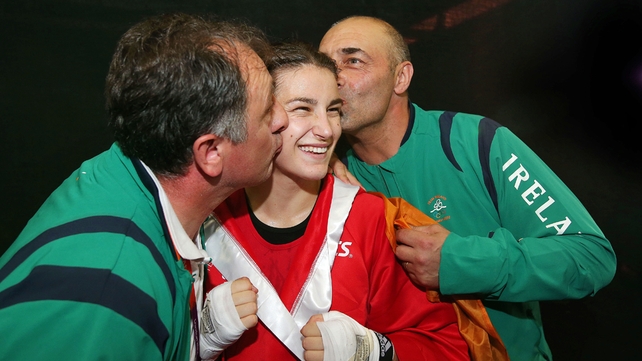 She is a ground breaker, a mould shatterer and has paved the way for future generations of female Irish athletes to break through glass ceilings from Katie Harrington to unknown up-and-comers. And she's only 29 years old, she has a lot done and no doubt a lot more to do in her sporting life.
Her presence in the world, along with many other women I admire, help reduce the panic that rises when we are faced with the naked images of Kim Kardashian or other celebrities whose similar gratuitous acts degrade our gender, world, future and that of our daughters. 
I met her once. OK, that's pushing it. I was on a plane that she and her team were on coming home from London. When the captain announced that Katie and co were on board there was a huge enthusiastic congratulatory applause. As anyone who has done those day-return flights knows, you have the whole thing planned to military precision and are off the plane as soon as. Not this time. I waited for her to disembark and come through the long corridors, to throw groupie-like words of support to her and to take this pic below, which I proudly tweeted afterwards.
A true young, living legend. A rockstar even.
Look who was on the @AerLingus flight from London...only the world champion @KatieTaylor! pic.twitter.com/x59Mh6Serq

— Taragh LoughreyGrant (@TaraghLG) November 25, 2014