In addition to raising awareness about organ donation, Vivienne is keen to highlight the importance of supporting the fundraising efforts happening across Ireland this week. Vivienne is the ideal Ambassador for Organ Donor Awareness Week given her own personal connection to organ donation. In 2009 she became the living kidney donor for her then 28-year-old nephew Martin and supported him after that kidney failed and throughout his second transplant, this time from a deceased donor in 2014.
"It certainly was an honour to take up this role", Traynor told RTÉ LifeStyle, "At first I was hesitant because the previous ambassadors, Mary Kennedy, Joe Duffy and Miriam O'Callaghan are all very high profile and as a news reporter I was worried that I simply wouldn't have the same profile and that the campaign wouldn't get as much publicity.
"However so far the reaction has been brilliant and I've had a great response. I had done a lot of media interviews in the past at the time of donating a kidney to my nephew but had stopped for the last couple of years but I suppose I have a new chapter of the story to tell surrounding the failure of the donor kidney and my nephew's second transplant which is something we had not discussed publicly until now."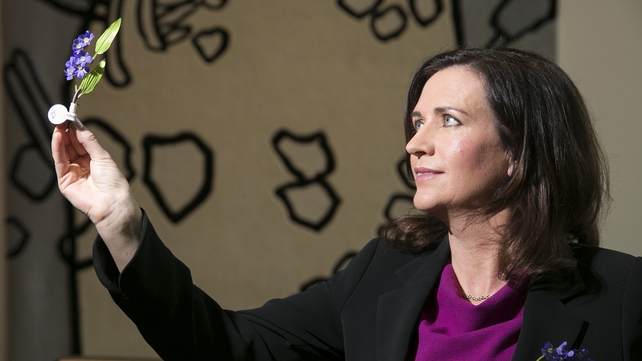 The Skerries native, who is married to fellow journalist, RTÉ Sports Justin Treacy, added: "I suppose the main aim of this campaign is to get people talking about organ donation and what their wishes are on the subject.
"By sharing my family's story about how my nephew benefited from both a living and deceased donor, it is hoped that we can remind people about the constant need for organ donation and the benefits to others in need. My story relates to kidney donation but the campaign is about organ donation in general.
"There are so many people on waiting lists at the moment and we as a family know all too well how a life can be changed by the donation of an organ. A kidney donation is a life enhancing process for a recipient as dialysis will keep someone alive, but in the case of other organs they are needed to save lives."
Vivienne's donor story is pretty remarkable: "My nephew Martin was in his late twenties and had a condition called IgA which doesn't always cause kidney failure or at least not immediately. He had hoped to live with it for some time but it progressed aggressively and he went into renal failure.
"After three years on dialysis, three times a week, we looked at the option of a living donor from a family member and while several came forward for testing we were all initially turned away as unsuitable. I took the case further and we went to the UK where the living donor programme was slightly more advanced and they were willing to do the transplant.
"In July 2009 we were ready to go and travelled to Coventry for the operation. It was a huge success and there were no issues with rejection. Martin felt better than ever and got a whole new lease of life, away from dialysis and had the freedom to travel and do all the things he could not do before.
"Then in 2014 his condition came back and attacked the donor kidney and he was back on dialysis and back on the transplant list. However this time he was lucky and just six months later he got a kidney from a deceased donor and all is well so far.
"As a family we are so grateful for his second chance and I know that he thinks about his donor every day. To think that somewhere, some family, in the midst of their grief, took the time to be so generous was absolutely overwhelming at the time and I still struggle to find the words to express how I felt about it at the time.
"It was a completely different experience the second time round for me obviously as I just had to standby and watch and wasn't as involved as the first time, so to speak!
"So we have experienced donation from both living and deceased donors and realise just how important both are and were to our family."
Despite the transplants, both Vivienne and Martin went on to celebrate new additions to their respective families: "Martin has said his first transplant led to a whole new lease of life for him and he went on to meet his wonderful partner Mary and they had their first child, Ted [now 3]. Their second child, Daisy [10 months], was born after the second transplant.
"Again, the second transplant gave him the much needed energy and freedom to cope with a young family. I also went on to have my fourth child about two years after donating so that was a great positive thing for living donors, I think."

There's a common misconception that carrying the donor card is enough however it's also important to discuss organ donation with your family: "While the aim is to get everyone to carry a donor card, it also has to be stressed that by doing so, it doesn't automatically mean your organs will be donated.
"Your next of kin will make that decision, they have the final say. So it is extremely important to talk to your family and let them know your wishes and to try to ensure your wishes will be honoured in the event of your death."
Organ Donor Awareness Week is running until April 9, 2016 and volunteers are out fundraising and selling 'forget-me-not-flower' emblems, brooches, pens and shopping trolley discs.
To support the Irish Kidney Association, you can also text 'kidney' to 50300 and €2 will be donated from your mobile phone account to the IKA.