"It's not just about curing you. Much of the medicine and treatment now is about helping women to get back their sense of identity. That's an increasing part of the approach to managing breast cancer because there are so many survivors", Aine Lawlor explains.
Since the radio and television journalist was diagnosed with breast cancer in 2011, she has spoken candidly about her journey back to health, sharing details of her mastectomy and the months of debilitating chemotherapy, in order to help raise public awareness. "It's good we understand that it's happening to loads of people. On a cancer ward you learn just how remarkable so many people are, and how much kindness there really is".
We are chatting on the day Aine has recorded the radio ad for this issue of the RTÉ Guide, "I really like the line in the ad 'there's strength in numbers' because it reminds us that besides the brilliant doctors, it's also about women – women helping each other, minding each other's children, cooking dinners, driving people there and back for their treatment."
"Men help too – and my poor husband Ian [Wilson] was of course a brick throughout my treatment. But where there are dinners to be cooked and school-runs to be done, it is mainly women, women helping other women."
Aine is heartened that more women are now surviving breast cancer and are often having lumpectomies rather than mastectomies. "Breast cancer changes fundamentally something that's very personal and those scars on your chest are always an ugly reminder… it's not only the loss of your hair. Your breasts are a part of your body that's so personal, so tied up with your own identity. It's how you feed your children".
Aine opted to undergo reconstructive surgery, a lengthy procedure that finished last year. "It certainly wasn't a pain-free experience but it's just so marvellous to have the simple pleasure of wearing a nice bra again. I'll never forget the feeling I had shopping, when you'd see a lovely bra and you'd know you couldn't try it on".
"Reconstructive surgery is not easy and it's not for everyone", she continues. "It is a fairly big job. There's the initial surgery to bring muscle around from your back – then the whole thing has to be stretched and your implant is blown up and then you get your permanent implant. I've got my shape back and I'm delighted with it. It's not like you're Raquel Welch underneath it all or anything", she laughs, "but I used to hate coming out of the shower and seeing just the scar and the ribcage. I remember washing my mum [who died at the age of 47 from breast cancer] and seeing that same kind of mark on her. I'm delighted I had the surgery. It's great that we now have the choice."
It's this right to choose that she consistently tries to highlight. "There was an underwear firm earlier this year that did an ad campaign using models that had a double mastectomy. I re-tweeted those pictures – they were beautiful topless pictures. That too is a positive choice".
Aine thrives on a full work schedule. "The Ploughing is coming up, and the political season's just kicked off. There's lots to look forward to. I'm hosting RTÉ Radio News at One with Richard Crowley and also The Week in Politics. It's very busy, there's the odd day when you might think you have too many balls in the air, but I know I'm lucky to be here, doing these things, working with great people. I love my job".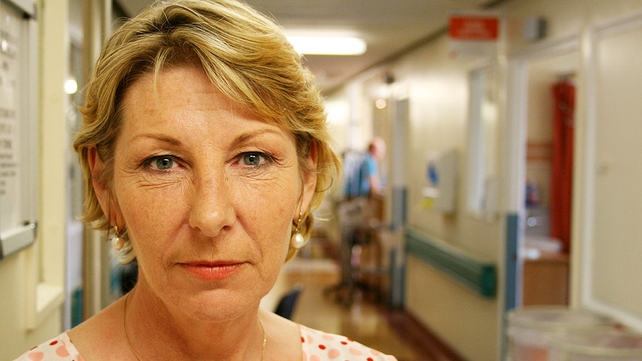 Áine featured in the two-part RTÉ documentary Facing Cancer

Aine doesn't consider herself a workaholic, however. There are days when she'll happily stay in bed eating chocolate, watching daytime telly. "I'm very far from a saint or anything like that! We're a long time in the grave and you may as well get on with it while you're here", she advises. Besides her busy schedule, there are many achievements she hankers to chalk up in her life, either as work or for sheer enjoyment: "I'd love to tell the story of the Irish and the American Civil War; I'd love to travel the American Civil War battle fields, or go in the footsteps of Irish plant hunters in China. I need to learn to swim. I'd love to study history of art, also to learn to play an instrument. Still, I'm not going to beat up on myself if I don't get those done".
Aine has been doing a weekly yoga class for years. She hasn't developed the painful condition known as lymphoedema, despite having her lymph glands removed, and she reckons doing the yoga has probably helped.
An avid gardener, she loves to cook the food she and Ian grow on their allotment near Enniskerry in Wicklow. "It's a bit of a drive for us but we enjoy doing it. It's fun". At this time of year she is busy preserving, freezing – and cooking – the bounty of their harvest. "You're either loading the freezer or working them into the dinner. One of my daughters is a vegetarian and that's been good for the entire family".
"There's a load of tomatoes, some chillies and great garlic and basil. I bought nice smoked pancetta yesterday, so tonight I'm going to make that with pasta. I'll also make soup and because I've tons of apples I'll probably do an apple tart too. I'd describe myself as a home cook".
"After getting sick so much for six months during the chemo I love food more than ever, I really do", she says with a winsome smile, recalling one particular salad she had recently on a trip to Paris with her oldest daughter.
"Megan had been away in the USA and because I hadn't seen her for so long, I took her off on a trip to Paris for a couple of days. We went to this gorgeous restaurant where I had this amazing salad – basically an anchovy and tomato salad but an incredibly clever dish containing the sweetest most beautiful green tomatoes, anchovies, other varieties of tomatoes, a basil infusion… I can still taste it. It was stunning!
Aine likes having their four children at home. Son David, who studied hospitality before emigrating to work in the USA, is back on a visit and mum is clearly happy to have her eldest boy around again. Megan and her twin Jack are nearly finished college. Young Ella is nearing 15.
"I'm well now and I'm here now. That's all anyone ever knows. There's no point in living in fear and in a way, having gone through all the treatment to get well, I'd get really cross if I wasted time being scared. Any horrible experience like that reminds us how lucky we are to be here".
Nancy Previs