I'm going to go out on a limb and say something controversial here: I have a problem with plus size models. For two reasons:
1)         I think labelling anything as 'plus' implies that there is an excess to what is thought of as 'normal'. Considering that any model over a UK and Ireland size 6 or 8 is considered 'plus size', this tag is problematic.
In fairness, I think this particular point is almost universally accepted, even by the fashion world, although you will always have your Karl Lagerfelds and your Katie Hopkins' with their vile, attention-seeking comments about 'fat people'.
This point has been brought to the fore over the past few years by a number of high-profile movements. In 2013, the Israeli government brought forward a ban on the media and advertising industries using models with a Body Mass Index (BMI) under 18.5. They also restricted ways in which images of models can be manipulated using Photoshop (and other image editing software). The move was mirrored by France, who brought in similar legislation earlier this year, albeit with a lower BMI requirement of 18, which is still categorised as underweight ('mild thinness') on the World Health Organisation's Global Database on BMI. For a country recognised as one of the fashion capitals of the world, this was a brave and progressive move by France.  In addition, both Spain and Italy have voluntary codes of conduct in place to discourage the fashion and media industries from idealising underweight models.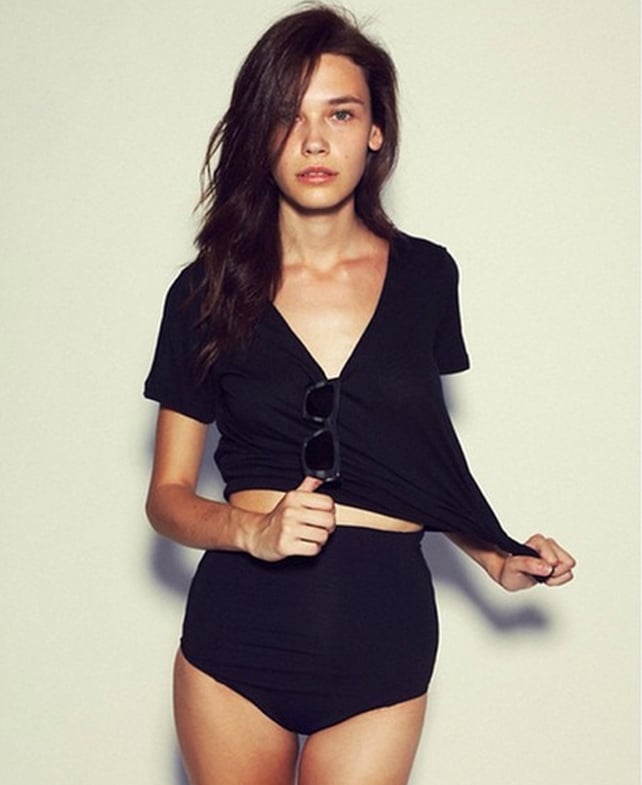 Model Rosie Nelson was told to "slim to the bone"
On social media, the #droptheplus campaign, founded by Australian model Stefania Ferrario, is putting pressure on the fashion industry to, well, drop the 'plus' from 'plus size model'. Stefania, who is fronting Dita Von Teese's new lingerie campaign, also shaved her head in 2012 to raise awareness for cancer, alopecia and trichitillomania. She said: "Labelling a model or a woman as 'plus sized' perpetuates the idea that they are different and not fully accepted.
"This labelling leads to young girls and women questioning their own bodies, and puts them in danger of believing their bodies are not good enough, or not thin enough to be accepted by society. This is very damaging to the self perception of women and how they judge each other."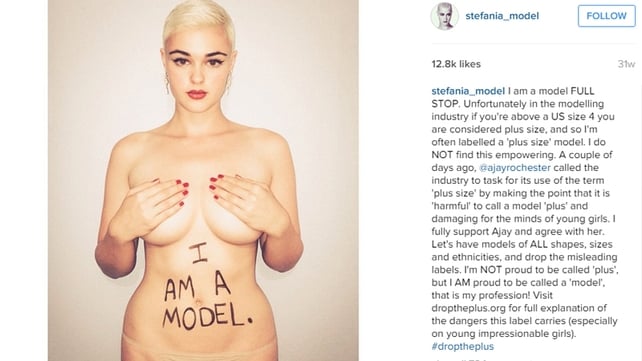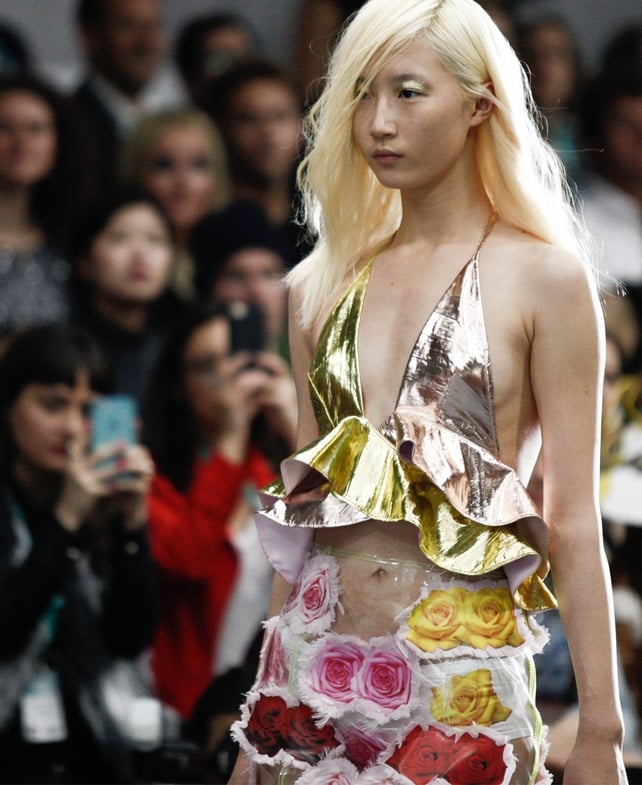 Earlier this week, London Fashion Week (LFW) was put under the microscope by UK Green Party MP and mayoral candidate Sian Berry, who said that the party would seek to block funding for the annual sartorial event if the organisers and the UK government did not do more to promote a healthy body image. This follows on from Conservative MP Caroline Nokes and model Rosie Nelson's campaign to 'create a law to protect models from getting dangerously skinny'. The campaign was started after 23-year-old Rosie said she was told by a top London modelling agency that they wanted her to slim "down to the bone".
I agree with all of this. It's not rocket science: If young girls and boys see only skinny, bony girls and boys in magazines, on TV and on catwalks, then young girls and boys will want to be skinny, bony girls and boys.
I need to include a caveat at this point that I am not overlooking the fact that there are naturally slender, lean models who do not have eating disorders and are genuinely very healthy. The problem is that slender and lean was the only item on the menu for a long time. Now, though, it does seem that the tide might be turning.
The third annual UK Plus Size Fashion Week (UKPSFW) took place the week before LFW. Their mission is to "celebrate curves in all shapes and sizes in this highly media covered event." It's a welcome addition to the menu. Founder Rianne Ward told HuffPostUK: "You should embrace who you are and be proud regardless of size and shape. Events like UK Plus Size Fashion Week are there to help young girls. There isn't enough balance at the moment - it's OK to be larger to what media says is 'the right size'."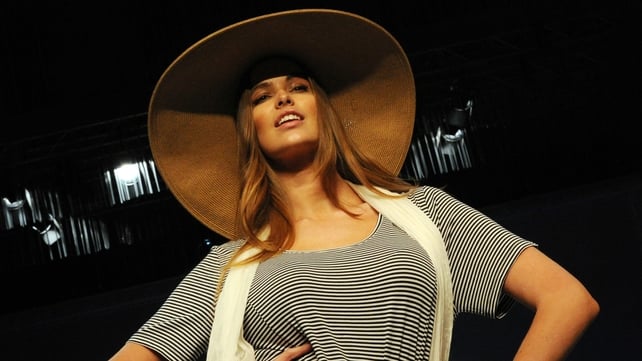 Fair enough. But that brings me to my second point:
2. Is it OK to profess, 'Bad skinny models, bad fashion industry, bad magazine' without addressing the fact that overweight models also project an unhealthy body image? Isn't that a little hypocritical?
Again, I must stress that there are larger, 'plus size' models, who are absolutely healthy despite perhaps appearing overweight or being classified as such by their BMI; in the same way that there are slender, lean models who might appear underweight but who are, in fact, healthy. Just to stress that (again).
As Rianne Ward said: "Just because someone is a size 18 rather than a 10, it doesn't necessarily make them less healthy. That person may be in the gym three or four times a week. There are lots of reasons why someone may be larger than another."
The issue I have with the aplomb with which we are embracing the 'plus size model' concept is that I don't think overweight is any healthier a body image to aspire to than underweight. Overweight and obesity are major risk factors for a number of chronic diseases, including diabetes, cardiovascular diseases and cancer. According to the World Health Organisation, what was once considered a 'first world problem' is now "dramatically on the rise in low- and middle-income countries, particularly in urban settings."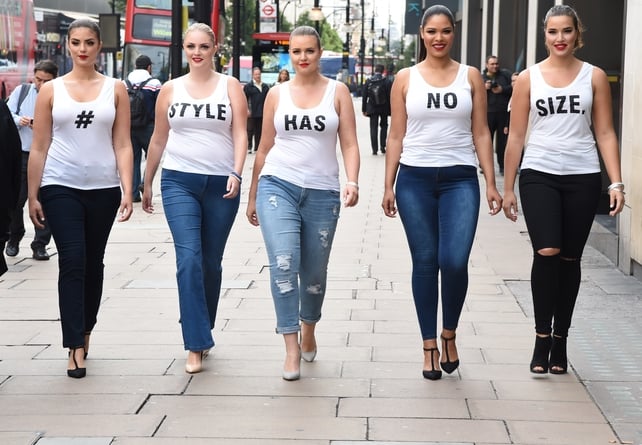 Though political correctness and the backlash against the sustained pressure that the media is placing on young people to be 'skinny' for decades has made it 'bad' to say that you don't think overweight models should be on the catwalk any more than skeletal models should.
I'm not talking about healthy 'plus size' models – I'm reticent to specify a dress size because that alone cannot be a sign of whether a person is a healthy weight or not - I'm talking about overweight models whose size poses a health risk to them. I have no issue at all with anyone's individual size and I think it is a wonderful thing to be happy in your body, comfortable in your own skin. I do feel, however, that if we are going to place restrictions on the fashion industry for using underweight models over concerns that they will cause young people to emulate them, shouldn't we be placing upper restrictions on BMI as well?
According to the World Health Organisation, anybody with a BMI over 25 is classified as 'overweight', with the classification moving into 'obese' for anyone with a BMI over 30. Granted, there are many who say that BMI is not a sound way to measure a healthy body weight. According to researchers from the Perelman School of Medicine, University of Pennsylvania, BMI, (which is based on the height and weight of a person), is an inaccurate measure of body fat content and does not take into account muscle mass, bone density, overall body composition, and racial and sex differences.
If we're going to collectively lobby the global fashion industry and the media-at-large into portraying a healthy body image, surely we need to accept that 'fat' is just as unhealthy as 'skinny'. Maybe we need to change our perceptions too, and realise that the term 'skinny' is as offensive as the term 'fat' – it just depends on your perspective.
Sheena Madden
RTÉ is not responsible for content on external websites.