I've been chatting to a number of mums (names have been changed to protect their future santy bookings!) and while they all have different approaches to the whole santy thing, they all agree on one thing – make a plan.
Mum of two boys, aged 6 and 13, Megan is already on the case: "I looked up Donegal Lapland on Doagh Island – long before school started back. It kicks off on on November 21 and it runs up until December 22.
"The first two weekends in December are already booking fast. They haven't got a package ready yet for the local hotels such as the Ballyliffin Lodge and I won't book until then but I've been on to them and they said they will. They do a special family night and weekend rate to go with the Donegal Lapland, that's what its called, so I'll book that."
"We've done that trip before," she added, "We do the full weekend, we make a trip of it as a family break. We generally do the Lapland on the Saturday night and relax locally on the Friday, after the drive up."
And that's not all: "I'll always go to the local one too so for us that's Santy down in Skerries Mills – but the big trip is in Donegal and it's something that our youngest probably won't do after the age of 8."
"It's funny but if you ask two families, no two seem to do the same thing," Megan said of the approach to Santy. "My family and friends do a mix of trips with everything from shopping-centre Santas, trips across the country and Santies in local clubs – whatever works."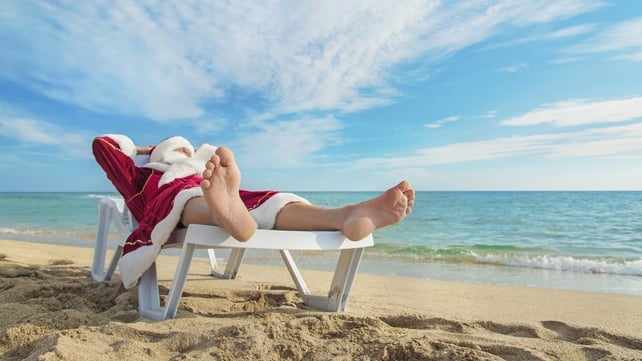 It's not all sugar and spice: "It does my head in queuing for hours so it pays to be organised plus you get such a small window with kids - the magic of it all and the excitement of seeing Santa - they don't see the wait so we'll do whatever they want, within reason, as it's a very special time."
Let it Snow? No: "It's a long way to Donegal so if the weather turns bad and there's snow, I'll cancel it and get my money back. So I'll make sure before I book that that is an option – you've 24 hours to cancel hotels, some are 48 hours from what I've seen so far and that'll work fine."
As for the big coveted Santa experience? "I would love to do the Lapland thing [in Finland] – it's a very small window when you can bring the kids, I think. They are too young before they're four and too old after eight. I'd love to have the money to bring them in between those ages – it'd be a dream. My 6-year-old is already bringing in the catalogue and saying what he would like for Christmas, so he's well tuned in!"
For more on the Donegal Lapland, click here
All Wrapped Up
Rachel, mum-of-three said that because her kids are nine, seven and two respectively she prefers to be organised and will have already booked her Santy trip by the time you read this. After years of leaving it to chance or the usual queue-up santy-visits, she's given up on that approach and prefers the santy experience. This way, even if santy is not on form there are plenty of other things to entertain the kids from toy/elf-making to Mrs Claus story-time, to feeding the 'reindeers' to hot chocolates to card-making and toy wish-list letter-sending.
Her favourite spots include the Causey Christmas Experience in Meath (click here for more) and Rathwood Santa Adventure in Carlow. September is an expensive time of the year for parents with all the back-to-school costs plus many extra-curricular activities need to be paid up front so the last thing many parents want to think about is booking santy! However it has its advantages because firstly, you get the dates that suit and part of the expense of Christmas is sorted in advance too.
Rachel likes to book the first weekend in December, when everything starts to feel Christmassy but before the really busy festive mayhem kicks in. As for Lapland though, she's happy to give it a miss and would prefer to spend the money on a trip to Eurodisney!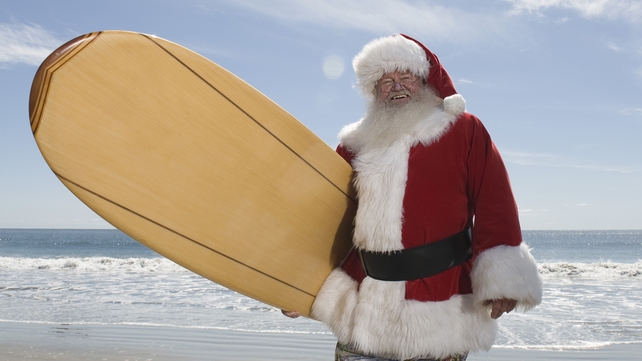 The Other Side...
Caroline is a busy mum-of-two and expecting her third in October and she thinks the whole thing is "ludicrous. We've only got the uniforms bought and we're already thinking about Christmas. To be honest I'm not getting roped into the whole thing again this year. I did it last year, we booked Rathwood in September and it wasn't very good at all. It was very unChristmassy, apart from the Christmas shop which was more geared towards the mums and dads putting their hands in their pockets."
Caroline is doing it her way: "We started a tradition of going in with the kids on Christmas Eve on the Luas into Grafton Street, into Bewleys for the hot chocolate, around to the crib [outside the Mansion House, Dawson Street, Dublin] and a wander around to get the last few bits.
"That's Christmassy now for us. We get the flowers from the ladies on Grafton Street – it's lovely. That to me symbolizes Christmas, not traipsing miles away, in the madness of the whole thing trying to get on a train that goes around the block.
"I think there were a number of Santy's there [in Rathwood] last year and the kids aren't eejits. I think when we were younger they'd get away with it but the kids were saying: "What's going on here? Those kids are only gone in and someone else is going straight in another door." Plus they got the wrong information, even though we specified, it wasn't worth the money."
Pulling no punches, she added: "We were down in Amber Springs and the kids were on the train down there everyday which was good fun but you could see that it's being set up for Halloween and Christmas – we just shouldn't feel that we have to spend loads of money just because everywhere and everyone is getting roped into the whole thing."
Keeping it simple and magical is what she thinks works: "We went to another place in Wicklow which was quite good and it was because Santy had a real beard, it was very low-key and on a much smaller scale than these other big-event places. They had the Christmas lights, it was low-key, cosy and unique – like santas all over the country."
However Lapland would be another story: "My guys are too young now at only five and three but I think in a couple of years time, I'd like to do. It was something I always wanted to do myself as a child but I didn't get on a plane until I was 18, never mind going to Lapland as a youngster. I think I would like to go, maybe more so that I can fulfil my own childhood dreams!!"
Other popular Santy spots:
Amber Springs Santa Experience
Alliwee Caves, Santas Workshop, Co Clare
Lapland booking information & more information here
Taragh Loughrey-Grant