Following research released last week by the Irish League of Credit Unions showing that one third of Irish parents get into debt due to back to school costs, Aldi is upping the ante when it comes to uniform bargains.
They're offering full uniforms for €5.47 in their new line - yep, that's right, for less than €5.50 you get two polo shirts, a jumper and either a pair of trousers/pinafore or pleated skirt (see pic below). Pretty impressive - is it any wonder there's talk of a price war, as many other retailers such as Tesco, Marks & Spencer and Dunnes are also offering value ranges.
Their range, which also includes sportswear, jackets and scuff-resistant shoes, is set to go on sale next Thursday, July 23.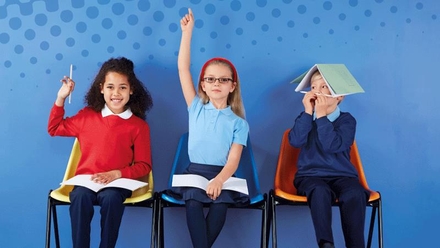 However, the release of this pocket-friendly range comes just after the Irish League of Credit Unions reported that Dunnes was seen by those surveyed to be the best-value shop for school clothes.
"We asked 1,000 parents about what retailer they thought was the best value, and they chose Dunnes, followed by Marks & Spencer and Tesco," said Press Officer for the league, Emma Casey.
According to the Credit Unions' survey, Aldi is only seventh place in the eyes of parents looking for uniform deals, losing out to Penney's, local shops and specialist shops as well as the top trio. Case in point? Not really, as Casey added that their "...research was done in June, before Aldi made this announcement."
Rob Farrell, Group Buying Director at Aldi Ireland told the Irish Independent: "We had an extremely positive response from consumers to our uniform range last year, so it was without hesitation that we wanted to offer the best value school uniform in Ireland again this year."
The paper are claiming that the new range is sparking a price war, as parents could end up paying less than a fiver for items that cost up to €24 for girls and €21.50 for boys in Dunnes – but we'll just have to wait and see.
Kayla Walsh