Aim to create a fresh space that is reflective of your teenager's style and involve them in the design process, giving them an opportunity for self-expression.
But make sure to keep the space practical, with workspaces, shelves and bookcases - their developing minds needs space to learn and to be inspired.
Teenage boys and girls rooms are very different style wise, but here are some tips on how to create a functional yet aesthetically pleasing room for your teen.
Paint Statement
Use paint, or wall art to make a statement in your teenager's room. Wall stickers are also a good alternative to paint. This is a cheap, low commitment way to dress up your teenagers room. Experiment with paint patterns using your teens favorite colour and involve your teenager in the application, allowing them feel part of the process.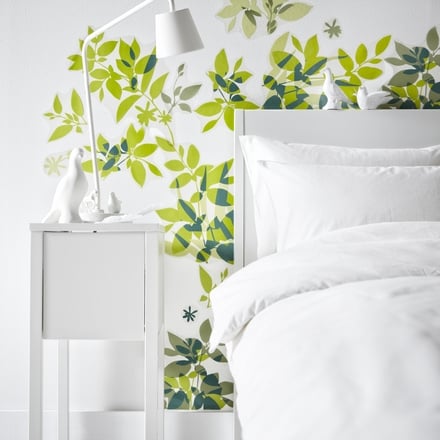 IKEA
Odd Bits
Look through the bits and pieces in your house that are no longer in use, or take a rummage through your attic. Unused items can be reinvented in your teenagers' room. Keep an eye out for old mirrors that can be up-cycled – a teenage girl's room is never complete without a mirror, and it can even be a feature in the room. Fairy lights are a nice way to add atmosphere.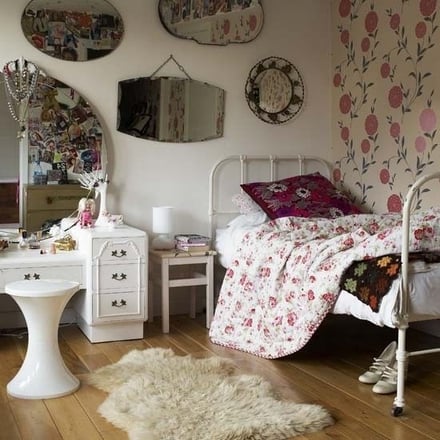 Versatile Storage 
Teenagers need the space to display their photo frames, cd's, book and favorite memorabilia, and interesting shelving is the perfect way to display it. You can take old storage pieces and stack them in a more adult way, or paint your old storage units. Alternatively opt for custom-built storage, or once off designs. Multipurpose furniture and versatile storage are a great investment for a teens room, due to their ever change tastes!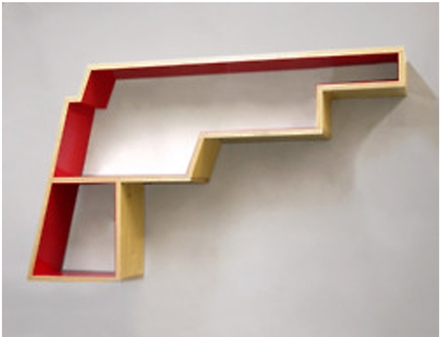 La Cour
Desk 
It's important that your teenager has a quiet and comfortable space where they feel comfortable to study. Place their desk in an area with the most natural light. If you're considering purchasing a workstation for your teenager, think about buying one that can double as an entertaining space. And if you're having any major work done in the room get plenty of sockets and cable connections put in case they are needed in future years.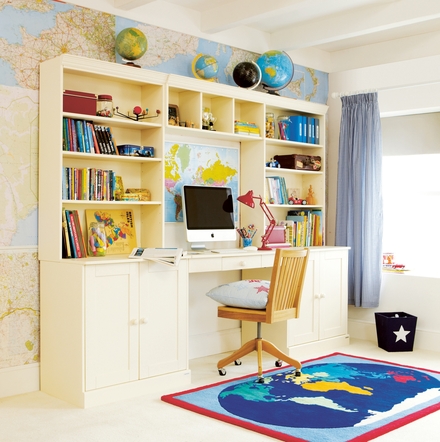 Apaces
Theme 
Along with your teenager decide on a theme for their bedroom, picking one of their favourite hobbies. Use bold colours and designs, letting your teenager decide on a lot of the design and furniture. Display your teenager's trophies or medals in their room, to remind them of their achievements, and if they are interested in gadgets, set up a facility for them to use and store their latest music players. This will ensure that their space can function as a hangout as well as a bedroom.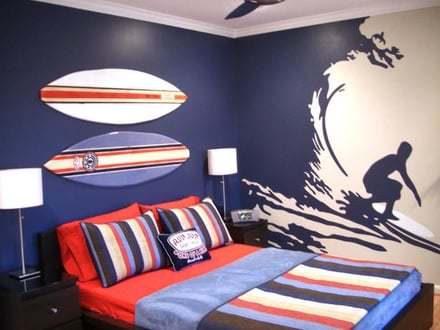 Design Concepts Ideas
Poster Focal Point
Think about getting a few of your teenagers favourite posters framed. Whether it's their favorite movie, music act or even just an interesting image, framed posters work wonderfully as a focal point for your teenager's room. It is a great source of bringing in colour and a great way to integrate the interests of your teenager into the rooms design.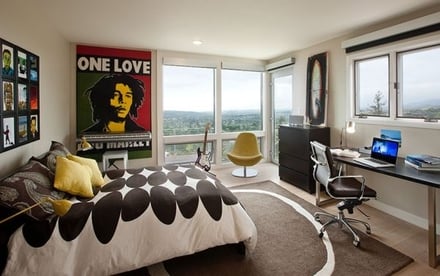 Lori Smith Design
Clear out and organise
Use the redecoration of your teenager's room as an opportunity for them to clear out everything they don't want, and everything that they don't need. Get your teenager to organize what's left of their belongings and make use of labeled boxes. Avoid chaos and … sound proofing may be an idea for your studying child and for yourself.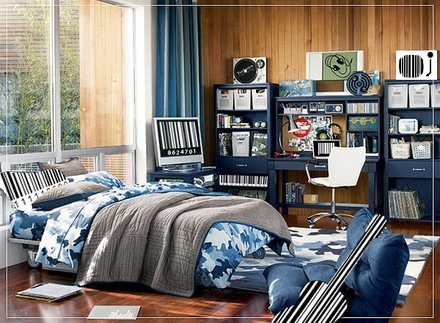 Flickr.com