Organisation ideas:
Define your space
Figure out what you intend on using on using the particular space for. What do you currently store in the room and what would you like to store it in? What is your goal for the room? Once you figure out what purpose you intend for the room you can hen go about organizing and storing.
Where to start
Before you start organizing you should have a mental plan as to where you are going to start - lay out in your head which area is most urgent and which area you want to tackle first. Once you start it's best to take it one room at a time – do don't want to overwhelm yourself. And if you find too overwhelming organizing a whole room at once take it corner by corner. Be realistic and work in manageable chunks.
Clearing
When you're clearing out it can be helpful to sort of all your items into categories. Have a category for all of the items you want to keep, to give away, to store, and to dump. And before you throw things out consider a secondary use for your items – repurposing old furniture is a great way of recycling, and saving money!
Sorting
Finally, when you are left with the items that you want to keep start organizing them into a system. Label all of your storage boxes and folders to save you from routing around. Give specific items a 'home' so you will always know where to store them, and more importantly where to find them!
Storage ideas:
Climb the walls with storage
Custom-built wall shelves are an ideal way of building up storage. By covering your entire wall with shelving you have ample space to store all of your odd bits. Egg crate shelving is a commonly used for this purpose, and looks great when filled with books, boxes and baskets. The exposed nature of wall shelving means that you can stylishly mix display and storage, but baskets and boxes are great for concealing any items that you would rather not be on display.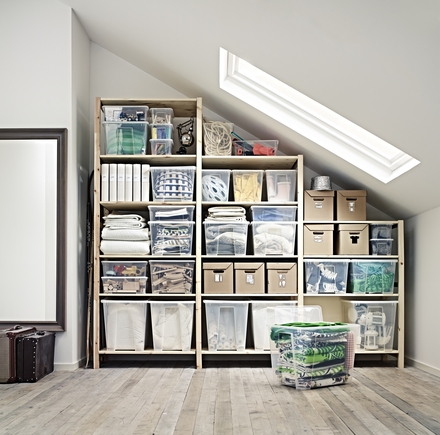 Ikea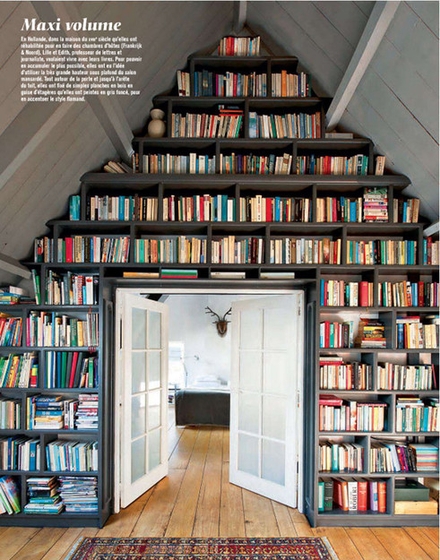 Wicker Paradise
Pot rack
You can easily free up some cabinet space by hanging pots from an overhead pot rack. Pot racks are a great feature, and bring a rustic vibe into kitchen. Chunkier tools and utensils can be hung from the rack too.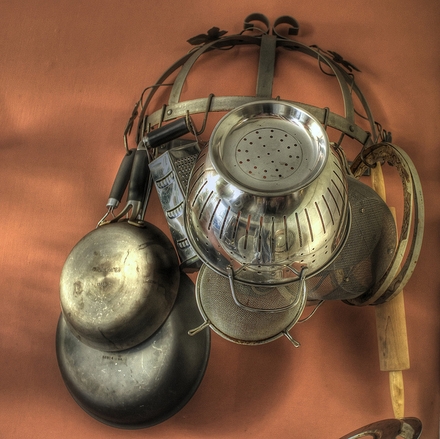 Psyberartist
Make use of useless spaces
If any of your rooms have awkward spaces that you just can't find furniture to fit, think about getting some pieces custom built. When custom building furniture you can integrate storage into the piece as required. You can make use of awkward spaces such as deep or bay windows by custom building a window seat with storage below.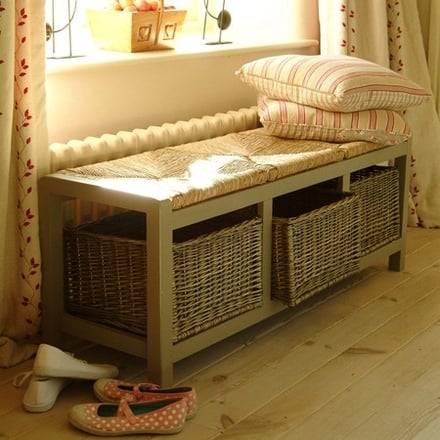 Wicker Paradise
Doors
Doors don't necessarily pop to mind when thinking about storage, but in fact there are a number of ways that you can use doors for storage. Hangers and hook are a simple way to store coats and jackets on the back of a door. You can also hang or attach shoe organizers on the back of a door. These organizers have roomy pockets that can be used for anything from make up to scarves. And if there is additional space about the doorway you can fit a shelf at the level about the door. A simple door offers more storage millage than expected!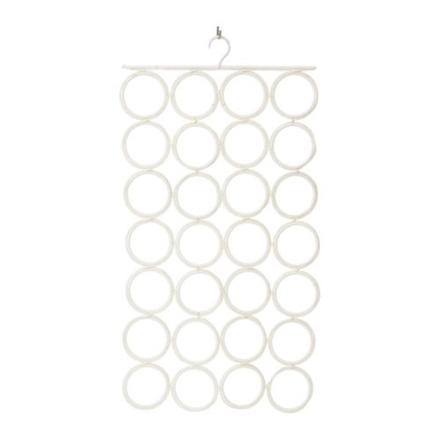 Ikea
Pantries
Floor to ceiling slide-out pantries are a great way to store all of the cumbersome food products that up so much cabinet space. They can come as a feature of new kitchens, and you can also get the custom built. A floor to ceiling kitchen pantry is really great idea for food storage and is incredibly helpful for organizing spices etc.
Make use of under-bed areas
Many beds have built in under-bed drawers, but for those that don't there is a wide range of storage boxes and organizing products available. Boxes and containers with wheels are best idea for under the bed as it gives them a 'drawer' mechanism and will make them much more accessible. Closed top storage boxes are also sensible as the accumulation of dust under beds can be surprising! Under-bed storage space is great as it's hidden, and can be a great home for bulky, unsightly items.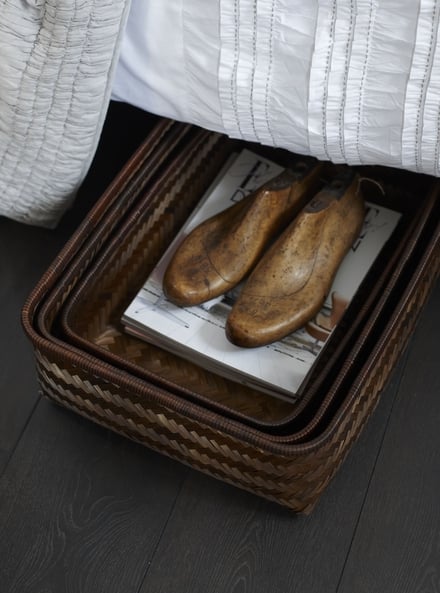 Also Home Ltd.
Functional Display
Hidden storage is a great idea but when you run out of space for hiding your clutter, display it! Take for example a folding chair, rather than throw it in a cupboard you can hang it on the wall and make it a feature of the room. Try coordinating the item you are displaying with the colour scheme in the room. You'll be surprised with the result!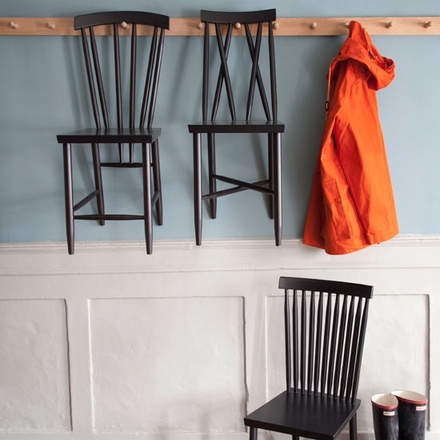 Antony Crolla for House & Home UK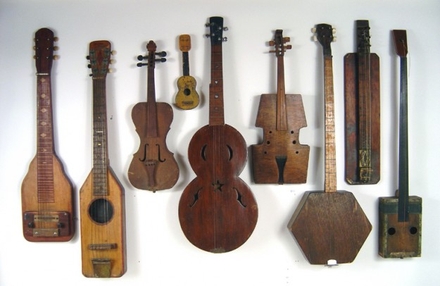 Wicker Furntiture
Wardrobe Shelves
You'd be amazing by how much millage you can get out of a wardrobe if you design the storage it in the correct way. Consider investing in floor to ceiling shelves, baskets and using double layered clothes rails to get the most of every inch of your wardrobe.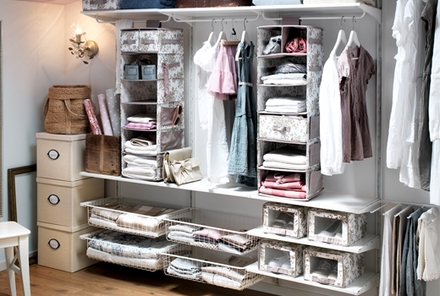 Ikea
Hang your jewels
Storing your jewelry in boxes can take up a lot of space. Why not try to arrange your necklaces on a hanger and hang them in an out of the way place. This can help sort out the knots and tangles and can make your choice of what necklace to wear that bit easier!