Home is home but there are few of us that wouldn't want to change something, or many things, in order to make the most of it.

Whether you want more space, less clutter, better colour combinations, more light - whatever it is, O'Donnell promises to offer advice to help in Rooms: Create the Home You Want for Your Life. Here's a little taster of the view he takes, and shares, on design.
EXTRACT: Rooms: Create the Home You Want for Your Life by Declan O'Donnell
"I think the recent recession in Ireland has been the best thing to happen to Irish design in the past twenty years because it has put design back at the centre of what it is all about – to live in places and to be present – and that's really important. Real design isn't about squandering vast amounts of money, it's about the subtlety of light, materials, details and texture and, after that, innovation. It is to create perfect spaces suited to their environments and to the needs of the people who use them. That's what I came back to Dublin for. Architecture brings people together, and that's what I enjoy most about practising today.
"I want to do just one thing with Rooms: I want anyone who reads it to embrace the power of design and make a change for the better in how they live. Ultimately – and this is what good design is all about; it should make a positive impact in your everyday life, both from a practical point of view, but also from an emotive one – you should feel happier if you have good design going on around you. This book aims to show you what that looks and feels like, to get the creative juices going, and also help bridge that gap between being inspired, and making practical moves to improve your home. Rest assured, it is easier than you think.
"I want to debunk the whole mystery about what design is. There is no doubt design can be daunting and, dare I say it, almost elitist. I understand why this puts people off but it really frustrates me. Architecture and design are all about self-expression, figuring out spaces and making homes work for whoever lives in them.
"It's about happiness, comfort, peace and fun. I don't care what your budget is, what stage in life you are at, whether you live in a tiny apartment or a lake house. None of that matters. All that matters is finding out who you are and how you want to live, so that you can be happier in your home. That's the ultimate goal, no matter what the magazines tell you. My book keeps it simple and will help you to think about how you live in your home.
"Design is not only a tool to create a truly unique home, it also enables us to completely rethink how we live. When we do this right, it can really improve the quality of our lives. I know it sounds a bit over the top, but it's true.
"You may feel like you need more space but are trying to decide between an attic conversion and an extension. You might simply want to add some extra space or revamp a well-worn home. Whatever you want to do, my aim in writing this book is to show you how any space can be improved with a little thinking and good design.
"In Rooms, I look at how you can use the space that you have in a completely different way to change the way you live for the better. I also look at the dos and don'ts, and the ups and downs of extensions and how to really make these work for you.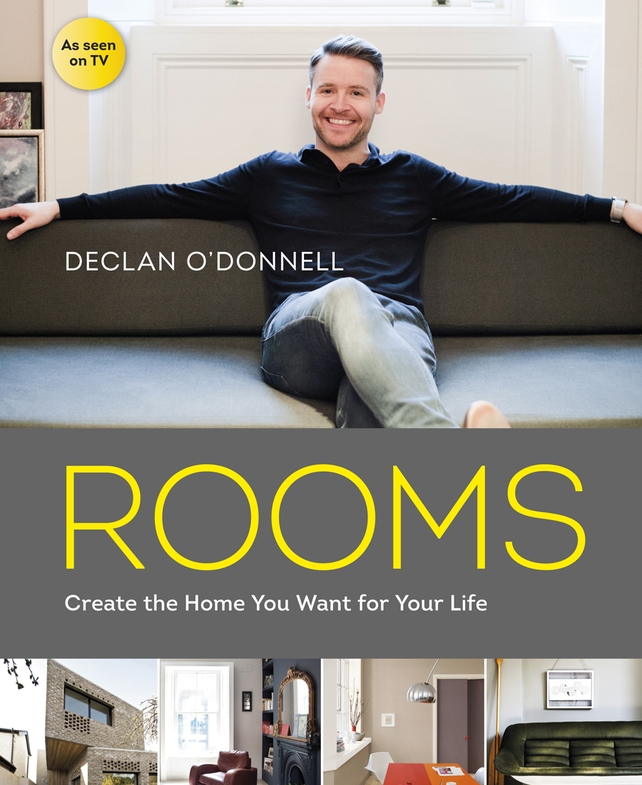 "I strongly believe that good design and architecture are for everyone. The environment around you, be it your living room, your kitchen or your favourite restaurant, they all have qualities that directly influence your mood, and there are reasons you like them.
"We are connected to our surroundings, and we feed off them. They speak to us. People change and move homes for lots of different reasons, and it's usually related to what stage they are at in life. From first-time buyers to those looking to downsize, growing families to unexpected career moves, nowadays instead of just moving house and trading up, more and more people are being more creative with the spaces they have and there's a real move to improve and update the houses in which we already live. Economic forces are always at play as well – sometimes it makes more sense to improve what you have already instead of selling up and moving.
"Most of us like the area we live in. The kids are in school, friends live nearby and there is a familiarity there that is comforting. There's a lot to be said for refurbishing a house rather than moving – and it's a great opportunity to get stuck in and create the home you've always wanted.
"While the glorious, restful feeling of getting home after a long day exists no matter what, I have been in hundreds of houses over the years and the harsh reality is that I see simple layout problems or space issues that can be solved easily with a bit of clever thinking – and trust me, it's the small things that make the biggest difference. I've seen hill-walkers with nowhere for their rain gear, avid golfers with a hallway full of golf clubs, and families with truckloads of toys cluttering their only family space. You name it, I've seen it. I think we slide into these bad habits over time, and with time comes a certain obliviousness followed by an unknowing acceptance of a new norm.
"Good design can solve almost any problem in a house and can bring life to even the most lived-in homes. All that personality and individuality that we all possess shouldn't be buried so deep, lying undiscovered, repressed and dormant. It should scream from the rooftops, stamp all over the place you call home and bring joy to you and those you invite through the door. That's living.
"I love figuring out how spaces work, how to make something better, bigger, brighter or more comfortable. This will directly determine the feeling you will have in a new space. Maybe decluttering the utility room by designing a new multi-level storage unit will hit the nail on the head and solve that problem, but the success of this will be measured by how you feel about it when it's finished. Do you feel more calm when you're in there? Do you feel less stressed when trying to find something?
"Do you spend less time in there now because it is ordered? Is it easier now? Are you a bit happier dealing with the lorryloads of washing because it's more organised? If the answer is yes, then this is the determining factor of how we evaluate good design – how it makes us feel. That's it. Simple!
"I want you to get excited by the opportunities that are out there. You may think of them as problems, but really they are opportunities to come up with a solution that works for you. Everything you do, every day, can be improved through design. So whatever it is that isn't working for you, grab hold of it and fix it. Big or small, don't keep living with the same issues that you know are driving you mad!
"In my book, I've put together helpful design tips that we use over and over again, because they have been proven to work and pretty much every client I speak to has these same issues. I want you to gain some of that inner designer spirit, and tackle the problems (sorry, opportunities) that your home presents. It doesn't matter about the size of your home, or your budget, there is always an answer.
"My advice in Rooms is to get stuck in and give it a go. Understanding the problem is the first port of call for any design challenge, so you really need to get to the bottom of the issues at hand, as well as figure out who you are and what makes you tick.
"The essence of this is to acknowledge what makes you really happy, because if you can nail that then you will have something special."
Rooms: Create the Home You Want for Your Life by Declan O'Donnell, published by Hachette Ireland, £19.99.