This is an advertorial
National Fire Safety Week takes place this week from 6th - 13th October 2014. Jointly run with the Northern Ireland Fire and Rescue Service, it is about enhancing fire safety, particularly in the home. This year's National Fire Safety Week theme is Protecting Those Most at Risk from Fire. Here's a quick and easy guide to what's involved and the information you need to keep you and your family safe from the dangers of fire.
On average 36 people die in Ireland each year as a result of fire. House fires account for the vast majority of fire fatalities. Both the very young and the elderly are particularly vulnerable and these groups account for almost half of the domestic fatalities. Family members, relatives and friends of the vulnerable and elderly are asked to ensure that they have working smoke alarms and that they are fire safety aware.
National Fire Safety Week marks the beginning of an intensive media advertising campaign to run until Spring 2015. The 'STOP Fire' campaign aims to prompt older people directly and those who come into contact with older people, as well as the wider community, to take preventative and protective fire safety action.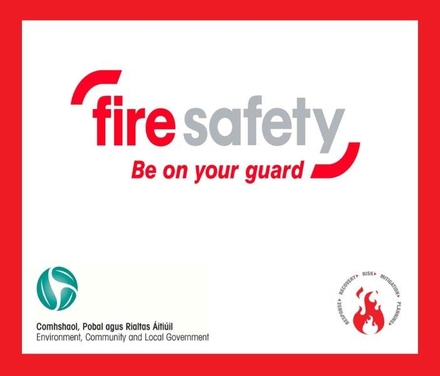 The STOP fire campaign stands for the following and is easy to remember!
Smoke alarms
Test smoke alarms weekly
Obvious dangers
Plan your escape
Here's a breakdown of each of these key and really important points:
1. Smoke Alarms
There are 2 types of Smoke Alarm - "Ionisation" and "Optical".

1. Ionisation Smoke Alarm:
The cheapest and most common type. Very sensitive to small particles of smoke from "flaming" fires like chip pans. Will detect this type of fire before the smoke gets too thick.
2. Optical Smoke Alarm
More expensive type but more effective at detecting larger particles from "slow-burning" fires such as smouldering foam or P.V.C. wiring.
How many smoke alarms do I need?
For maximum protection one smoke alarm per room except the bathroom, kitchen and garage. Heat alarms may be considered where fumes from cooking or smoke from cigarettes or open fires could lead to unwanted alarm activations. For minimum protection one smoke alarm for each level/floor of your home.
Where do I fit them?
On the ceiling as close to the centre of the room as possible.
Keep in mind your ability to hear the smoke alarm at night with the door closed.
Know your evacuation plan!
The purpose of a Smoke Alarm is to give an early warning of an outbreak of fire! It is vital that you and your family know exactly what to do when the Smoke Alarm activates.

2. Test smoke alarms weekly

Smoke alarms require very little maintenance but to ensure it operates when needed:

• Once a week test the smoke alarm by pushing and holding the test button until it activates.
• Every six months vacuum and brush the casing to get rid of dust.
• Every year change the battery.
• Every ten years replace the smoke alarm.


3. Obvious Dangers – Do a Routine Fire Safety Check

Look for obvious dangers. A "Routine Fire Safety Check" should only take a couple of minutes but it could mean the difference between Life and Death.
Walk around your house with a view to keeping your home safe and secure.
• Unplug all unnecessary electrical appliances.
• Turn off all unnecessary gas appliances.
• Make sure all candles and naked flames are extinguished.
• Place a spark guard in front of any open fire.
• Empty all ashtrays - remembering to run the contents under a tap before disposal.
• Are all escape routes completely clear of obstructions?
• Close all doors to reduce the spread of fire and smoke.

4. Planning Your Escape Route
Have an "Evacuation Plan" for you and your family in the event of a fire.
If a fire occurs in your home you may have to get out in dark and difficult conditions. This can be especially challenging if members of your family are very young, older or infirm. Escaping from a fire will be a lot easier if you have already planned your escape route and know where to go:
• Involve everyone in the house, including visitors to your home
• The normal way out is the preferred choice
• Keep your escape route clear of obstructions
• Keep keys to doors and windows immediately available
• Protect your escape route by closing all doors into it, especially at night
• Practise using the agreed plan
• Select a safe meeting place outside
• Make everyone aware of how to call the fire service
National Fire Safety Week is very important in the calendar of fire services around the world. It has its roots in the Great Chicago Fire, which occurred on October 8, 1871. The former American President, Calvin Coolidge proclaimed the first National Fire Prevention Week in 1925 in memory of those who perished in that Fire. Since then, in early October, it has been observed each year in countries around the world. 143 years on, the message regarding fire prevention and fire safety is as relevant today as ever it was.
Information on fire safety can be accessed at:
www.firesafetyweek.ie
www.facebook.com/firesafety.ie
www.twitter.com/firesafety.ie