Paul Flynn, of the celebrated restaurant The Tannery in Co. Waterford, is a bohemian at heart. If this wasn't clear from him wearing his "Electric Picnic yellow shoes" to the launch of his new television series, then it's made abundantly obvious by his love of the humble but mighty food truck.
That's the inspiration behind the chef's latest venture: a deep dive into Ireland's delicious and dynamic food truck culture. In Paul Flynn's Food Truck Favourites, a new six part series, Flynn explores Ireland's thriving street food scene and creates his own food truck favourites.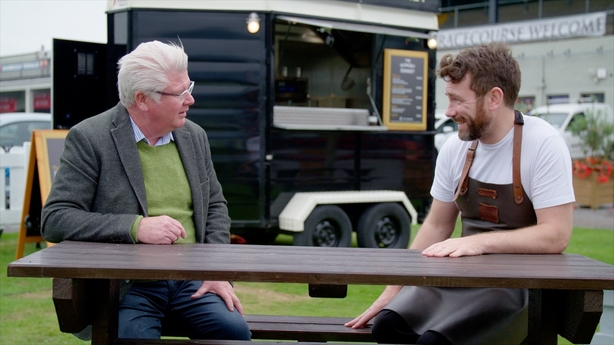 Over the course of the series he'll visit 18 food trucks, covering a range of diverse cuisines and styles, learning how they pump out their exquisite dishes and picking up a few tricks himself.
The show feels perfectly timed, as foodies in their droves flock to festivals and concerts hungry for good food and spoiled for choice when it comes to food trucks. "It's been coming a long time, it's been in my brain for I'd say about five years", Flynn says.
"The food truck scene has really come on in leaps and bounds", he tells RTÉ Lifestyle at the launch for the show in Dublin's Library Street restaurant.
"I think lockdown made people more inventive, there's been an explosion of people that just wanted to do it. There's something about food trucks, and I suppose the freedom of them, that really appealed to me, and the diversity of the people, their ethnicity, the regions that we went to, there's lots in this show for people to delve into."
Spanning across the country, Flynn says the show is almost a "travelogue", showcasing some of the most vibrant food spots across Ireland, thanks in a large part to the vibrant food trucks that feed the masses.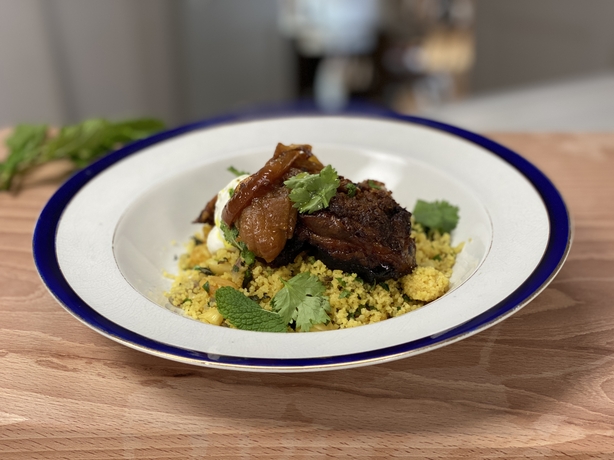 As part of the show, Flynn gets stuck into the food truck life himself, dishing up plates inspired by the flavours he comes across, all out of a "dinky little caravan". The classic caravan is so beloved by him that on the launch day he wore a pin of it on his jacket lapel.
It's clear that there's a certain romance to food trucks that Flynn is especially enamoured with. "I loved the freedom of the whole thing", he says. "It gave me a glimpse into their lives, and I'm kind of envious, a little bit!"
The boom in food trucks is largely down to the pandemic, as they provided a vital dose of escapism and comfort for those of us restricted to 5km radius limits and eating al fresco in all weather. However, there's long been an appeal for would-be chefs who want a career that's less traditional.
"Not everybody wants the rigour and the discipline of being in a professional kitchen, especially the high end ones", Flynn says. "It's a very different thing, that's how I trained. Yet, people could love food and they end up in food trucks.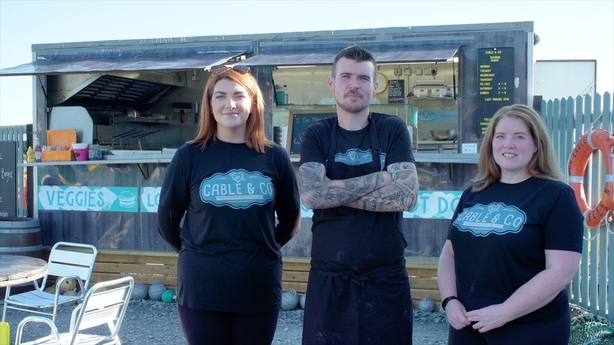 "They're so relaxed about the way they approach food and yet you can see the love and commitment that they have to their businesses. Behind everything there's always hard work."
Of the 18 food trucks featured there are some well-known superstars of the trade, including Kwanghi Chan's Bites by Kwanghi – who Flynn calls an "entrepreneur, adding, "every time I switch on social media, Kwanghi's doing something else. He makes everyone I know seem lazy".
There's also Caitlin Ruth, the former head chef of Deasy's in Clonakilty in Co. Cork, where she had built a reputation as a ferocious chef, yet "she's moved onto different things and she's got independence, her food is absolutely striking".
"These are chefs that I would always look up to because I learn things."
So what's the secret to a winning food truck? Flynn says it all comes back to the basics: creating tasty food. "The one thing I learned from what everybody's doing is that there's such a process behind it in terms of building up layers of flavour.
"The nice thing about it is if it's dirty, it's a little bit. If you get messy, that's okay too. Quite often you're in a field, you're not in a restaurant, and I think [it] celebrates the fact that it's okay to have a little bit of sauce running down your hands. Eating on camera, by the way, is not easy, to hold onto your dignity. At some point I lose it, often!
We need your consent to load this Instagram contentWe use Instagram to manage extra content that can set cookies on your device and collect data about your activity. Please review their details and accept them to load the content.Manage Preferences
"It's a very feral way to enjoy food without all the etiquette of a restaurant – I'm doing myself out of a job now!"
A key factor to the appeal of food trucks is how they allow food lovers to travel the world from anywhere. Flynn himself says he travels "vicariously" through food.
"I travel a bit but yet I spend all my time thinking about going somewhere else. I'm forever thinking about the food in another place. But this is the thing about the people we met. We can learn things from them, they are bringing their cultures to us and they're being celebrated. The best thing we can do is support them because that's a sign that we are celebrating them."
It's really important for me to change my cooking with the seasons. I take influences from everywhere. However, I'm not head chef anymore because it's a young man's game. I'm more like the conductor of the orchestra more than the head chef. I've really good people around me.
"I just want good, exciting food", he says, adding that he often "throws a spanner in the works" by suggesting a dish based on something he tried at a food truck.
"Food still excites me, and that's a really good thing."
Watch Paul Flynn's Food Truck Favourites on Wednesday at 8pm on RTÉ One.