With some of us back in the office from time to time and the rest of us looking for tasty snacks when based at home, I have plenty to satisfy your tastebuds.
Of course, it is good to support the cafés and food trucks near your workplace, but it's also lovely to bring in something you've prepared yourself from time to time. It is beginning to get hectic, so time is of the essence, especially if there's a commute involved, so quick and easy is the way to go.
So, this week, I hope you enjoy my 'food on the go' recipes.
Happy cooking!
Catherine
www.ballyknocken.com
Quick & easy snacks
Roasted chickpeas: These are simply placed in a bowl with a small amount of oil, a dusting of cumin and paprika and some salt and into the oven to roast until golden. Cool completely and store in a well-sealed glass jar.
A small jar of homemade granola - you just add a little milk or yoghurt!
Toasted cashews or flaked almonds with dried cranberries and a little dark chocolate chopped into it.
Melting made easy
I find this very helpful – it's called a double boiler melting bowl. No more opening the microwave, stirring, and closing it, then repeating it 10 times and then you find its burnt! Just add the chocolate you want melted, place it over another saucepan – the front hooks on securely and leave it to melt above hot water. No fuss, just smooth thick consistency.
Westmark Double Boiler Melting Bowl, €9.95 + postage, thekitchenwhisk.ie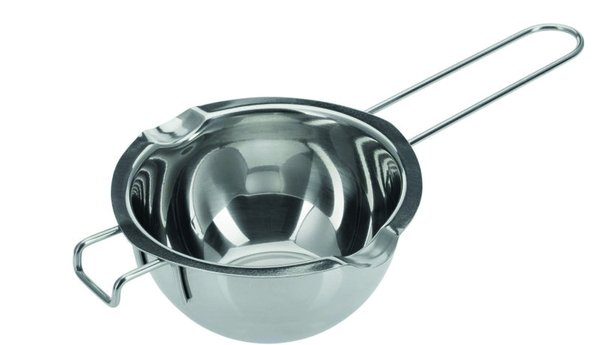 Veg hummus jar to go
"This recipe is quick as we are using a blender. Having the julienne vegetable sticks ready in a container in a little water in your fridge will also speed things up. Doing a prep evening or afternoon once or twice a week is a real added benefit; it saves so much time."
Makes about 250g
2 cloves garlic, peeled and chopped
½ lemon
60g tahini paste
4 tbsp extra virgin olive oil
½ tsp of ground cumin
1 tsp salt
150g cooked chickpeas (drain liquid before measuring)
100g cooked /grilled artichokes in oil, drain the oil
Water, to loosen
Sprinkle of paprika (optional)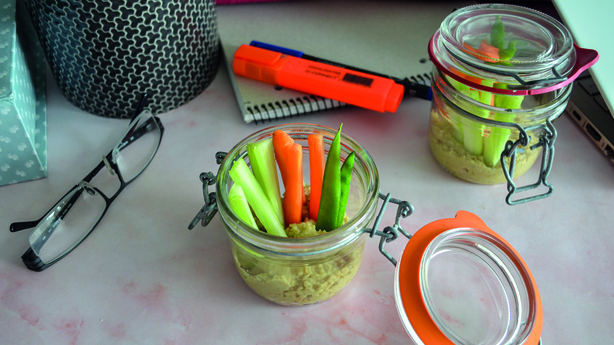 Method
Julienne slices of carrots, celery, cucumber and sugar snap peas (slice them so they fit snuggly into the jar that you will be using)
Juice the half lemon and add along with the tahini paste, extra virgin olive oil, ground cumin, salt, garlic, chickpeas and artichokes to a food processor. Blend until a smooth paste, adding a little water if you feel it is too dry.
Spoon into a large jar so that you can transfer into a smaller one to take with you. This will last, sealed in a jar, in your fridge for up to 2 weeks.
Garnish the top with a little paprika and a little oil. To assemble, use a jar with a seal lid. Spoon 2 to 3 tablespoons of hummus into the jar. Place the julienne slices of carrots, celery, cucumber, or sugar snap peas into the hummus so they are standing up. Seal the jar and you are ready to go.
Note: If using cucumber, slice or scoop out the watery seeds before cutting into batons.
Easy energy balls
"These are so delicious, they will soon vanish Make extra and take them in for everyone to enjoy. I prefer to use medjool dates as they have a lovely caramel flavour, and the consistency is fudge like which makes for good energy balls."
Makes about 16
200g medjool dates, pitted
3 tbsp almond butter
1 tbsp chia seeds
140g oat flakes
80g dark chocolate, chopped
70g dark chocolate
Sea salt, for the top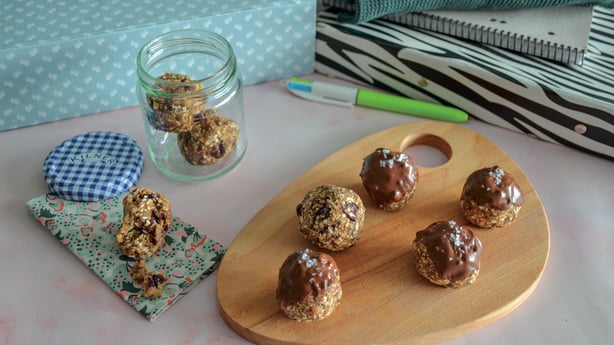 Method
Place the dates into a food processor. Add the almond butter, chia seeds, oat flakes and dark chocolate and blend until textured. Don't over process them – there should be bits of ingredients still visible.
Wash your hands and keeping them slightly damp, take a piece of mixture the size of a walnut and roll in your hands. The moisture and warmth from your hands moulds them into shape.
Place them on a parchment paper lined plate and transfer them into the fridge for 20 minutes.
Place the chocolate into a bowl over a pan of hot water and leave to melt. Dip the top of the energy balls into the melted chocolate and place on parchment. Sprinkle a small amount of sea salt over the top. Leave to dry. These freeze well for up to a month.
Variation: Add 3 tbsp dried cranberries into the food processor before blending or 2 tbsp of roughly chopped dried mangoes.