For Seány McCleary, his appearance on The Battle of the Food Trucks, RTÉ Player's newest show, sounded like one of the most stressful days of his career.
A baby due that day and cameras looking on as he whipped up a flurry of dazzling dishes, the chef and owner of food truck Blasta Street Kitchen battled on against five other fierce competitors.
And yet for him it was "just another day in the office having the banter with the lads".
To be fair, Seány is as seasoned a chef as they come, having cut his teeth in chip vans as a young man of just 13 and 14. "I came from a very entrepreneurial background", he tells me over the phone.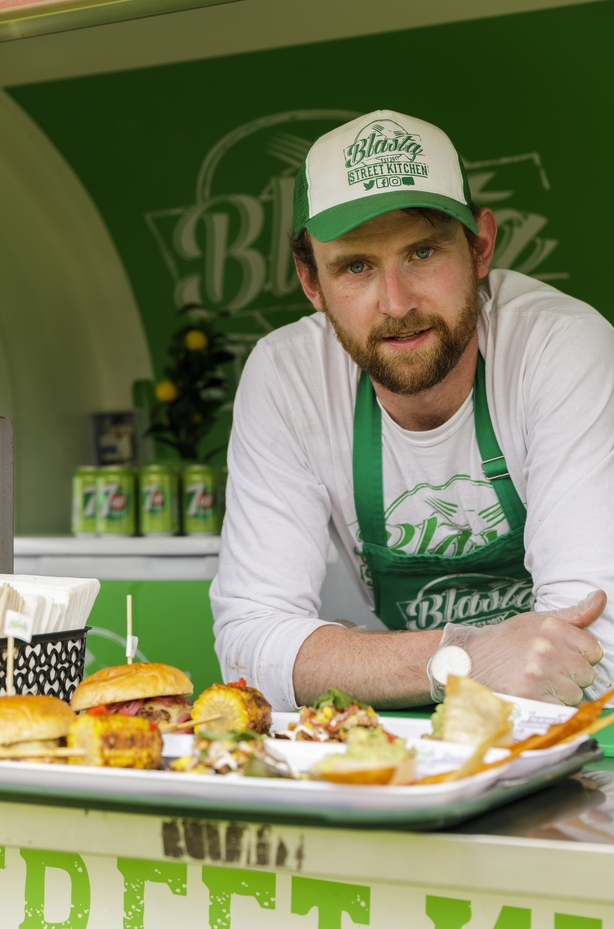 "As far as food goes, I started working on a chip van from when I was like 13, 14, 15, 16. I'd go on to places all around the country, Croke Park and Aviva Stadium, everything, and then started working part time in a hotel, doing food, sandwiches and everything like that."
He brings this and more expertise to his appearance on The Battle of the Food Trucks, a new cookery show coming to RTÉ Player, which follows along as six food truck chefs from across Ireland go head-to-head to be crowned Ireland's finest food truck, battling it out through various challenges and themes.
Seány is in an especially interesting position as a food truck owner. Having studied ancient food technologies in college, his palette was formed by travelling through 25 countries in just five years with his partner and business partner Nikita after they both graduated.
Over the course of these years they worked through kitchens, cafes, hotels and as party hosts, learning what dazzled and what bored on the plate. "We're very much 'people' people", he says.
But it was the combination of a year and a half working in a creative restaurant in Melbourne, followed by six months travelling up South America, across "Argentina, Bolivia, Chile, Peru and Colombia and Ecuador", that cemented their personal cooking styles.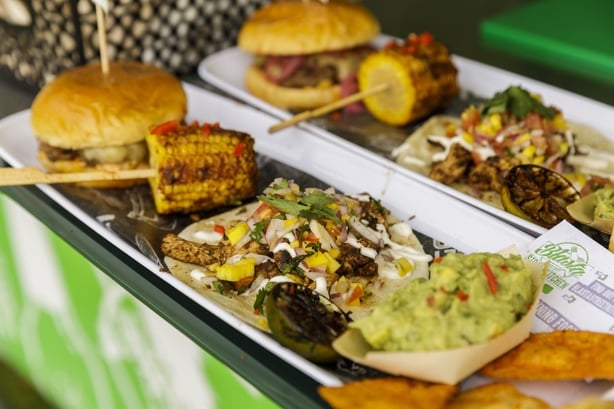 "I'd seen the potential of making money when I was growing up in the chip vans, and feeding the masses, but I never really enjoyed it because the food was so bad", he says. Working in Melbourne food truck Sliders on Tyres, where the food was "so fresh, clean, not greasy" – and, crucially, profitable – inspired the couple to move back to Ireland, where the food truck scene was "a blank canvas".
Opening their truck in 2017, serving burgers, tacos and what they call "Irish street food with the story", the couple have gone from strength to strength. Their menus include dishes like grilled corn slathered with peanut and chilli sauce, a recipe inspired by the snacks served up on the surfing beaches of Indonesia.
Still, the pandemic was a complete "rollercoaster ride" for the team. "We had just launched about six months before. We had our Fresh Mex meal kit and taco sauces in SuperValu, so we were just on the verge of scaling that up. This was just like a big kick in the face", he adds.
"I did keep a bit of retail on, but I had to let two people go that could I just made a big deal out of hiring. We had to get back to the food trucks, out in the street cooking hot food for customers, be open more."
On top of this, Seány co-owns Streat School, which helps companies start and design food trucks. "We've set a forty five street food businesses in the last 18 months", he tells me, with Nikita working as an industrial designer and workshops carried out for food truck owners.
Six food truck chefs battle it out to be crowned Ireland's finest food truck with the winner driving away with €5,000 prize money.

Starts Tuesday, June 22nd, only on RTÉ Player. Proudly sponsored by @7UPIRELAND #ad #7upfreeireland#battleofthefoodtrucksrte pic.twitter.com/ZhYSHzB1RB

— RTÉ Player (@RTEplayer) June 18, 2021
From his perspective, the food truck scene is booming like never before thanks to the pandemic, and he's certain it won't be going back to where it was before. "It's not going to disappear either because so many people have invested in outdoor infrastructure, electrical power point generators, marquees", he says.
"I think it's going to be a little bit of that will stay but summer culture here is changed forever. When you think that most of us were sitting indoors in cold pubs and restaurants in the middle of summer, it's crazy."
And the appeal is clear to anyone lucky enough to now have a go-to food truck. You get incredible food for sometimes less than you'd pay in a café or restaurant, with more variety and great ingredients. It's better value for the food truck owner, too.
"The long and short of it is my overheads are always 75% less of a restaurant. I'm lucky enough that I get to decide where I want to spend that 75%. That makes sense because I can put that into the produce. I can keep the price point lower. Our staff are on a living wage here."
For the customer, too, there's a unique experience when buying from a food truck. "There's a trust thing because you can come to Blasta street kitchen and literally watch me from beginning to end put together your food", Seány says.
"So if you order duck tacos we're grilling the duck in front of you, slicing up to the duck, grilling it in front of you, warming the tortillas, passing it to one of the girls and asking you what you want on it.
"People see me going to farmer's market on Friday morning, at half 8, knowing that I won't be there selling food till 11. People can see the hard work that you put in."
7UP Free are proud partners of the Battle of the Food Trucks exclusively on RTÉ Player. Friends, food and 7UP Free. Clearly Great Moments. Clearly 7UP Free.
Don't forget to join host James Patrice each week as things heat up in the battle to crown Ireland's best food truck. Watch it here now on RTÉ Player.