We might be missing the rain-soaked parade and craic with our mates, but you don't have to miss out on the celebrations altogether this St. Patrick's Day.
As this will be our second St. Patrick's Day in lockdown, consider this your sign to go all out. Many Irish bars and restaurants have curated special foodie boxes, championing everything from Irish cream and Irish coffee* to home-grown Irish cheeses and more. 
Here are some of the best celebration boxes to order in. 
The Irish Cheese Box from KC Peaches
If you're more into nibbles this St. Patrick's Day, why not delve into the best of Irish cheese with the KC Peaches Irish Cheese Box? 
Celebrating the incredible range of cheeses we're lucky to have in Ireland, this delicious box comes with Cahills Porterhouse, Cashel Blue, Boile and Dubliner cheddar. Complete your board with chutneys from Cork and crackers from Sheridans, also included. This box costs €29.95 and can be picked up in their St. Stephen's Green location or on Deliveroo. 
The Twelve's Special St Patrick's Day Cocktail Box
Kick the festivities off with this cocktail box from The Twelve Hotel in Galway, mixed by their own in-house mixologist. Recreate the buzz of a Paddy's weekend away by sampling some of the team's superb Brown Bag cocktails, which have been a massive hit with foodies recently. 
In each box you'll get four cocktails – the Prince of Paddy Sour, the Spirit of Irish, the Classic Boulevardier and the Apple & Ginger Martini – as well as glassware, garnishes and some minis. The box costs €90 and is available for pre-order from the hotel's online shop. 
The Paddy's Box from The Big Romance
If you want serious bang for your buck, look no further than the Paddy's Box from Dublin's The Big Romance, home of great pints and even greater vinyl nights. 
The box is a collaboration with Teelings Whiskey and promises everything you need for a fantastic Paddy's Night in, minus the rainy Dublin streets. For €49.50, you get eight Irish craft beers, two mini bottles of Teelings Small Batch Whiskey, one bottle of the limited edition Craft Cocktails Green St. Sour and two bags of Keogh's Shamrock & Sour Cream Crisps. 
Even better, you get the promise of more festivities with two passes to Teelings Distillery once the fabulous spot opens again. 
Treat Yourself Brunch Box from The Imperial Hotel
Sure, a pint of plain's your only man, but what about the other iconic Irish beverage, the one we're known for around the world: Irish cream? With this decadent box from Cork's The Imperial Hotel, you can have yourself a Baileys Brunch and start the day off right. 
Priced at €26 per person, each box comes with a Baileys hot beverage kit, with either hot chocolate or coffee, breakfast pastries like raspberry and white chocolate scones and pain au chocolat, pancakes and waffles served with Baileys caramel sauce and an Irish street parade home kit so you can bring the annual parade home this year, and more. 
For an additional €20 you can add a bottle of Fine Perry Killahora Orchards of 2019 Poiré to make a Pure Cork Mimosa. With every Brunch Box sold the Imperial Hotel will donate €2 of the sale to the Irish Guide Dog for the Blind.
CLIFF Home St. Patrick's Day boxes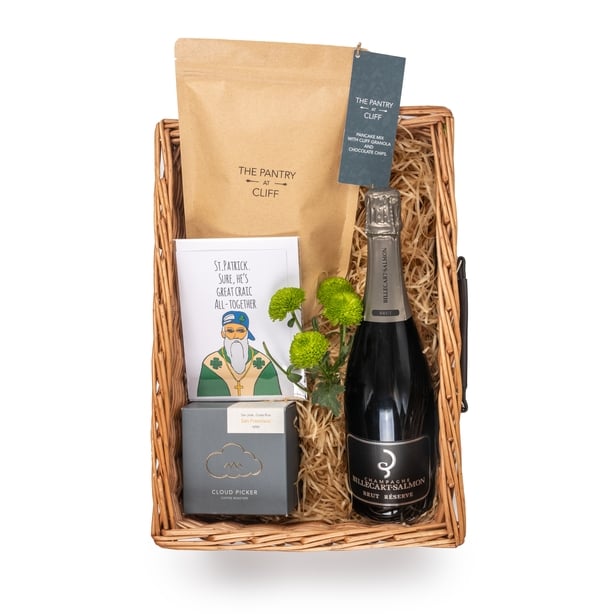 If you're really looking to spoil yourself this Paddy's Day (and why shouldn't you?) the boxes by Cliff at Lyons, Cliff House Hotel are the ones for you. Not content to leave it with just one, the team in the dazzling hotel have created three decadent boxes so you'll be spoilt for choice. 
Choose from the St Patrick's Morning box (€110) which comes with champagne, The Pantry at CLIFF pancake mix and Cloud Picker Aimsir coffee or the St Patrick's Evening box (€65), which comes with CLIFF House red wine, The Pantry at CLIFF Wild Irish Mushroom Risotto mix and Cherry and Hazelnut Brownie dry mix.
And if you're looking for a non-food-related way to relax, there's the Peat for the Feet celebration box for €125, including The Well at CLIFF bath robe and The Well at CLIFF organic peat foot treatment. 
*If you are affected by any of the issues raised in this article, you can visit Ask About Alcohol.