Ella Mills can't stress enough how "super, super, super easy" this curry is.
"These big pot things are the things I make the most, I love them," says Mills, who features the recipe in her latest Deliciously Ella cookbook.
"You can freeze them and it's easy to make four or five times the amount, as long as you've got a big pot – you just need to chop a bit more onion and that's all the work involved. You can then defrost for the next meal, which is an absolute dream."
Spinach and chickpea curry recipe
Ingredients:
Serves: 4 with rice
1tbsp coconut oil
1 onion, finely chopped
4 garlic cloves, finely chopped
2 celery stalks, finely chopped
250g spinach
1 × 400g tin of coconut milk
A 2.5cm piece of ginger, peeled and finely chopped
1tsp mustard seeds
1tsp ground coriander
1tbsp medium curry powder
1tbsp ground cumin
24 cherry tomatoes, sliced
2 × 400g tin of chickpeas, drained and rinsed
1/2 lemon
2tbsp plain yoghurt (we use a pure coconut yoghurt)
Pinch of chilli flakes (optional)
Salt and pepper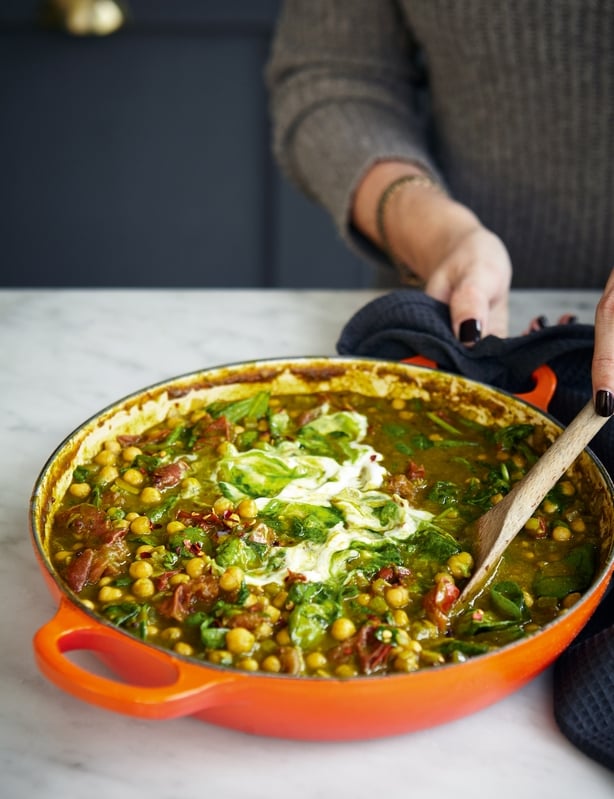 Method:
Put the coconut oil into a large saucepan with the onion, garlic and celery, and some salt and pepper, and let them cook on a medium heat for five to 10 minutes, until the celery and onion have softened.
In a separate pan, wilt 100g of spinach with a splash of boiling water. Once wilted, add half the coconut milk and use a hand blender to blitz the spinach, so that it's smooth.
Once the celery and onion have softened, add the ginger, mustard seeds, coriander, curry powder and cumin. Let the spices toast for a minute or so before adding the puréed spinach, cherry tomatoes, chickpeas and the rest of the coconut milk, plus a big sprinkling of salt and lots of pepper.
Turn the heat up so that it starts bubbling, then turn down to a simmer. Simmer for 15–20 minutes, adding the rest of the spinach for the final few minutes. Once the spinach has wilted, add a squeeze of lemon and the yoghurt plus a sprinkling of chilli flakes, if you're using them, and serve.
Deliciously Ella Quick & Easy: Plant-based Deliciousness by Ella Mills, recipe photography by Nassima Rothacker, is published by Yellow Kite. Available now