This week, we are still in the kitchen with the kids and loving it. They've learned many different skills during this time at home, so let's put them to good use when they head back into the classroom.
Here's what I did (a few years back, mind you!) with my children – I picked recipes that were easy to read, had two different skills in them and with the recipe steps set out simply, making it easy for the children to follow themselves. Not wishing to overload them, I started off slowly, once or twice a week, so they got into a routine.
I found that keeping a recipe journal was useful, honing in on some special skills like using a zester correctly, safe chopping, expanding their knowledge of local vegetables and some info on spices. It was a lot of fun and even though they are teenagers now, they still put those skills to use – it doesn't stop them eating pizza though!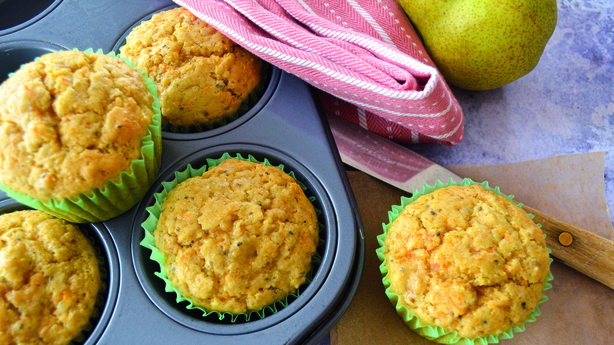 Picnic box muffins
"The pear and grated carrot give this a lovely sweetness and keeps it moist. Raisins or dried cranberries are also delicious, making the most from a single recipe"
Makes 12
180g plain flour
4 tbsp fine polenta
3 tbsp oats
1½ tsp baking powder
½ tsp ground cinnamon
60g golden caster sugar
2 tsp chia seeds
60g grated carrot (that's about 2 medium carrots)
1 medium pear, peeled and diced small
2 eggs
90 ml rapeseed oil
120ml milk
Method
Pre-heat the oven to 180°C/fan 160°C/gas 4. Line a muffin tray with medium-size muffin cases, although this isn't necessary, as you can brush the tray with rapeseed oil to prevent sticking.
Place the plain flour, polenta, oats, baking powder, cinnamon and golden caster sugar together in a large bowl. Stir in the chia seeds. Add the carrots, diced pear and stir again. Break the eggs into a jug. Pour in the rapeseed oil and milk and beat with a fork.
Pour this egg mixture into the dry ingredients and fold together gently until all is combined. If you feel the batter is too stiff, then add 3 to 4 tablespoons of milk to the mixture. Using 2 dessert spoons, spoon the batter into the cases.
Place in the oven to bake for 22 to 24 minutes or until cooked and golden brown. Insert a skewer to check that it is cooked. If it comes out clear then they are baked.
Leave to cool completely on a rack before packing away.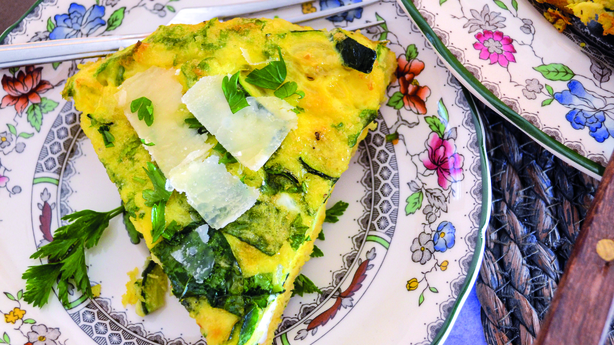 Courgette & spinach frittata slices
"Good to have in the fridge for those hungry moments and some to pack up for a picnic as well as for the lunch box"
Makes 6 slices
2 spring onions, finely sliced
1 tsp chopped thyme
1 medium courgette, finely diced
6 large free-range eggs
A generous handful of baby spinach leaves
1 tbsp chopped parsley
60g freshly grated Parmesan
2 tbsp grate mature Cheddar
Olive oil, for frying
Salt and freshly ground black pepper
Parmesan shavings, to garnish
A sprinkling of chopped parsley, to garnish
The handle of the frying pan must be oven proof.
Method
Heat a little oil in a large frying pan, add the spring onions, thyme, diced courgette and sauté on a low heat for 6 to 7 minutes, stirring from time to time.
Whisk the eggs, parsley, grated Parmesan, Cheddar, salt and pepper in a large bowl.
3 Spoon the spring onions and courgettes onto a clean plate. Carefully wipe the frying pan and add a little more oil and heat.
Pre-heat the oven to 190°C/fan 170°C/gas 5. Add the egg and vegetable mixture into the frying pan, add the spinach leaves, cook over a lower heat for 2 minutes before transferring to the oven to bake for 14 to 16 minutes or until the frittata is set. Be careful: the handle will be hot. Run a thin palette knife around the edge and slide onto a plate to serve.
Slice the frittata. Add Parmesan shaving to garnish and sprinkle some chopped parsley.
NB: if you are worried about taking the hot pan out of the oven – there is another way of doing this. Sauté the vegetable in the frying pan until softened. Whisk the eggs, add cheeses and parsley and add the sautéed vegetables to the egg mixture. Pour this mixture in to well buttered shallow gratin dish and bake it for about 18 minutes until set. Then cut into slices.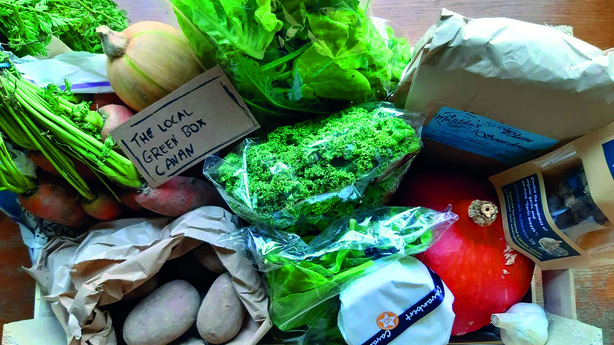 #lovelocal
The Cottage Market, Co Cavan
This wonderful monthly community market in Ballyconnell, Co Cavan came up with a weekly box scheme called The Local Green Box Cavan, which is available as a click and collect service to locals in Cavan town and Ballyconnell.
Organic growers supply all seasonal salads and veg, an artisan baker provides the most amazing sourdough bread and pastries. Cheese, honey, preserves, organic meats are popular additions to the box and customers have the option of choosing exactly what they want to be included. thecottagemarket.ie.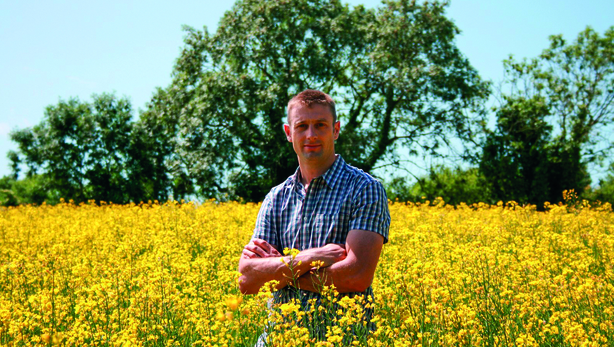 Wicklow Rapeseed Oil
Straight from the Garden of Ireland, where the fourth generation of the Symes family produce the wonderfully light and nutty Wicklow Rapeseed Oil.
100% traceable and GM-free, using a single variety of oilseed rape, that is freshly cold-pressed without heat or chemicals, a gentle extraction that preserves all its natural goodness and an 'Extra Virgin' standard. Wicklow rapeseed oil has won a Gold from Blas na hEireann and a GreatTtaste award. wicklowrapeseedoil.ie.