If you want to follow the Operation Transformation leaders' meal plan, print off this shopping list for your next trip to the supermarket.
Thursday: Moroccan Chicken & Butternut Squash
Friday: Sun-dried Tomato Cod with Baby New Potatoes
Saturday: Chicken & Vegetable Coconut Curry
Sunday: Hearty Beef Chilli
Monday: Mushroom & Ricotta Omelette with Mixed Salad
Tuesday: Creamy Prawn & Courgette Pasta
Wednesday: Chicken & Leek Traybake
Note: Herbs used can be fresh or frozen and always remember to wash raw vegetables.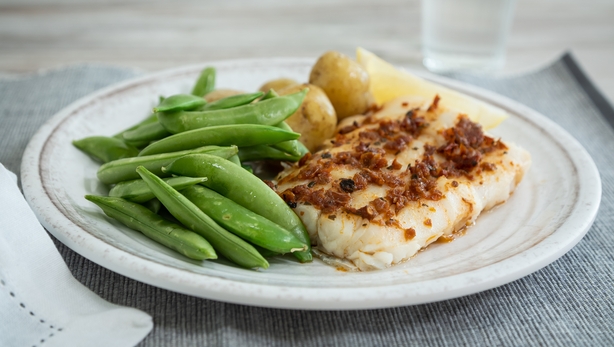 Fruit & Vegetables
Baby new potatoes (500g)
Baby spinach leaves (50g)
Basil l (5g)
Butternut squash (1)
Carrots (5)
Celery stick (1)
Cherry tomatoes (500g)
Chives (5g – if making vinaigrette)
Coriander (10g)
Courgette (1 large)
Cucumber (1/4)
Garlic cloves (4)
Green beans (200g)
Fennel bulbs (2)
Flat-leaf parsley (5g)
Leeks (3)
Lemon (optional – 1/2)
Mushrooms (chestnut or ordinary – 200g)
Onion (1 small)
Red pepper (1)
Scallions (1 bunch)
Sugar snap peas (480g)
Turnip (1 small)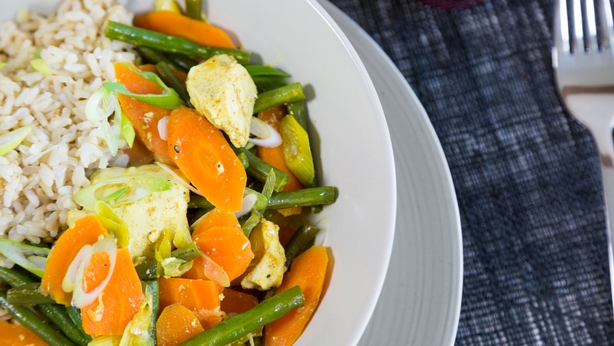 Fresh Produce
Chicken fillets (4 skinless)
Chicken thighs (4 skinless on the bone)
Cod fillets (boneless and skinned – 2 x 200g)
Eggs (5)
Lean steak mince (200g)
Light cream cheese (such as Philadelphia – 60g)
Low fat milk (1.5% fat – 25ml)
Raw peeled tiger prawns (300g)
Ricotta cheese (50g)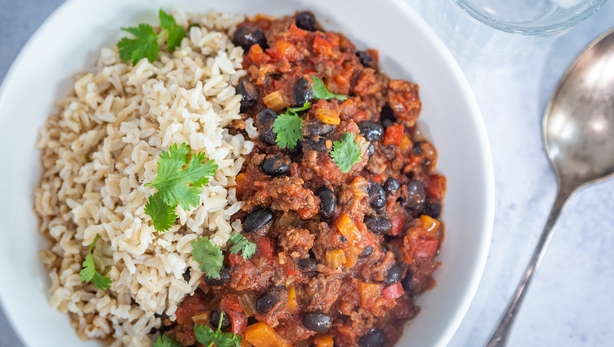 Dried Goods
Balsamic vinegar (30g – if making vinaigrette)
Black beans (½ 400g tin – 120g drained)
Chilli powder (6.25g)
Chopped tomatoes (200g tin or ½ 400g tin)
Coconut milk (160g tin)
Couscous (wholemeal if possible – 80g)
Curry paste or powder (2.5g)
Freshly ground black pepper
Ground cumin (5g)
Ground coriander (2.5g)
Ground turmeric (2.5g)
Honey (5g – if making vinaigrette)
Raisins (35g)
Rapeseed oil (62g + 50ml if making own vinaigrette - cold-pressed for a stronger flavour)
Reduced salt chicken stock cubes (1 1/2)
Salt (if using)
Sun-dried tomato pesto (from a jar or tube – 10g)
Tomato puree (15g)
Vinaigrette salad dressing (shop-bought or make your own – 5g)
Wholegrain brown rice (140g)
Wholegrain mustard (15g + 15 if making vinaigrette)
Wholewheat fusilli pasta (100g)

Operation Transformation continues on Wednesday night on RTÉ One.