When Michael D Higgins told Twitter that he wanted "to be a deli counter for the Irish people" (through the ventriloquism of comedian Michael Fry, to be fair), the Irish people understood exactly what he meant. 
"Deli counters offer hope in your darkest hour, when you don't feel like a human being", Michael-Fry-D-Higgins continued, further weaving a love of fried food stuffed into bread rolls into the very fabric of our nation's culture. 
Michael D Higgins wakes up after a heavy night celebrating his election victory pic.twitter.com/Hg1SNBBy4Q

— Michael Fry (@BigDirtyFry) October 28, 2018
And while in this sketch, the object of desire was a breakfast roll, one other fried and saucy delicacy continues to enthrall the Irish people. The humble chicken fillet roll. 
An emblematic food of Dublin, it's the staple that sustains the studying, the hanging and those working on the fridges of sociable hours alike. Just as Michael-Fry-D-Higgins explains, it soothes a multitude of ailments, whether you're downtrodden, sad or just have the fear. 
Sam Pearson is one such acolyte of the fillet roll. "I don't think there's a more iconic Irish food for me", he says, adding "it's not the only part of our cuisine, but it definitely should be considered part of our cuisine at this point". 
His chicken fillet roll order? The classic: chicken, mayonnaise, cheese, lettuce, and tomato. With one distinction - it's vegan. 
We need your consent to load this Instagram contentWe use Instagram to manage extra content that can set cookies on your device and collect data about your activity. Please review their details and accept them to load the content.Manage Preferences
Pearson is the owner of Vegan Sandwich Co and the mastermind behind Dublin's latest foodie phenomenon, the vegan chicken fillet roll, which he unveiled at the Stoneybatter Festival on 23rd June to a near-rapturous response. 
Made using crispy seitan "chicken" fillets, vegan cheese ("like if you were to buy a bag of grated cheddar", Pearson explains) and crusty sourdough baguettes, all homemade, the sandwiches look to the untrained eye like any other lunch staple. But for vegans, this was a benchmark moment. 
Tampering with a national treasure is a risky move, but a necessary one. It's a move that is indicative of where veganism in Ireland is heading, and is already redefining the narrative on what veganism is for. It's a challenge Pearson has taken to with relish, so to speak. 
"Everything you think you can't have with veganism, I'm like: but what if we could?"
A chickpea mush
A vegan for two and a half years, Pearson was inspired to develop the roll, as well as a vegan mcmuffin and breakfast roll, by the lack of convenient and enjoyable vegan food. "It's only in the last year or two that I was like, well, vegan and lunch is probably the most difficult meal of the day. There are a lot of places you can go out for a nice meal, but there's not a lot of things you can grab and go", he says. 
The sandwich, the original convenience food and a vehicle for some of the tastiest morsels of food known to man, is severely underserved for the vegan community, with many supermarket chains and even high street spots succumbing to the same rotation of typically vegan ingredients.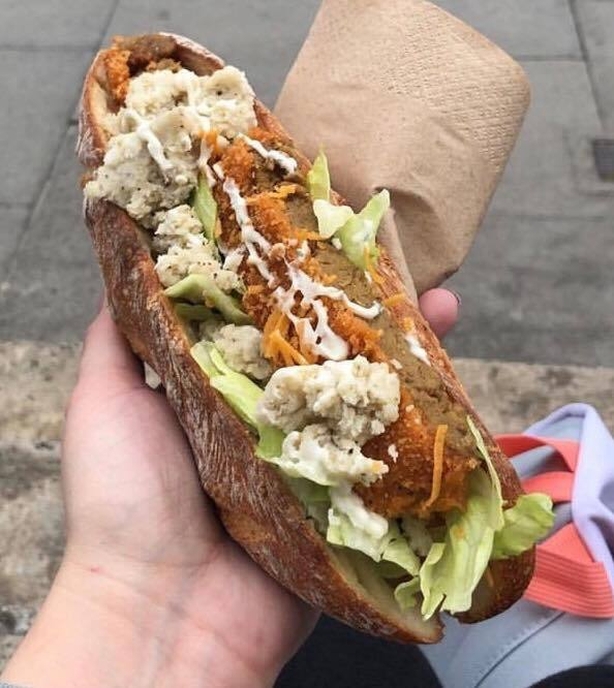 "They're all quite similar. Anything you can get is like falafel, or grated carrot, or sweet potato, or a chickpea mush."
These subpar options lack everything that makes a sandwich great, Pearson says. "All of them really lack what makes a good sandwich, which is really strong flavour, and some texture in there, as well", he explains. 
"You don't eat a breakfast roll and hope that it's mush inside. You want that chew there, you want the savouriness and the saltiness, and I just didn't see that in any sandwiches that I had before."
Crucially, what Pearson's fillet roll brings to the vegan customer is a chance to customise their food in ways that are most often denied with vegan options. 
"Everyone has their own order and I've never seen something [vegan] where you could have that kind of choice that you used to have", he says. "When someone goes up to my counter it won't be 'I'll have the one vegan option'. It's 'I will have my chicken fillet with my barbeque sauce and my coleslaw and my cheese.'"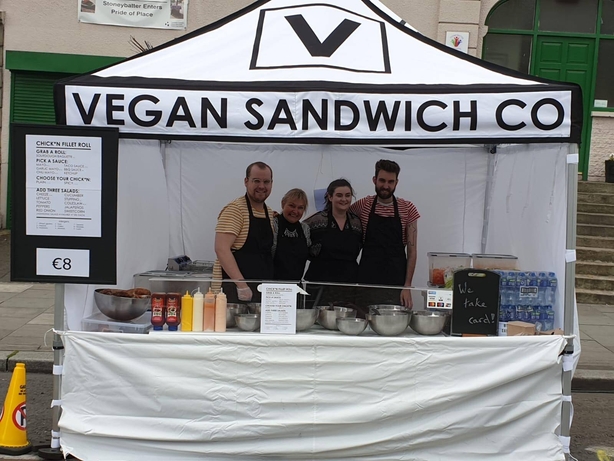 Pearson has made the most of his social media following to crowdsource toppings that customers would want. At the Stoneybatter Festival, the hungry masses could slather their rolls in mayo, taco sauce, barbeque sauce and more; and could line their crusty baguette with "cheeze", stuffing and coleslaw, as well as the usual suspects like lettuce and tomato.
You can even have spicy "chicken" in your roll. 
The festival was a resounding success for Pearson, proof that he had alighted on a product the market was seriously lacking and craving with the hunger of a young fella the morning after All Together Now. 
If there has been any pushback, it certainly hasn't come from within the vegan community, or even about the possible bastardisation of a meat-lovers treat. Rather, the vegan chicken fillet roll has skewered assumptions about vegans in general, what they eat, and why. 
Comforts
In his kitchen in Stoneybatter's Spade Enterprise Centre, Pearson is showing me how to feed a sourdough starter. It's a few days before the festival and he's heaving a container of bubbling goo out of his pantry, which is lined with industrial-sized vats of cooking oil and Korean chilli pepper. I ask if - like many bakers - he has named his sourdough. "She doesn't have a name", he replies. 
This starter will go on to make 270 vegan chicken fillet rolls, all of which will sell out on the day, despite the rain. In between measuring, he says that any puzzled reactions to them have come from "people who maybe don't understand why vegans would want to eat something that resembles meat or tastes a bit like meat". 
This is a fair point, he says, "because I don't think it's something you can comprehend until you don't eat meat". 
Pearson was raised on a farm in Co Tipperary, where he grew up around animals, pets and farmland ones alike, and eating all kinds of meat. It was during his teenage years that the ethical and environmental impact of eating meat began to weigh on him. 
We need your consent to load this Instagram contentWe use Instagram to manage extra content that can set cookies on your device and collect data about your activity. Please review their details and accept them to load the content.Manage Preferences
"There's not many of us vegans who stopped eating meat because they didn't like the taste or they didn't like the texture", he says. "For me, anyway, it's because of the ethical and environmental impact and if I can still have - it won't be exactly the same - a similar product without that impact, then what's the harm?"
Given that what many vegans miss most about giving up meat is the umami savoury flavour that typically comes with animal products, many who become vegan struggle to adapt their eating habits. Pearson explains that you can find yourself either eating just chips and crisps or sweet foods. 
What we're gradually realising as a collective eating population is that vegans crave decadent, stodgy, tasty comfort foods as much as the next person. "[Vegans] are not under any illusion that it's going to replace a chicken fillet for some people, but it's about giving that option to people who want more than just plain vegetables in bread!"
Worsening the vegan fare out there is an insidious assumption that if one is vegan, one must only want whole foods, salads, raw juices. We're still trapped in the interpretation of veganism as was summed up in the character Todd in Scott Pilgrim vs the World, an all-powerful, self-righteous evolved being who developed telekensis through his strict vegan diet. 
Ethical
Pearson notes that the link between veganism and healthy lifestyles has "muddied the waters about what veganism actually is".
"I think a 'plant-based diet', when you use those words, is perceived to be salads and people use it as a way to be healthy, and it can definitely be used to be healthy. But it doesn't necessarily mean that just because something is plant-based, that it is immediately a health food."
For Pearson, as for many people today, veganism is a broader lifestyle and moral commitment, beyond just what you eat. "It's being ethical with your decisions. For me, it's also considering the environment, my purchasing decisions, as well", he says. 
Pearson is emphatic when it comes to giving vegans access to the treats they have been so routinely denied. Case in point: his vegan egg mcmuffin. 
We need your consent to load this Instagram contentWe use Instagram to manage extra content that can set cookies on your device and collect data about your activity. Please review their details and accept them to load the content.Manage Preferences
"The mcmuffin is the greatest breakfast creation known to man! I don't deny that, I embrace it and try to make something that vegans or people interested in reducing their animal product consumption can have, because we should be able to have that."
Pearson will be taking his vegan mcmuffins to the Honest2Goodness market in Glasnevin on 13th July, should you need your fix. 
Michael-Fry-D-Higgins can be the deli counter for the Irish people, but it looks like Irish vegans have found theirs in Sam Pearson.