Once, while on holiday in Lisbon with a group of college friends, we got tired of drinking port. A bottle of the rich, plum-coloured drink cost less than a cup of coffee back home, so naturally we bought many. Eventually, we lost the taste for syrupy alcohol, and craved something just as sweet and cheap but less easy to consume - for our own sakes.
Thus, the pastry crawl was born.
Arbitrarily choosing a stretch of road in the grand capital city, we challenged ourselves to buy a pastry from each bakery we passed, in a city filled with a bewildering amount of cake shops. It was ridiculous and frankly nauseating, but also one of the best ways I've ever come to know a place.
Finding pastries as cheap as that in Paris might not be as likely, but you're guaranteed to pass more patisseries on a walk here than anywhere else, and that was a challenge I was willing to take.
Pick your street
The first hurdle is to choose your arrondissement, easily resolved by choosing a landmark to base your pastry perambulating around. The Jardin des Tuileries is an ideal choice, perfectly positioned between the Right and Left Banks and surrounded on all sides by some of the most celebrated patisseries in Paris.
Not to mention, it practically implores you to walk its verdant, tree-canopied avenues with a pastry and a coffee in hand.
Angelina, 226 Rue de Rivoli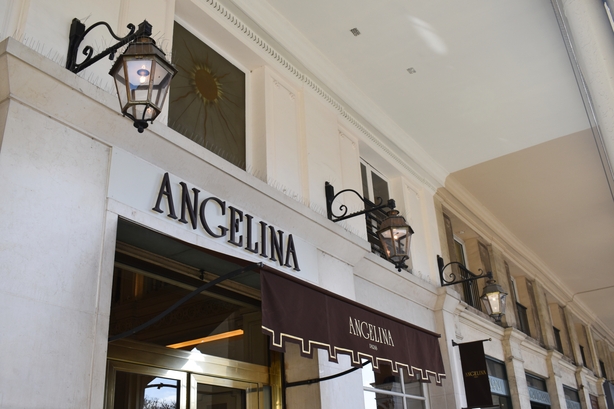 Tucked beneath the honey-hued stone facade of Le Meurice Hotel is Angelina, an institution known the world over for its luscious hot chocolate and expertly crafted desserts. Established by Antoine Rumplemeyer, an excellently named immigrant from Austria-Hungary, Angelina sought to recreate the splendour of Vienna's hallowed cafés, and evokes the same sense of history, tradition and revelry.
The interior, festooned with painted flowers and intricate gold detailing, was designed by Belle Époque architect Edouard-Jean Niermans and is almost surreally romantic.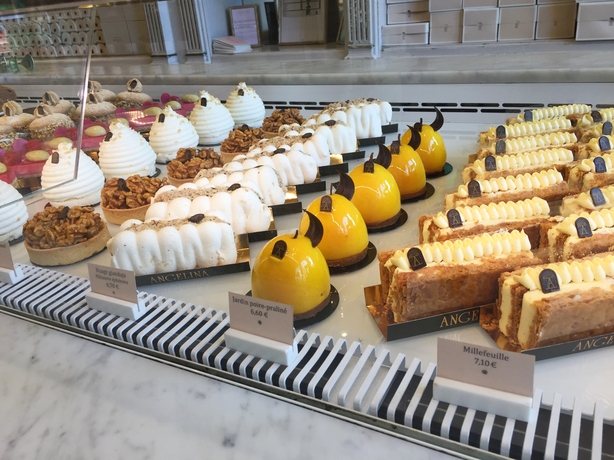 While the hot chocolate is, indeed, otherworldly - dark, velvety and accompanied by a small cup of whipped cream - we're here for pastries. Staggered by the jewel-like array of glazed fruits, meringue baubles and chocolate ganache as smooth as a mirror, my server suggests I try the Mont Blanc, which I dutifully do.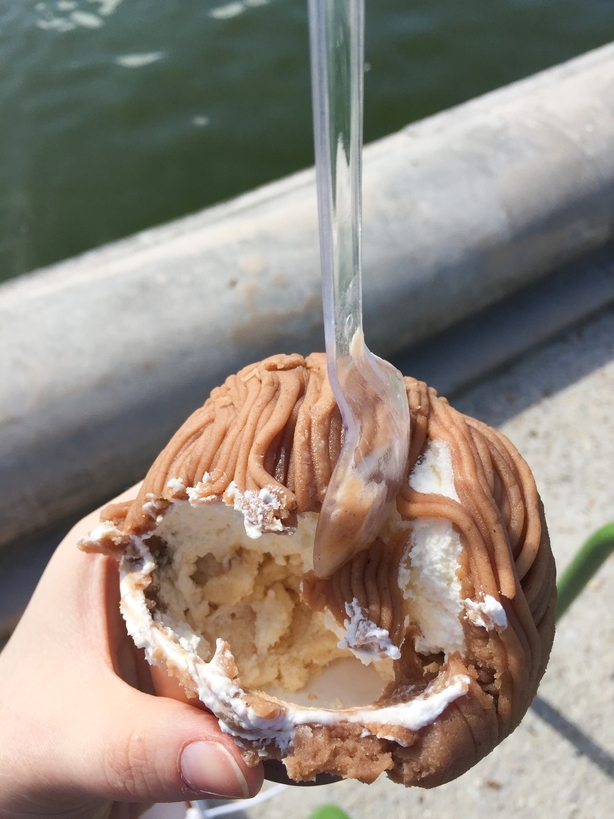 Created in 1903, the same year the café opened, the Mont Blanc is made up of a crisp meringue base, whipped cream and a blanket of chestnut cream vermicelli. Deceptively simple, this is a dessert unlike anything else: light and airy, rich and complex, and decidedly rugged compared to some pastries. Not to be missed.
La Patisserie du Meurice by Cédric Grolet, 6 Rue de Castiglione
If this article was a pastry, Cédric Grolet's revered bakery out of the Le Meurice would be its heavenly meringue base. Declared "one of the hottest names in the pastry world in France" by the Michelin Guide in 2018, Grolet is now practically beatified in the patisserie world, and with good reason.
A champion of the désucrage style of baking, where the level of added sugar is moderated to allow natural sugars and flavours to ring through, Grolet has elevated Parisian baking to a new level of sophistication.
Grolet is renowned for his "fruits", desserts that imitate the appearance of the ingredients they are made from with an accuracy that is uncanny. These trompe l'oeil desserts are close to a sculpture, such as an apple: a wafer-thin shell of lacquered white chocolate hides a filling of cream, ganache and chopped apple spiced with juniper.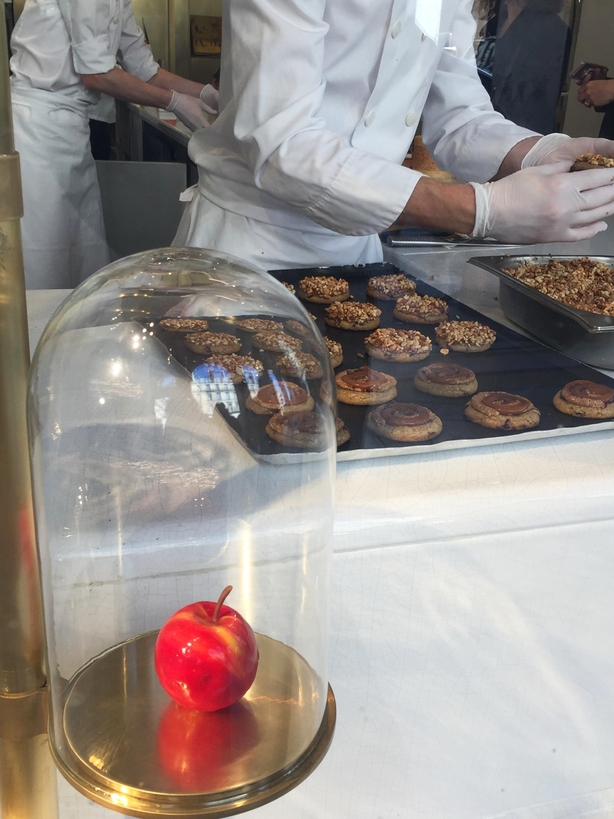 Biting into one of his famed fruits, your senses are hit with wave after wave of intense fruit flavour, while the ganache filling melts almost instantly, creating an experience that is dizzyingly delicious, yet addictively fleeting.
Also fleeting? Money, in this place. A "pomme royal gala" costs €17, while an éclair is €7. Sacré bleu.
Ladurée, 14 Rue de Castiglione
If, like most people, you balk at splurging €17 on a cake, even the most sublime macarons in Paris are affordable and, happily, plenty. The meringue-like almond biscuits are addictive, as flavourful as they are light and crisp.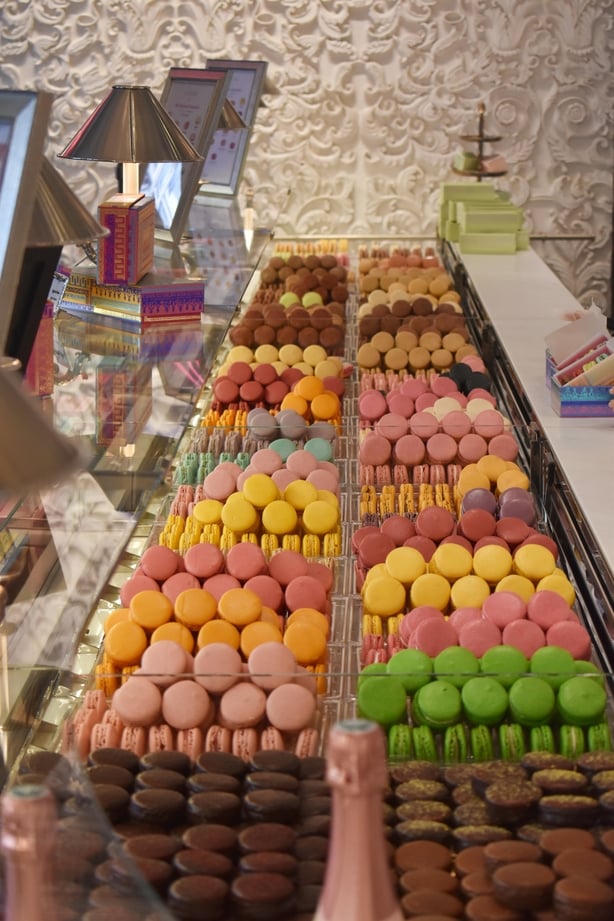 Heading towards the Place Vendôme you'll pass the eau-de-nil facade of Ladurée, its gilt lettering ensuring you don't miss them if the delights in the window fail to tempt you. Although the original location is at 16 Rue Royal, all Ladurée boutiques are a feast for the senses, and here is no different.
Row upon row of the meringue biscuits sit in clusters of riotous colours, some stamped with decorative images of the Eiffel Tower and other emblems of Paris. Here, simple flavours reign supreme, such as the divine Blackcurrant Violet, their very creamy caramel or the tart lemon.
You can get one exquisite macaron for less than €2, but the better deal is to pick up one of their boxes of eight for €21. You can keep the artfully designed box, too.
Pierre Hermé, 4 Rue Cambon
Just around the corner is one of the many Pierre Hermé bakeries, the esteemed patisserie institution that, along with Ladurée, buttresses Paris's reputation as the home of commercial yet experimental baking.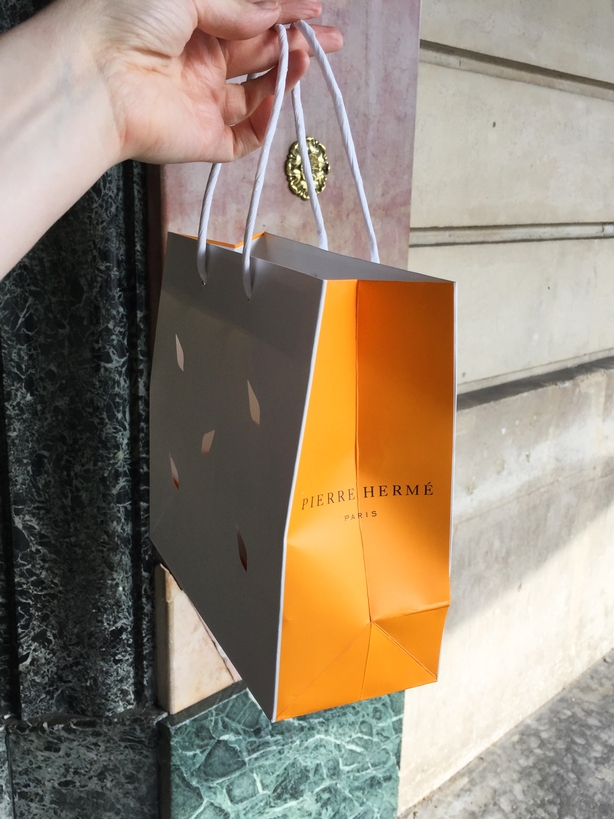 Having come up through the ranks of that fabled pastry wonderland, Hermé left Ladurée to start his own brand, gaining recognition for pairing the traditional bakes with unexpected flavour combinations. Despite only existing for just over 20 years, Pierre Hermé is frequently seen as Ladurée's rival. All the more reason to carry out a taste test, says us.
As with Ladurée, macarons cost less than €2, but go for one of their boxes of seven for €19.90. The Rose and Bergamot was aromatic and intense, but still airy, while the Madagascan Vanilla and Pure Origin Belizean Chocolate was as rich as a brownie.
Helmut Newcake, 144 Rue Saint-Honoré
I'm unsure whether or not this gluten-free bakery's name is a pun on that of Helmut Newton, the celebrated and provocative fashion photographer, but if that is the case, frankly it's the most Parisian thing I've encountered yet.
Opening in 2011, Helmut Newcake was the first bakery in Paris selling 100% certified gluten-free pastries and now offer even gluten-free croissants - what they call "a little revolution".
Located on the street that shares its name with the delicacy, it's only right that you sample a saint-honorée while here: a base of puff pastry supports a ring of delicate pâte à choux, dotted with caramelised puff pastry spheres and whipped cream piped in the saint-honorée pattern.
The religieuse cake, translated as "nun" and made of two choux pastry domes, one smaller than the other, filled with crème pâtissière and lathered in shining chocolate ganache, are also particularly good here. A disc of amber-like caramel sits atop each cake, making these some of the most stylish "nuns" in Paris.
Paris is not an inexpensive city to stay in, and for a certain kind of traveller the pressure to sample everything "unmissable" in this eternal, romantic city can quickly gobble up money.
The thing about pastry in Paris is that it is comparatively affordable luxury, and you can find as much beauty, history and romance in a saint-honorée as in the Louvre.
And anyway, who is going to know you splurged €7 on an éclair when it's already eaten before you leave the bakery?