Following the death of Myrtle Allen last week, we're looking back and celebrating her life and love of food by sharing her archive interview with Donal O'Donoghue of the RTÉ Guide.
Ballymaloe House founder Myrtle Allen, who was the first Irish woman to be awarded a Michelin star, died last week, aged 94. For nearly half a century, Myrtle was the iconic face of Irish cookery.
Donal visited Ballymaloe House to meet with Mrs Allen and her in-laws, Darina and Rachel Allen
---
On the morning we visited Ballymaloe, Myrtle Allen had been up early, combing the countryside for wild watercress. This season, the plant is difficult to track down, but the lady is not for quitting. In her 90th year, the doyenne of Irish cooking is still quietly busy and fiercely independent, whether checking that all is in order at the country house hotel she opened in 1964 or declining help when descending a slippery set of steps. Nearly 50 years after the birth of the restaurant that revolutionised Irish cooking, Ballymaloe is now the hub of 16 different enterprises run by three generations of Allens. At the centre of it all is Myrtle Allen, the 'unlikely revolutionary' whose story is told in a new RTÉ documentary, Myrtle Allen: A Life in Food.
Myrtle Allen, a poised and graceful woman, was born in Cork where her father, grandfather and great-grandfather were all well-known architects. Intelligence sparkles in her eyes, as does the glint of mischief: en route from Ballymaloe House to Ballymaloe Cookery School, she tells a funny, somewhat naughty, story involving one of her extended family. That sense of fun is unexpected as is her modesty.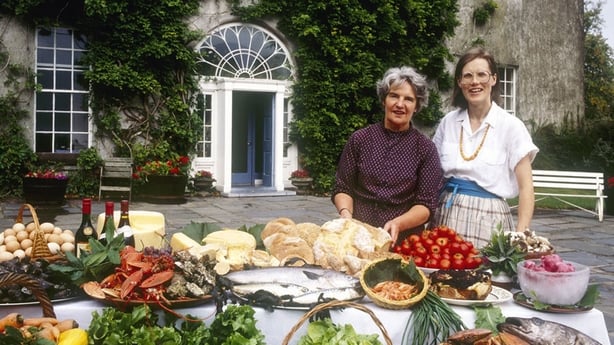 She has never seen herself as a celebrity despite putting Ireland on the culinary map in the '60s with her pioneering TV shows and her seminal publication, The Ballymaloe Cookbook (1984). But when the RTÉ Guide photographer is momentarily confounded as how to address our three covers stars, Rachel Allen promptly pipes up that "there's only one Mrs Allen."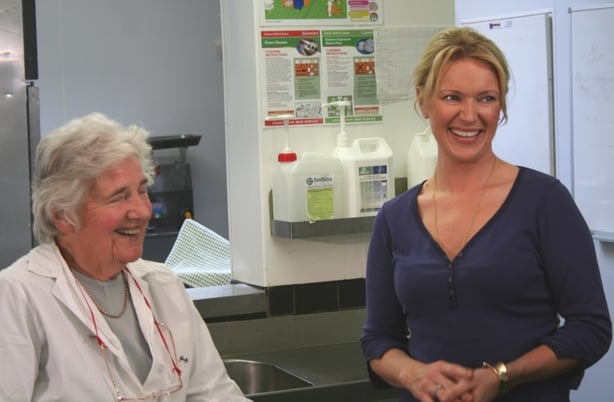 David Hare's Myrtle Allen: A Life in Food is the story of Mrs Allen: an epic punctuated with contributions from the vanguard of Ireland's culinary scene, including critic John McKenna, who describes the opening of Ballymaloe House as the 'Big Bang of Irish Food', the moment when everything changed.
Chef Richard Corrigan recounts a long-ago stand-off with the formidable Allen in the Ballymaloe kitchen while Michael Ryan, co-proprietor of Isaac's Restaurant in Cork, hails a person who is "a force to be reckoned with." How does Myrtle Allen feel about such adulation? "I feel like crawling back into my shell", she says and laughs.
"I don't want too much fuss really. I just like things to run smoothly for the staff, for the customers to be happy and for everything that goes out to be right and good."
On paper it seems a simple philosophy, but back in the Dark Ages of the 1960s, Myrtle Allen didn't tear up the rulebook of Irish cooking; she wrote it. The farmer's wife sourced produce locally when, as her daughter-in-law Darina Allen puts it, "local was a derogatory term" and from her dining-table at Ballymaloe she put Irish cuisine on the international map.
"(Myrtle) was once asked why she never did scampi or Chicken Maryland or whatever and she said simply, 'I had no idea how to do it, I just cooked the food that I knew how to cook',"
Darina Allen recalls. "Myrtle had the confidence to just serve the simple food from her garden. Now everybody is doing it but she was one of the first: doing what she knew and serving it in the same way that she served it to family and friends."
Myrtle Allen has six children and 22 grandchildren ("something like that", she says with a spry laugh when you give her the numbers). She has also famous in-laws: Darina Allen, who is married to Myrtle's son Tim and Rachel Allen, who is married to Darina's son, Isaac. Both women may be major figures in Irish cooking but there is no debate about who they see as the original of the species.
"Myrtle has been such an inspiration to me and also, I believe, to Rachel", says Darina Allen. "When I first came into the Myrtle Allen kitchen I couldn't wait to get to work because every day I'd learn something new from her. I was like a sponge soaking up everything she said.
"She is a natural teacher. Many of those things that she taught me, in the beginning, I continue to pass on to the students."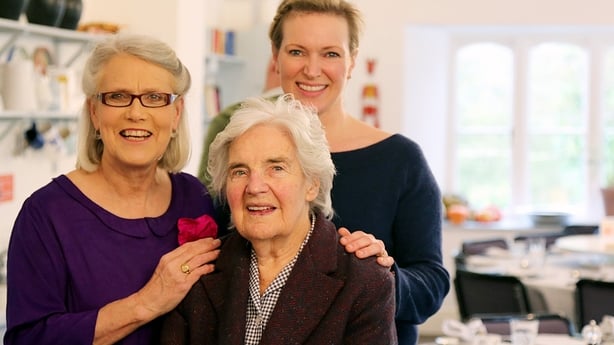 "I first met Myrtle very briefly on the very first day I came to Ballymaloe", says Rachel Allen. "That was in October 1989. I obviously knew of her because we had her cookbook at home. She was amazing.
"I had heard before I even arrived that she was the matriarch of Ballymaloe and so she was. Not only does she practice what she preaches she is also not afraid to speak her mind. She's not afraid to get things changed if she thinks they are wrong. She is a very modest person and she was, and still is, such a pioneer."
Even if she was something of a disappointment to her father – he was hoping his second child would be a male and carry on the family tradition in architecture – the young Myrtle Allen had an innate curiosity. She remembers raiding her mother's cupboard and sticking a curious finger into a tub of what she believed was icing sugar. It was, in fact, bread soda. "That wasn't really a love of food", she says and laughs (she laughs quite a bit), "that was a little girl being nosy. I didn't have an especial interest in food but my mother was terrified that any of us would get ill.

"She had been an invalid most of her own life and she felt that if we all had very good food we would be really healthy. We had the ordinary everyday sort of diet but the food was always fresh."
Her only sibling, Moira, who was five years older, was away at boarding school, so young Myrtle effectively grew up an only child. How did she occupy her time? "I used to just wander around the place and pick wild strawberries." Was she lonely? "I suppose I was a little bit", she says.
Later she was sent to Frensham Heights, a co-educational boarding school in Surrey but with the outbreak of World War II she returned to Ireland and was educated at Newtown, a Quaker boarding school in Waterford. It was then that she met young Ivan Allen.
"We met here, in the dining-room", she says of the first time she was "officially introduced" to her husband-to-be. "Our fathers were friendly and so we knew each other's families. I was just down the road and he was the nearest neighbour, a young man."
Was she smitten by him (reportedly Ivan Allen was quite the catch)? "I'm not sure who was smitten but he made this rather puzzling and embarrassing remark to me", she says, with a smile. "His first words to me were, 'Do you know my brother met his wife here?' And I thought 'that's a bit forward for an opening shot'. In reply, I just said 'Oh!' No further response was needed."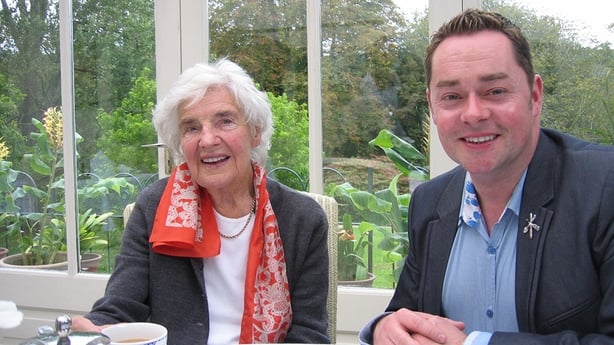 Myrtle was 19 when she married Ivan Allen in 1943 (ever thrifty, she purchased her wedding dress in London for a bargain price...). The wedding was in Cork, the honeymoon at the seaside resort of Glenbeigh in Kerry, and afterwards, she immersed herself in the role of a farmer's wife, raising six children. When the Farmer's Journal asked her to pen a column on art, she suggested food instead.
"I enjoyed writing for the Farmer's Journal", she says. "In fact, I taught myself to cook that way because I couldn't write an article without trying out the recipe first.
"So I set it by the seasons: what was in season and what we had on the farm. My husband, who loved food, tasted the food. I heard all about it if it wasn't right."
In 1964, Myrtle Allen embarked on another adventure when she decided to open a restaurant at Ballymaloe. "I was fascinated by restaurant"s, she says.
"So I said to Ivan that I might open one in Shanagarry and he said that he was not going to buy a place in Shanagarry for me. He said: 'If you want to open a restaurant do it here where we've got a dining-room.' So I did.
"The dining space was the Yeats' Room, so called because the walls were hung with a number of Jack B Yeats paintings. Running costs were kept low – the dining tables made from the Allens' own trees. Myrtle Allen waves away any suggestion that the venture was a risk.
"It wasn't really a gamble because I had nothing really to lose", she says. "One of the things about a restaurant is that it has to suit your house and area, and your circumstances. It's not just what you fancy; it's what will fit into the situation. And that is what we did."
At the centre of Myrtle Allen: A Life in Food is archive footage from another documentary, Cork's Glorious Food (1971). In luminous monochrome, this programme chronicles the history and innovation of Ballymaloe House. We listen to a young Myrtle Allen explain her methods, we see the kitchen staff working with local produce and we hear the dining guests wax lyrical about her food.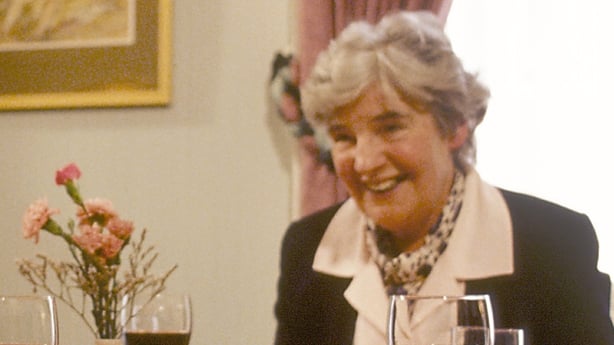 "Myrtle reinforced everything that I had learned from my mother", says Darina Allen. "The importance of using really good ingredients, of going into the garden and picking a cabbage or gooseberries from a bush and making something with them.
"That was the sort of food that Myrtle really valued and consequently, it gave me the confidence to appreciate it too and emulate it. Cooking with the seasons and buying locally is what Myrtle is all about."
Today, Ballymaloe House continues to be a bustling country house hotel. And Myrtle Allen, at 89¾, is still looking after business (Ivan Allen died in 1998). "If I wasn't sitting here now talking to you I'd be walking through the house and checking to see if people were finished with their tea", she says. "I'd be making sure that the dirty cups would not be lying around the tables. You have to keep an eye on things."
This attention to detail and hospitality surfaces sometime later when we step into a dining room to take a photograph of Mrs Allen. Inside, two female hotel guests are having afternoon tea. "Who was that elderly lady?" they ask after Allen, who apologises for intruding on their time, leaves the room.

"That was Myrtle Allen", you say. "Oh!" they say, mouths open in surprise and wonder, "the boss."

Watch: RTÉ Archives interview where the late Derek Davis interviewed Myrtle Allen in Shangarry, Midleton, County Cork and talks to her about her restaurants in Shangarry and Paris.