RTÉ's new two-part series, Stressed, looks at the science of stress and how it's impacting negatively on Irish society.
During the show, we'll get the results of the 'How are You Ireland?' survey developed by the Science Foundation Ireland Insight Centre for Data Analytics in UCD.
How does our diet relate to our stress levels? Alison Keogh from the Insight Centre for Data Analytics fills us in.
"In our survey, we tried to get a sense of our respondents' relationship with food, and see if we could spot any patterns between food intake and self-reported stress.
"Patterns don't always mean connections, but it's interesting to note that there were some dietary trends in this self-selecting survey of over 1000 people.
"Those with normal body mass index, or BMI, reported less stress than those in our survey who described themselves as overweight or obese.
"People who described good diets, meeting the recommendations for snack intake, fruit and vegetable intake and fish intake, all reported lower levels of stress and anxiety.
"Two-thirds of people in our survey are not meeting their 5-a-day fruit and vegetable intake recommendation.
Of the third that do, they reported good mental health and low levels of anxiety."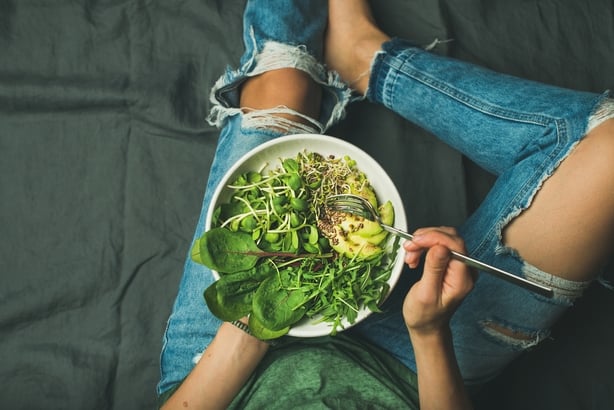 "Only one in twenty respondents to the survey are meeting the weekly fish recommendation (three servings of oily fish per week). We saw an interesting trend: people who do eat plenty of fish report lower levels of stress.
"Of course, there could be many reasons for this – having more control over your diet, more time to cook at home, more money to spend on food – but it's still a pattern worth examining more closely.
"Finally, 71.3% of people exceed the recommended snack intake. Snack portions included two biscuits, one fun-sized chocolate bar, one pastry, one individual bag of crisps etc. Recommendations would suggest that people limit their intake of these foods to one to three portions a week or less.
"People who did not exceed the recommended snack intake also demonstrated a trend towards being slightly less anxious.

"Again, snacking unhealthily could be an indicator of time or resource poverty as well as a negative health behaviour."
Episode 1 of Stressed will air on Wednesday, May 23rd at 9.35pm on RTÉ One.
Episode 2 of 2 will air on Thursday, May 24th at 10.15pm on RTÉ One.