Do you eat fish? What about your family? Your best friend? It's a strange thing that, as an island nation, we Irish eat very little fish with the average weekly spend coming in at around 84 cent per person.
This week on What are you Eating? presenter Philip Boucher-Hayes explores our problem with fish. Watch our video with PBH above.
"Fish, [a] phenomenally good source of protein. Also, by comparison with other meats, really, really, price competitive. Why don't we eat more fish as an island nation?
"My personal theory is that it's got something to do with the Church equating fish with being a pennance and when I was a nipper, do you know what?

"It was smelly and it was a pennance. It ain't any longer. There are so many glorious forms of fish, all of which we are going to look at tonight that we should be embracing that we should be saying, 'yes, more please'."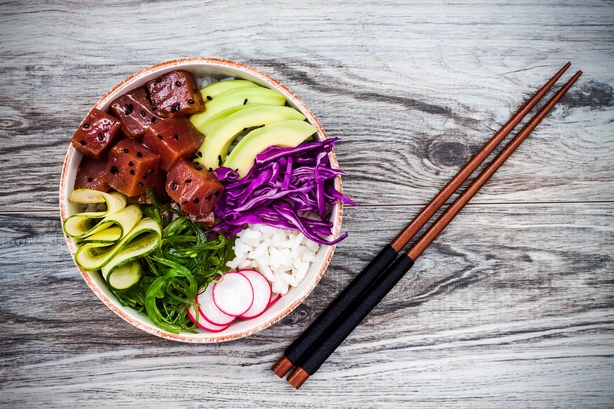 On tonight's episode, Philip meets restaurateur and fish wholesaler Niall Sabongi who explains why he thinks the ultra-trendy pokè bowl - a Hawaiian speciality - should become the new chicken fillet roll.
In Hawaii, pokè means 'to slice or cut' and usually refers to a dish that has recently become very popular on Instagram. It usually consists of a bed of rice, chunks of raw, marinated fish and a smattering of colourful vegetables.
You might laugh at the thought of swapping the trusty chicken roll for a blow of raw fish but going by the health benefits, you may want to think again.
Two years ago, PBH shocked the nation when he revealed that a surprising amount of the chicken is imported, the bread alone comes in at 400 calories and once you add your filling, the average roll is a whopping 1,000 calories.
We need your consent to load this YouTube contentWe use YouTube to manage extra content that can set cookies on your device and collect data about your activity. Please review their details and accept them to load the content.Manage Preferences
Elsewhere on tonight's episode...
Dietitian Aveen Bannon explains the nutritional benefits of fish both as a protein and as a source of Omega 3.
Food writer John McKenna carries out a survey of supermarket fish to find out how much of it is Irish while a trawlerman and two owners of indigenous fish businesses talk about the hard sell.
In the kitchen, chef Hilary O'Hagan-Brennan compares commercial formed and frozen breaded fish fillets with her own home-prepared version while in the food lab, Philip finds out just which fish is best for health-giving Omega 3's.
Newer on the seafood scene are snail and slugs – the marine kind – and Philip travels to Galway to meet Californian marine biologist Cindy O'Brien and sample these strange and exotic foodstuffs.
Watch What are you Eating? every Thursday on RTÉ One at 8:30pm or catch up on RTÉ Player.