The winner of this year's Great British Bake Off has been officially crowned after being prematurely revealed by new judge Prue Leith earlier on Tuesday. Oopsie down cake.
Leith came under fire from fans of the hugely popular baking show when she accidentally revealed the winner hours before the finale was due to air on Channel 4.
While the surprise was spoiled by some fans of the show, there were many who managed to avoid the major spoiler and watched Sophie Faldo beat off the competition from co-finalists Steven Carter-Bailey and Kate Lyon to win the top spot.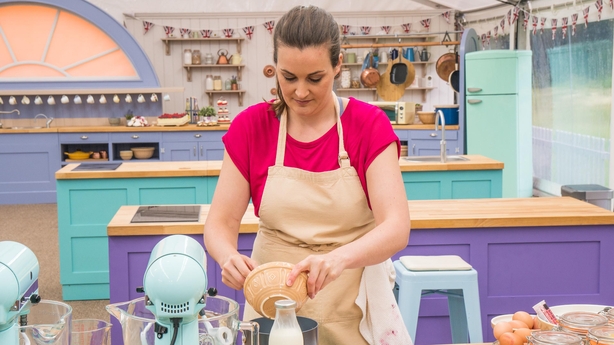 Sophie, a former Army officer aged 34, pulled out all the stops for Tuesday night's finale of GBBO, showing off her skills with a variety of tasty bakes.
Bualadh bos for Sophie!
Put your hands in the air if you just won the Bake Off! #GBBOFinal pic.twitter.com/C0D20Seerm

— British Bake Off (@BritishBakeOff) October 31, 2017
She impressed the judges for the tenth week with three different varieties of bread for the signature challenge and came second on the ginger biscuit technical. However, it must have been her showstopper that cinched the deal for Sophie, as she whipped up a honey bee-themed version of a traditional entremet cake.
This mindblowing creation, which was described as "stunning" and "original" by Leith, featured lemon curd, white chocolate and lavender mousse, set honey custard and hazelnut feuilletine from scratch, as well as edible bees and a gorgeous marbled mirror glaze. Truly scrumptious.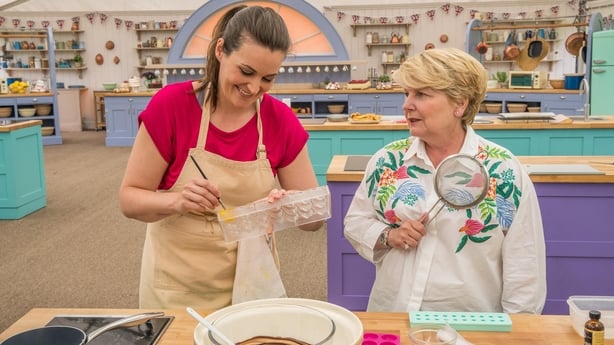 Sophie said of her win: "It was very surreal, and I hadn't allowed myself to think that I could win it up to that moment in time when they said my name and then the enormity of it hit me.
"I do keep my emotions under control, so there wasn't really a point in the tent that I would burst into tears. It wasn't going to happen at the end of the final either, because if anything it was a relief.
"I think I am pretty cool, calm and collected. I don't mind working under pressure, so being in the tent working under time restraints and the hot weather made me more focused and better organised.
How Sophie won The Great British Bake Off 2017. #GBBOFinal pic.twitter.com/OYmd9PuKb4

— British Bake Off (@BritishBakeOff) October 31, 2017
"I am a girl who is pretty unfazed by most things, and I really enjoy throwing myself into the deep end in anything, so the challenges in Bake Off were something I enjoyed, not feared."
She added of her plans going forward: "I am not sure where I will go from here. It would be wonderful to write a patisserie book, but let's see what comes my way. I would like to try travelling the world for inspiration for starters."
Faldo's victory concludes the first Bake Off series since the programme moved from the BBC to Channel 4 after last year's run and it has gone a storm with fans.
Well done, @SophieFaldo! Well deserved! You were amazing, so calm and so consistent 😀#GBBO #GBBOFinal pic.twitter.com/ll6INDDpKW

— Brandon Black (@Serious_Black96) October 31, 2017
Now it's done & dusted, have to say #GBBO has been excellent and lost nothing in moving channels. Well done #Sophie #GBBOFinal

— Chris White (@YT40) October 31, 2017
YESSSSSS!!! 🎉🙌🏼🎉 well done @SophieFaldo so very deserved! Amazing baker throughout, but that showstopper. Wow. #GBBO #GBBO2017 #GBBOFinal

— Sophie Smith (@ssmith1407) October 31, 2017
Sophie really did deserve to win #GBBO

— Abbie Pearce (@Ahh_Bee6) October 31, 2017
Yay! Rightful winner out of the three, an excellent baker from the start #GBBO

— Emalé (@EurovisionEmily) October 31, 2017
Im so happy for Sophie I'm sat here cheering at my TV #GBBOFinal #GBBO pic.twitter.com/pWlpidh5OW

— Christa Kaizer (@xtakaizerchief) October 31, 2017
YAY SOPHIE #GBBO pic.twitter.com/0vkUtTM8tI

— beck is seeing niall (@sunshineridley) October 31, 2017
SO flipping happy 👏🏼 #GBBO

— Sophie Rowland (@sophrowland95) October 31, 2017
I think that may have been the best series of #GBBO. I know that may be controversial.....but I do.

— Haitch7 (@Haitch7) October 31, 2017
However, there were some dissenters in the mix who thought that Steven or Kate deserved the GBBO victory more.
Liam was definitely my favourite of all of them all. He definitely had the most character among them all and had daring recipes. #GBBO

— Samuel James (@SJMJ91) October 31, 2017
Gutted, I honestly believed they would announce Liam as the winner #GBBO #GBBOFinal

— PeggyFi (@PeggyFi) October 31, 2017
We all know Liam is the real winner #GBBO

— Rob Tomlinson (@1RobTomlinson) October 31, 2017
Kate deserved to win that #gbbo

— Cheryl V (@1011cheryl) October 31, 2017
How the hell hasn't Kate won. She's been robbed. #GBBO #Travesty

— Samuel Elliott (@samuelelliott05) October 31, 2017
Based on the series, it should have been Steven. Based on the Final it should have been Kate #GBBOFinal

— Harriet (@harriet_clarke) October 31, 2017
Many viewers also mourned the elimination of drama student Liam earlier in the series. Gone from the show but not forgotten!
Okay but can we just imagine for second there that Liam won. How beautiful would that have been #GBBO #GBBOFinal pic.twitter.com/c2w23DFbTH

— Rachel Ellen Pugh (@Siren_Sister) October 31, 2017
#gbbo is over, but I'm still trying to get over the fact that they got rid of Liam, he's definitely the real winner #GBBOFinal

— Keeley Burrows (@burrows_keeley) October 31, 2017
Still think Liam was robbed x #GBBO #GBBOFinal

— HL (@heatherLxx) October 31, 2017
I mean, well done Sophie and everything, but IT SHOULD HAVE BEEN LIAM. #JusticeForLiam #GBBOFinal #GBBO

— Anna G 🖤🎃 (@__AnnaBella__) October 31, 2017
So so happy Liam won! #GBBO #InDenial

— brolloOoOoOoh 👻 (@brolloh) October 31, 2017
#GBBo I missed all the spoilers so really enjoyed the final. I felt bad for Steven!! But still think Liam should have won #JusticeforLiam

— Katie Wilson (@Sparkles07) October 31, 2017
Liam is my winner, he was so entertaining throughout the series, his reactions and facial expressions will go down in TV History #GBBO

— Christopher Wood (@ChrisJW1987) October 31, 2017
Let's be fair, all 3 finalists were good but Liam is the real winner of the bake off👍🏻💛 #GBBOFinal #GBBO

— Laura Wright (@_MrsWright) October 31, 2017