Great British Bake Off judge Prue Leith has come under fire from fans for prematurely revealing the winner of the competition. 
***No Spoilers Here!***
Prue Leith has expressed regret after accidentally revealing the winner of the Great British Bake Off, saying: "I'm in too much of a state to talk about it.
"I'm in Bhutan. The time difference is massive. I thought that they got it six hours ago. I'm in too much of a state to talk about it. I f***** up."

The judge tweeted in anticipation of tonight's Channel 4 finale: "No-one told me judging a GBBO final would be so emotional. I wanted them all to win. Bravo...."
I am so sorry to the fans of the show for my mistake this morning, I am in a different time zone and mortified by my error #GBBO.

— Prue Leith (@PrueLeith) October 31, 2017
Leith, who is a trained chef and restaurateur,  posted the biggest secret in TV just shortly before 11am, almost nine hours before the final is scheduled to air and followed a tweet announcing that she would be returning to the show next year, along with Paul Hollywood, Noel Fielding and Sandi Toksvig.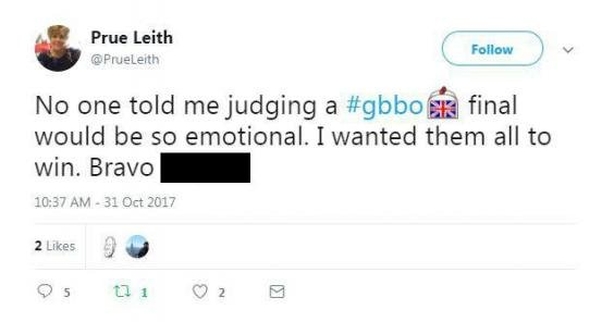 I'm actually furious that Bake Off has been ruined for me tonight😭😭 #GBBOFinal

— lauuuuu (@laurenbourne23) October 31, 2017
Have I really just seen who has won bake off before its even been aired, could 2017 get any worse🤷🏼‍♀️ #GBBOFinal

— Mackenzie (@mackenziejanebr) October 31, 2017
Last year @Lindsayfrankel got so cross with me when I nearly spoiled the #GBBO2017 final for her. Don't read @PrueLeith 's Twitter, Lins!

— Jo Elvin (@jo_elvin) October 31, 2017
Mary Berry's advice to #PrueLeith this morning #GBBOFinal pic.twitter.com/Izufm7wYWK

— Declan Cashin (@Tweet_Dec) October 31, 2017
This isn't the first time a Bake Off judge has angered fans by spoiling the result. In 2015, Mary Berry accidentally let slip who had left the tent during a radio interview with Chris Evans.
Leith replaced Mary Berry when she decided not to move to Channel 4.
Fielding raised eyebrows when his name was announced along with Toksvig as replacements for hosts Mel Giedroyc and Sue Perkins.
Hollywood was criticised when he decided to move with the ex-BBC programme, with fans saying that the show could be doomed.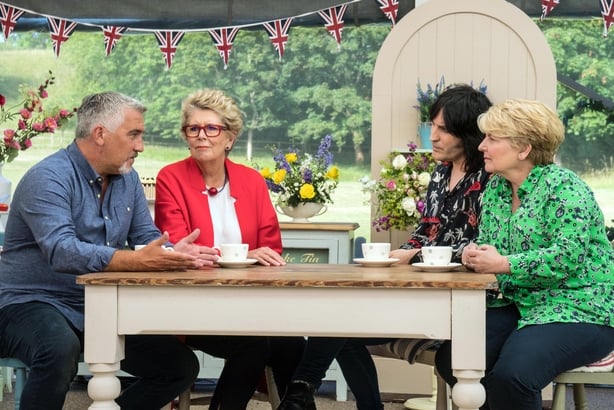 The Great British Bake Off final is on at 8pm on Channel 4.