Chef Neven Maguire brings us along on his latest foodie adventure in Neven's Italian Food Trails.
Last week, Ireland's favourite chef sat down with the RTÉ Guide to discuss the new series. Read it here:
"Prego!" Sitting at a clifftop table on the edge of the picture-postcard town of Sorrento, it's easy to see why
Neven Maguire decided that Italy had to be his next TV destination. Italy is a delightful assault on the senses.
As the warm early summer breeze rolled in across the Bay of Naples, it carried with it the smell of oranges and lemons, mixed with rosemary and sea salt. In front of me, a mushroom omelette; a snapshot of everything that is stunning and simple about Italian food. The Italians are all about celebrating local and seasonal produce, and in this wonderful Mediterranean climate, salads (tomatoes and mozzarella in this case) and vegetables are king.
Missed Neven's Italian Food Trails on RTÉ One at 7:00pm on Thursday October 5th? Watch it here on the RTÉ Player.
The humble meal came with top class balsamic vinegar from Modena and excellent homemade bread to mop up the juices. Having spent the past 90 minutes coming from Naples airport in a bus that clung to the curves of the steep narrow roads that take you (very slowly) through towns built in the shadow of Vesuvius, it hit the spot perfectly.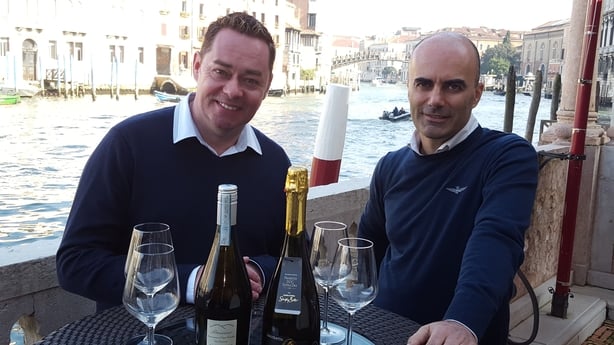 I had competition, however, a giant seagull hovered aggressively near, waiting for a chance to swoop for his own lunch. The owner of La Marinella, no doubt well used to doing battle with the local fowl, charged at him with a sweeping brush, "Prego, prego!"
Prego is possibly the most useful word in the Italian vocabulary and probably the most confusing, covering everything as it does from 'How can I help' to 'You're welcome' to, in this case, 'Get lost!' The gull duly made himself scarce, but kept a watch from the top of a giant sun umbrella, awaiting his next chance.
Across the cobbled street in the grounds of the Hotel Mediterraneo, I caught up with Neven himself. Behind a copse of lemon and orange trees, which heavily perfumed the air, Neven and the hotel's respected chef, Benito, were up to their elbows in flour and passata. A wood-fired stone pizza oven had been built under an olive tree and was at full belt.
Neven was taking some tips from the great master – Benito has been making pizza in Sorrento for over 40 years. Thin of base and packed with flavour, Benito explained that although the ingredients may be the same each day, his choice of wood influences the flavour. While he was using olive wood to fire his oven today, in the winter, he uses orange and lemon wood to get a very different taste.
Neven was enthralled, clearly smitten by Italy and its food, "I'm really excited about this series, I hope it will capture the passion and colour of this amazing country. Anybody who is interested in food can't help but fall in love with Italy."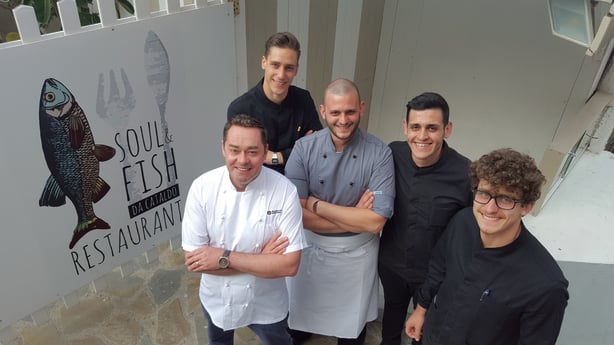 Of course, we Irish have a very special relationship with Italians and their food. It really started in the 1880s when the first wave of Italians came to Ireland, the majority from just six villages in the Casalattico and Val Di Comino municipalities of Frosinone in the Lazio region in the South of Italy, about 110km away from Rome.
70% of this community was involved in the fish and chip business – who hasn't had a 'one and one'? Now part of our vernacular, but originating from the Italian "Uno di questa, uno di quella" meaning "one of this, one of the other."
"Italian food is the most exported food in the world, "explains Neven, "and every Irish household has at least one Italian meal in their family repertoire." There's the eponymous (if not quite authentic) spaghetti bolognese, not to mention lasagne and chips anyone?
Neven and his four-man team (producer David Hare, cameramen Billy Keady and Andy Smyth, and Reamonn Brown on sound) are on day 16 of their 18-day whistle-stop foodie tour of the best the country has to offer. It all adds up to this new six-part series, Neven's Italian Food Trails.
The lads started their culinary journey in Venice in the fish and vegetable markets near the Rialto bridge, before heading into Veneto, where prosecco is produced; then on to Parma to taste some Parmesan cheese and Parma ham; to Modena to sample some 25-year-old balsamic vinegar; then to Florence to meet Italy's top barista and taste some cantuccini, those famous almond biscotti; before heading deep into the Tuscan countryside to stay at Villa Camprestri, the world's first olive oil resort.
Then south to Sorrento, their last port of call before heading back to Ireland the following day. "It's the longest time I've been away from the twins and I'm really missing them," said Neven. Before he'd left, the ever-organised chef and devoted dad had spent the day with Connor and Lucia, making handmade Easter eggs, which the twins were very excited about taking
to school.
"I've been Face Timing them every night, so that helps a lot. And once I get home I'm going to spend the weekend cooking in my own kitchen in Blacklion, before we all head off to Portugal for a week.
"Family time is so important and I'm constantly looking to make sure that we spend quality time as a family. Life can be so busy, too busy!"
His twins are well-travelled; at the end of last year, Neven and his wife Amelda took them off to Thailand to soak up the food and culture there. "Thai food is incredible and the twins loved it. That's somewhere I'd really like to make a foodie series about. I love the food!"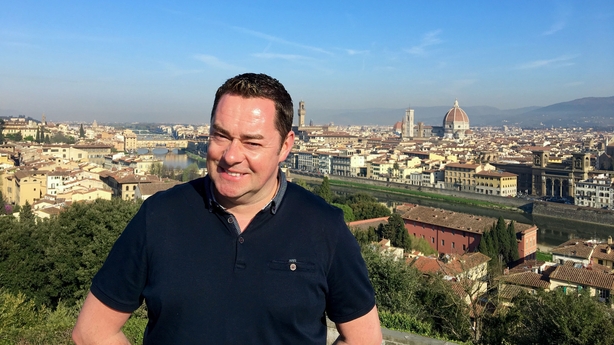 But first, Italy. After making loads of pizzas and feeding the hungry crew we set off to a restaurant further along the coast. Soul and Fish, a family-run restaurant in the Marina Grande area, symbolises all that's essential about food and family in Italy. Chef Vincenzo, still only in his 20's, has taken on his granddad's original harbourside/beach café and turned it into something very special.
Missed Neven's Italian Food Trails on RTÉ One at 7:00pm on Thursday October 5th? Watch it here on the RTÉ Player.
Along with his brother, Francesco and their cousins, Fabrizio and Antonio, and Vincenzo's mother, they have put their heart and soul into the place, in a story not unlike Neven's own. Francesco, who is the restaurant's sommelier, sleeps in a deckchair in the wine cellar during the summer season, "to be close to everything."
Today, Neven acts as a chef's aide as Vincenzo cooks up some rockfish that was landed this morning, just outside the window. It's treated with reverence and cooked up with cherry tomatoes, linguini, rosemary oil,
basil and garlic. At the end, Vincenzo presents his fellow chef with the cheeks of the fish, the most prized
part for chefs.
Apparently, the cheeks are meaty bites that are everything flavourful and good about the fish, packed into an exquisite morsel that delivers a surprising complexity of savouriness. The honour wasn't lost on Neven, "I'm blown away by this young man and his ability."
We return that evening to eat with the brothers and Neven, ever the chef has to get involved, choosing the food, helping to serve it and finally sitting down to enjoy it. Food, family and provenance, that's Italy. And that's Neven.
Neven's Italian Food Trails
Neven explores Venice with a trip up the Grand Canal with guide Caterina Sopradassi who explains that much of Venice's wealth came from the trade in spices and sugar. Together, they visit the fish and vegetable markets and try some Bacala, a Venetian speciality, at the Hotel Papadopoli.
Neven finishes this first programme with a recipe for a Peach and Amaretti sponge cake. Get the recipe here.