Neven Maguire is back with his Christmas special, and as always he has a few surprises and twists to the traditional Christmas dinner. He also talks us through the technique to bringing the turkey, which he introduced to viewers a couple of years ago.
In this series, Neven will be making his Christmas Turkey with Apricot and Orange Stuffing.
"It proved very popular and the only negative I ever heard was that it took up a large amount of space in the fridge so this version just uses a salt rub".
He also prepares a delicious Pomegranate Salad which is the perfect Christmas salad with so many pomegranates available in the shops. This recipe uses syrup, which is made from organic apples and has a wonderfully unique flavour.
Scroll down for the recipes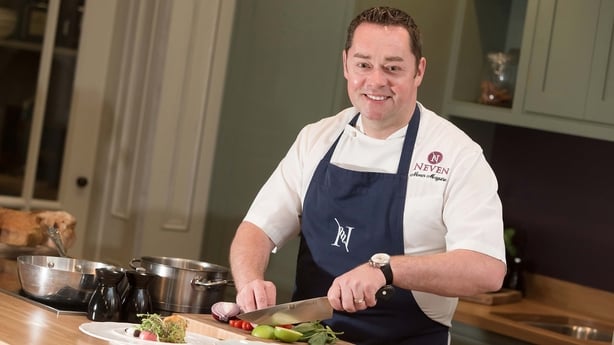 Aromatic Crusted Butterflied Lamb with Caramelized Garlic and Orange Salsa is one of Neven's favourite ways to cook lamb particularly when he has  a crowd to feed, he says: 
"The marinade is a version of Bulogogi, which originates from Korea and is normally used with beef but it is absolutely delicious with lamb particularly if you leave it to marinate for a couple of days before cooking it".
Neven also prepares Celeriac and Sweet Potato Boulangere which he describes as being hassle-free as they can be prepared up to three days in advance. And what nicer ending to a very special Neven Christmas dinner than MacNean Frangipane Mince Pies.
Recipes:
Watch Neven's Christmas Special  on the RTÉ Player. Keep an eye out on RTÉ Food for all these recipes and more from Neven Maguire!