What is your food product?
Organic Irish Cheese
How is it made?
We are a co-operative of 10 orgainic Irish dairy farmers who produce organic milk and work with Irelands best artisan cheese makers to produce award winning cheeses. Our Brie and Brewers Gold soft cheeses are made in Co Wexford, while our Vintage and Mature Cheddars are made in co Waterford and our Mild Cheddars in Limerick.
When and how did you first come up with the idea for the product?
Each of our farmers who are also our shareholders were farming organically for various environmental and health reasons but at time only had a small market for their organic milk. The Little Milk Company is about adding value to this milk and giving the farmer a good price for his milk.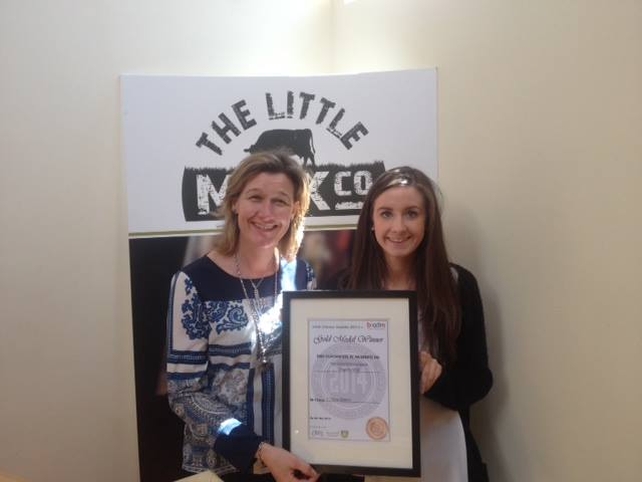 Who buys your products?
We find a huge mix of people buy our products, of all ages. Some buy because there are leading an organic lifestyle or following a raw food diet (our vintage and mature cheddars are both made with raw milk) but mostly what all our customers have in common is that they love cheese and want to buy good quality Irish products and support local producers.
Is your product packaged in Ireland and is it recycled/recyclable?
As members of Origin Green and as an organic company we take sustainability very seriously and are in fact working towards making our packaging compostable.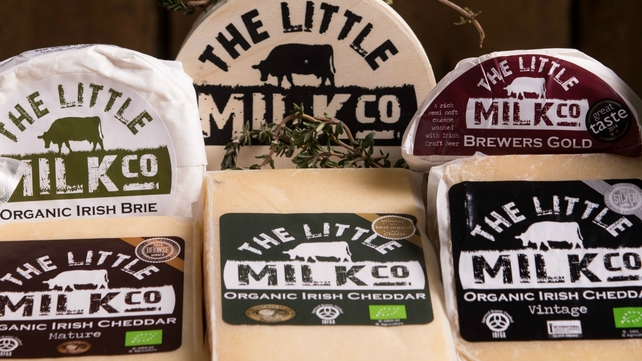 Where do you source your ingredients?
All of our organic Irish milk comes from our 10 family farms in Munster and Leinster, while the beer we wash our Brewers Gold craft beer washed cheese in comes from Dungarvan Brewing Company- a local craft brewery beside where our office is located in Dungarvan Co Waterford.
What is your view on 'organic' produce?
We really believe flavour is connected to nature, if we look after the land well it will reward us by producing high quality products. Our farmers truly believe in the organic ethos and despite the extra work that goes into farming organically they feel it really is worth it for the animals and the environment. Organic cheese also contains a higher level of omega-3 than other cheeses- so producing and consuming organic has benefits all round!
Many food producers are very passionate about their products – have you a message you would like to share with your customers?
Our farmers and cheesemakers are very passionate about producing great tasting, high quality sustainable produce, by buying Irish and small businesses like The Little Milk Company you are getting a superior quality product while also supporting local jobs and industry and doing your bit for the environment too!
Other than your own, what's your favourite product?
As cheese lovers we love our Blue and are big fans of our friends Cashel Blue Cheese. As well as our neighbours in Co Tipperary O Donnell's Crisps- our mature cheddar is actually the cheese in their cheese and onion crisps! A newer company who are local to us in Dungarvan are Lismore Biscuit Company- their biscuits taste as amazing as their packaging looks!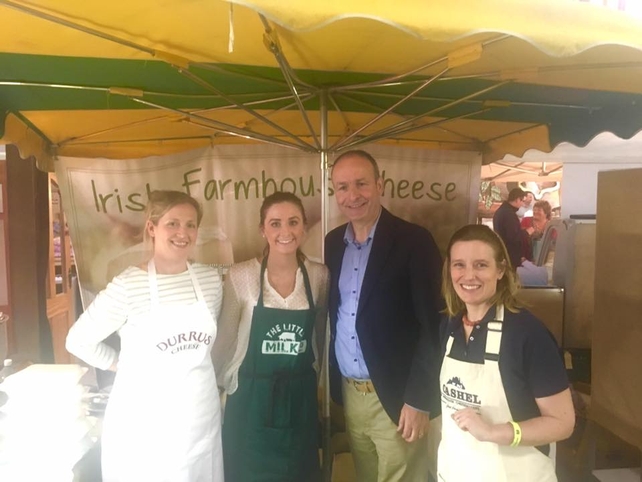 Is there salt and/or sugar in your products? If so, how much and why?
No of our cheeses contain added sugars and the small amount that naturally occurs is less than .1 ! In terms of salt – this is added as part of the natural cheese making process and is important in a number of the cheese making steps.
What is the shelf-life of your product and how come?
The shelf life of our softer cheeses is about 6 weeks. Before opening, the shelf life on our cheddars is about 6 months and our wheels of cheddar can be as long as 12 months. This is because age in cheese is important for flavour and texture- the older a cheese gets the harder and stronger the flavour- we have a vintage cheddar that's 2 years old and tastes amazing!
What would your death row meal be (aside from your own products!)
We are big fans of home grown Irish products- we produce amazing meat in Ireland, a great fillet steak with some Irish mashed potato made with Kerrygold butter and some fresh veg. We couldn't make up our mind about dessert- you can't beat warm apple tart and ice cream though can you?
Where can people buy your food and find out more about it?
We are available nationwide in Supervalu, Tesco and Dunnes Stores, along with all good independent retailers. To find a stockist and more about The Little Milk Company, click here
If you would like your Irish food product or company to feature here, we'd love to hear from you: e-mail at rtelifestyle@rte.ie or on Twitter, Instagram or Facebook!