MummyCooks.ie is an online resource for parents which provides advice on how to prepare and store healthy homemade food. The site is filled with practical and simple advice and nutritious recipes to inspire, educate and empower parents to feed their young families healthy, homemade food.
What is MummyCooks.ie and what do you do?
We offer a complete solution to parents around feeding their child. We provide the recipes, advice and product solutions. Our award winning Babypotz Mixed Starter Set is the perfect set for a parent starting to wean their baby onto solid food. The set contains 5 size pots to help parent's portion food correctly at each stage of weaning. We have recently launched a Mummy Cooks Food flask for a parent while out and about or for a school going child.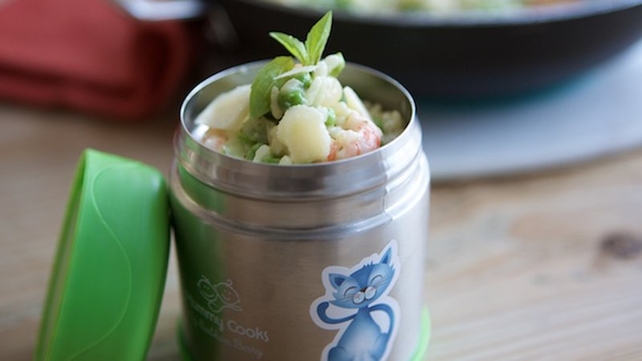 Would you like your Irish company or product to feature in RTÉ Food's 'Getting to know...' series? Get in touch - see the details below.
When and how did you first come up with the idea for Mummy Cooks?
When I had my first daughter Ashleigh I decided to take redundancy and start my own business. I had always dreamed of owning my own business and it seemed like a better time then any. While I was weaning Ashleigh I found that there was very little information on how to wean your baby and while there were lots of activities to do with your child; such as baby yoga and baby swim classes, there was very little to do with learning how to feed your baby. So initially I set Mummy Cooks as a Cookery School.

My sister a pediatric occupational therapist helped me devise the program with an emphasis on the psychology of eating.
Through running the classes and blogging on-line I soon became synonymous with feeding and weaning in Ireland.
I was made feeding and weaning expert for both MummyPages.ie and the Pregnancy & Baby fair, I also appeared on Ireland AM in their cookery slot. From here I added my product and have continued to add products to offer a complete solution to parents.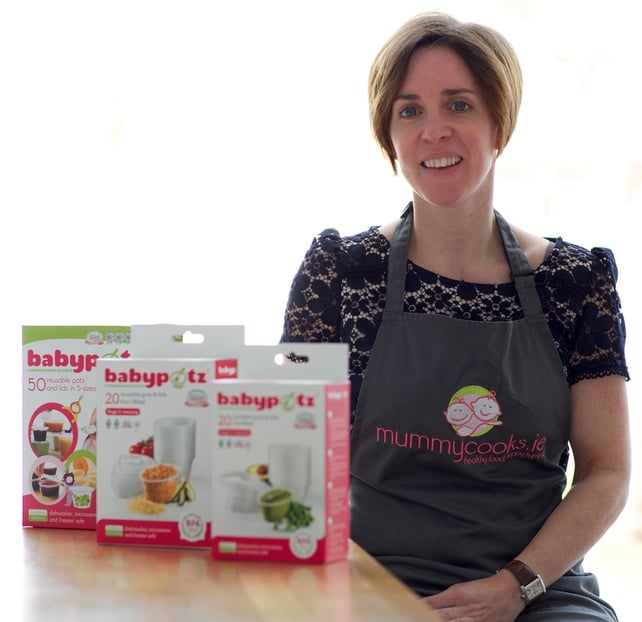 Where do you sell your product and service?
Our main sales channel is through our website MummyCooks.ie where customers are offered a greater selection of our pots and we can also offer advise on choosing the various sizes and suggest recipes to fill the pots. Our Babypotz are also available in retail across Ireland, through pharmacies, nursery stores and in selected SuperValu stores nationwide. We sell throughout Europe through the Amazon channel.
What is your view on 'organic' produce and people being encouraged to swap processed foods for fresh alternatives?
I believe in eating fresh seasonal fruit and vegetables purchased from your local fruit and vegetable shop. We encourage parents to cook in season throughout the year and this will ensure that they provide their child with lots of different tastes and textures encouraging them to become better eaters. We would advise cooking from scratch (leaving out sugar & salt) and this will ensure that your baby can eat family foods from six months.
What are your tips for parents struggling to get their children to eat healthy food?
Feeding young children can sometimes be very stressful and our advice to parents is to never give up when offering new foods. It can take as many as 25 times before a child will accept a new food which seems a long time but if the food has been on the table or they have helped prepare the food in the kitchen they will be more likely to accept the food. We encourage parents to offer food that a child is comfortable with along with a food that a child might not be so comfortable with, this will help with the introduction of new unfamiliar foods.
When preparing a lunch box think about using a flask so they can have their favorite pasta with veggie sauce which would be much more nutritious then a ham sandwich. Variety is key and offering new, different tastes and textures will lead to a happy healthy eater.
What is your view on Sugar?

I find it hugely concerning that 1 in 4 children in Ireland are overweight. I believe a great deal of this is down to food that is marketed to children appearing healthy but actually has a very high content of sugar.
As I always cook from scratch I can make sure that my children have limited amounts of sugar each day. I would also limit snacks to two per day and make sure they are healthy snacks. It is also very important not to snack on fruit as fruit is sugar and can cause tooth decay. On the advice of our dentist I would offer the girls only one piece of fruit as a snack and any other fruit would be eaten with a meal.
How can people find out more about Mummy Cooks?
We are very active on Facebook and we regularly share our recipes and advice here. We also send out a fortnightly Newsletter with a round up of our latest recipes and advice posts. Through MummyCooks.ie we offer advice on everything from weaning to family foods with lots of healthy recipes and storage solutions for busy parents.
If you would like to feature in RTÉ LifeStyle or RTÉ Food's 'Getting to know you...Interview' then email rtelifestyle@rte.ie, Facebook message us www.facebook.com/rtefood/ or Tweet us @RTEFood