"It feels like my wedding day, I just gave my speech inside and I nearly started crying."
It was an emotional day for Clodagh McKenna to see the fruits of her labour over the past 7 months come to fruition and her range for Bia, the new on-board menu for Aer Lingus' short haul flights, is something to be proud of.
Offering fresh, gourmet food at a reasonable price, Bia consists of a range of lunch and snack options sure to delight those on their travels.
Top chef and restaurateur Clodagh put a lot of thought into what exactly someone flying with Aer Lingus would want to eat, depending on where they're going, the time they're flying at and where they've just been.
"What I constantly kept in my mind when I was developing the menu was all the different scenarios like, 'Oh I'm getting up and catching the red eye to London, what would I really, really like? I don't want to get off and go to a meeting feeling really, really stodgy'. So I said right a fresh fruit salad...how can I make a fresh fruit salad exciting? So I developed a fabulous mint and lime dressing, so you get the dressing separately and you pop it in on top of the fruit salad and you shake it, and it's so refreshing."
If you're coming home late after a long day, Clodagh has the perfect thing for you too, "The pastrami sandwich is really a meal in itself". And for those of you jetting off on holiday, "When you're going on holidays you really want a cheeseboard don't you? And a glass of wine? Every time we'd taste something or look back on the menu I'd imagine that I was sitting on the plane in different scenarios and tried to make sure there was something for everyone."
Using Irish produce for Clodagh's Kitchen was very important to Clodagh and Aer Lingus, "We both wanted to make sure we were really representing Irish produce on the menu so that was our starting ground, the roots of the menu, looking for really good Irish suppliers. All of the meats on board are Irish and our beautiful cheeseboards that we have now are from Gubbeen and we have Ballymaloe relish."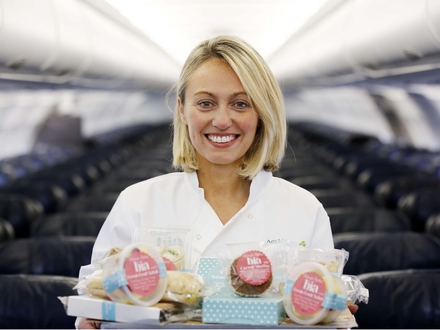 Every menu has it's hero and for Clodagh it has to be the carrot cake muffin, a butter-free light and flavoursome treat baked fresh daily, "I think one of the heroes is going to be the carrot cake muffin which is my number one seller inside in Arnotts so I took that and changed it a little bit and developed it into, I think anyhow, one of the best tasting products on board. Then our fresh scone, we're definitely the first airline in Ireland that's going to have a freshly baked scone and butter on board."
With every venture there are challenges and for Aer Lingus, keeping the price point as low as possible was very important and ensuring customers got good value for money, "Things have to be very price conscious and we've managed to keep all of the sandwiches at €5 which is really fantastic, its good value and even the cheeseboard is €4.50 and for a restaurant standard that's really good value so they were the challenges.
"Then the taste of everything, making sure that, you know when you're dealing with the footfall that comes with Aer Lingus, you have to keep in mind the pallet for everybody, so that there aren't any flavours that are offensive or too spicy on board, and of course smells as well, you can't have things that are too smelly, and nuts, nothing contains nuts."
The menu will change twice yearly with the second menu due to be introduced for summer, "We've already started working on the summer menu, the menu will be changed every 6 months so that's very exciting and we've started working straight away on that menu now."
In addition to Clodagh's Kitchen for Bia range, Aer Lingus are keeping their traditional Irish Breakfast and there will be a children's snack pack available for €4.50 which doubles as a colouring book to keep the kids entertained. A selection of pre-order meals are also being developed by Clodagh that will launch in the coming weeks.
Sinéad Brennan