When we think of Greek cuisine there are always a few dishes and ingredients they immediately pop into our heads - Feta Cheese, Olives, Greek Salad, Moussaka and Gyros are strongly associated with Greece and with good reason, they are all delicious!
I considered creating brand spanking new dishes associated with typical Greek ingredients but I then decided that these classics are that for a reason, so why should they be ignored?

I have decided to take popular Greek dishes and give them a contemporary twist to suit seasonality and a busy lifestyle while still focusing on taste and budgets.

This is the perfect weather for enjoying Greek cuisine as it is fresh, summery and it won't give you a heavy sluggish feeling afterwards.
The first dish is a version of Spanakopita, a very popular Spinach and Feta cheese filo pie.

My version is pretty small individual tarts that are perfect for enjoying as a pre-part/BBQ nibble, and have a variety of fresh Irish garden herbs which bring the summery level up a notch.

Spinach is so versatile, nutrient packed, and as it's in season right now so that makes it the perfect summer light bite!
These are lovely warm or cold, and served with a good old dollop of refreshing Tzatziki, which I like to make with a little fresh Dill thrown in, it works wonderfully with the cold palate of the yogurt.
Spanakopita Tartlets
Serves 12
200g Filo Pastry
100g Greek Feta
3 cups Spinach (Chopped)
1 tsp chopped fresh Parsley
1 tsp chopped fresh Dill
1 tsp chopped fresh Chives
½ tsp Mixed Spice
Zest of ½ a Lemon
75g Butter (melted)
Sea salt and Pepper
Method:
Remove the filo from packet and lay flat. Cut into 4 inch squares.
In a bun/shallow muffin tin, grease lightly with melted butter. Take one sheet of pastry, brush with melted butter and lay another on top. Do this so that you have 3 buttered layers and then place in the buttered shallows of the bun tin. Repeat until you have used all of the pastry.
Place the spinach in a pan over a medium heat and gently cook until it starts to wilt.
Place in a bowl and crumble in the Feta. Add the herbs, spice and seasoning and mix until well combined.
Place a generous spoon in each of the pastry cases, making sure to press down and fill any gaps.
Bake until the pastry is light golden, about 15 minutes at 170'c.
Tip: Try adding sundried Tomatoes for a nice touch of colour.

Layered Greek Salad with Grilled Aubergine
This time of the year is spot on if you are thinking of a Greek feast as many of the frequently used Greek ingredients are in Season here in Ireland.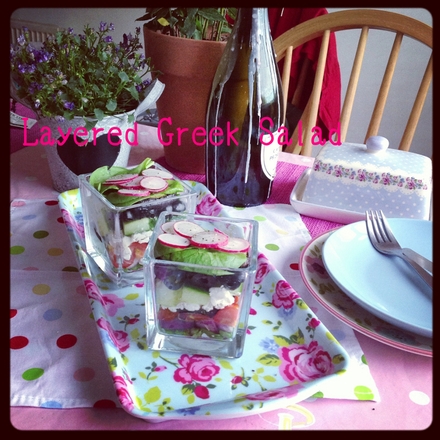 This version of Greek salad is a layered delight, super healthy and visually stunning.
Serves 4
1 medium Aubergine (sliced into rounds)
200g Greek Feta
2 cups chopped Spinach
16 Cherry Tomatoes (halved)
½ a cucumber (Chopped into cubes)
Black Olives- approx 24 (halved)
1 medium Red Onion (chopped into Cubes)
Handful of fresh Parsley and fresh Oregano- Torn
½ bulb of Fennel (shredded)
Olive Oil
Sea Salt and Pepper
Method:
Salt the slices of Aubergine and set aside for 30 minutes to remove water, rinse and pat dry with paper towel.
Heat 1 tsp olive oil in a pan over a medium heat and cook slices for 3 minutes on each side. Set asice to cool.
Toss the fresh herbs through the tomatoes.
After chopping all the veggies, season with salt and pepper then layer in a desired way, placing a slice of Aubergine after 2 layers of veggies.
Chill well before serving.
Tip: A simple dressing of Olive oil, chopped oregano and lemon juice is perfect if you enjoy a dressed salad.

Greek Oregano and Lemon marinated Lamb skewers
Lamb is THE meat of Greece, with Souvlaki being my favourite way of enjoying it.

Marinated and skewered, beautiful juicy chunks of Irish lamb are transformed into a Mediterranean melange of sensational taste.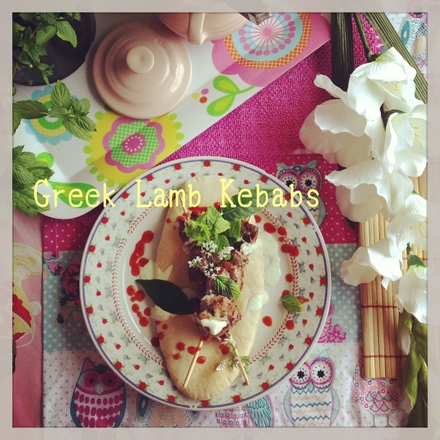 Because we are blessed to have such high quality Lamb in Ireland, I have chosen not to over complicate the marinade too much, so as to let the meat shine the way it should.
700g Diced Lamb leg
50ml Red wine
50 ml Olive oil
2 tbsp chopped fresh Oregano
1 tsp chopped fresh Sage
1 tsp Chopped fresh Parsley
Zest of 1 lemon
3 cloves of Garlic (crushed)
Sea salt and Black Pepper
Method:
Mix all of the ingredients together and toss the lamb through.
Place in a non-metallic bowl and marinade overnight in the fridge.
Skewer the meat onto metal or soaked bamboo sticks and bbq or grill for about 3 minutes on each side.
Cover and set aside for 3 minutes after cooking to rest.
Enjoy with Pitta bread and Tzatziki.

Tzatziki
It doesn't get much more Greek than Tzatziki! A bit of a catch to pronounce the first time, this tongue twister tingles the taste buds with cool mix of Greek yoghurt and Cucumber with a fresh kick of Mint thrown in.

This is a perfect accompaniment to Lamb as it works well to compliment the richness of the delicious meat. It is also delicious tossed through a salad or used as a dip for crudités.
Serves 4
200ml Greek Yoghurt
2 tbsp Chopped Mint leaves
1 tsp chopped Dill
3 inch piece of Cucumber
Zest of 1 lime
Juice of ½ a lime
1 small clove of garlic (minced)
Sea salt and cracked black pepper
Method:
Slice the cucumber in half and de-seed. Chop very finely.
Place all the ingredients in a blender and blitz for 10 seconds.
This is best made the day before so that it can infuse in the fridge overnight. Serve cold.
Ethna Reynolds is an Award Winning Chef, Food Blogger and Burlesque Performer living in Sligo.
Ethna runs Food Blog 'Ethna Cooks Everything- The Burlesque Chef' which contains a tasty melange of tried and tested recipes, food and restaurant reviews and she also happily takes requests for special dietary requirement recipes.
Ethnacookseverything.com
Twitter- @BurlesqueChef
Facebook: https://www.facebook.com/pages/EthnaCooksEverything-The-Burlesque-Chef/346840968720113?ref=hl