The search is now on to find Kilkenny's community that best highlights a culture of food appreciation, education, and training.
Among the prizes on offer to the winning town will be €500,000 worth of grant aid for capital works, €100,000 towards food related training and education programmes, €75,000 towards marketing costs under the 'Town of Food' brand, among other costs and expert support.
Former Dragon on RTÉ's Dragon's Den, Bobby Kerr, heads up the expert judging panel. The Kilkenny-born entrepreneur owns the successful Irish coffee chain, Insomnia.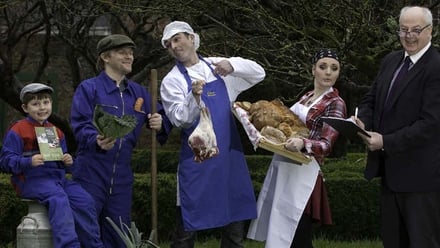 Kilkenny LEADER Partnership CEO, Declan Rice, explains "How a county or region values the role of food in its society is important".
"The 'Town of Food ' competition represents an opportunity for business, community and voluntary sectors to work together and reap the benefits of an integrated food development plan," Rice adds.
The stipulations for entry include:
The town/village must have at least a population of 500
Draw up a plan and vision for their 'Town of Food', explaining their food-related buildings and training programmes
Show how they will integrate their local food culture with their tourism efforts
Develop a commercially viable business plan to oversee the project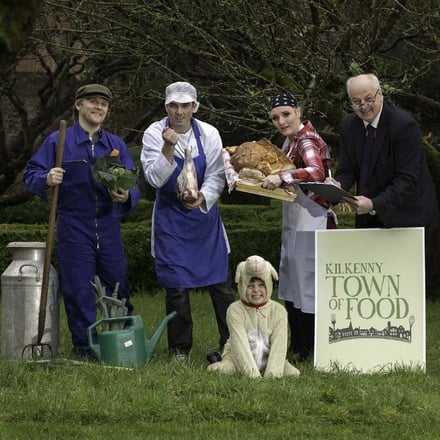 The butcher, the baker and the great coffee maker! L-R: Farmer David Brydone, butcher Jason Paul Ryan, Ted Donohoe (farmer's son, aged 5), baker Emily Mulally-Trotman and head judge Bobby Kerr. Picture (c) Dylan Vaughan
Bobby Kerr praises the passion of the people of Kilkenny towards food production and consumption: "Kilkenny food producers, manufacturers and consumers are very passionate about their food. The food culture here continues to grow and we have been setting the standard nation-wide".
The closing date for expressions of interest is February 6 and the final day for submission of application forms is February 27. The winner will be announced on March 6.

"Competition will be intense but we're no strangers to intense competition in Kilkenny," Mr Kerr added.
For more, check out www.cklp.ie