There are currently 126 organic producers in Co. Cork producing organic foods including meat, vegetables, eggs, smoked salmon, mussels, fruits and juices, herbs, seeds and teas, yoghurts, cheeses and honey.
Cork has a very strong organic food heritage and some producers have been winners of the National Organic Awards including Murphy's Irish Seafood, who won Best Organic Export Product, and Cisti Gugan Barra who won Best Organic Sweet, Flour and Chocolate Confectionary.
To celebrate, throughout November, Bord Bia is featuring information on organic food in Cork on Facebook where consumers can find local information about organics and enter a competition to win a hamper of organic food worth €250!
Mel O'Rourke was recently appointed as Chairman of Organic Focus, a new national group which aims to act as a driving force for the development of the Organic Sector in Ireland. He said "Cork has many local traditions in food and a strong history in farming. Considering their past successes in the National Organic Awards it is unsurprising that the county produces some of the finest organic foods".
"This campaign is encouraging consumers to learn more about organic foods and aims to create a stronger awareness of producers of quality organic produce and outlets selling organic foods in the county".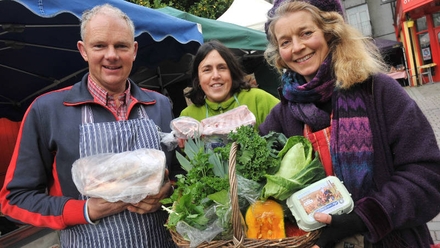 Martin and Philomena O'Leary, Organic Lamb producers from the Beara Peninsula with Sara Devoy from Devoys Organic Farm in Rosscarbery, West Cork
Organic foods are increasingly available in mainstream supermarkets but also can be purchased through organic box schemes, farmers markets and fresh food stores. For information on organic retailers and producers in Cork, please find a list in the notes to the editor. Organic produce is also sold at the following farmers markets in Cork:
Cork Farmers Markets Selling Organics:
• Killavullen Farmers Market, Killavullen – every 2nd Saturday from 10.30am – 1.00pm
• Macroom Country Market, Macroom GAA Hall – Tuesday from 10.45am – 1.00pm
• Mahon Point, Thursday from 10.am – 3.00pm
• Coal Quay Market, Cornmarket Street – Saturday from 9.00am – 2.00pm
• Mallow Farmers Market, Fridays from 10.00am – 1.00pm
• Bantry Famrers Market – Fridays from 8.00am-2pm
• Skibereen Farmers Market – Saturdays from 9.00am – 1.00pm
• Schull Famers Market – Sundays from 9.00am – 2pm
• Clonakilty Farmers Market – Fridays from 9am – 2pm
• Bandon Farmers Market – Saturdays from 9.00am – 2.30pm
• Douglas Court Shopping Centre – Saturdays from 9.00am – 2.00pm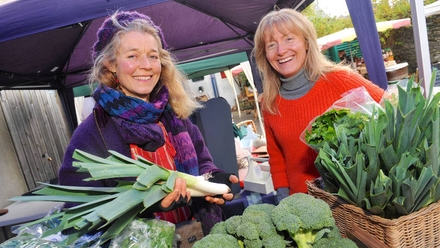 Sara Devoy from Devoys Organic Farm in Rosscarbery, West Cork with Michelle Ryan from Clonakilty pictured at Clonakilty Farmers Market, Co Cork
Organic food is produced using farming methods which are environmentally friendly and incorporate sustainable production practices, respectful use of the countryside and concern for animal welfare. Since July 2012, all pre-packaged organic food products in Europe which meet organic standards carry the "Euro-Leaf" EU organic logo. This helps identify the place of farming eg 'IE' means that it has been produced in Ireland.
There are currently 1,695 registered organic operators in Ireland with 52,390 hectares of land being used to produce organic foods.
Bord Bia is also encouraging any organic retailers, producers or farmers markets selling organic food not included on the Cork listing to send their information to organics@bordbia.ie.
For further information on organic production visit: www.bordbia.ie/organicfood