The beer is officially launched today to coincide with the announcement of the inaugural Doolin Craft Beer Festival on August 24-26th.
Some of the actors from fictional pub McCoys on Fair City were on hand to launch the Irish Red Ale.
Master brewer Cuilan Loughnane has brewed the taste especially for Fitzpatrick's Bar, Hotel Doolin, but the tipple is also available at the Armada Hotel, Spanish Point, which is Doolin's sister property.
Donal Minihane, general manager at the Hotel Doolin, says "as with the food we serve in our restaurant and bar we also feel that we should be supporting indigenous suppliers when it comes to beers and there is no shortage of quality there.
"We stock a large range of Irish Craft Beers in Fitzpatrick's Bar and we have seen a great response from our customers particularly our foreign guests who want to sample local beers rather than beers they can get in their own country".
"Following on from this we developed our own beer 'Dooliner Beer', which has proved extremely popular with both locals and tourists alike... customers want to know where the beer comes from, what's in it, how it is made and the history behind it."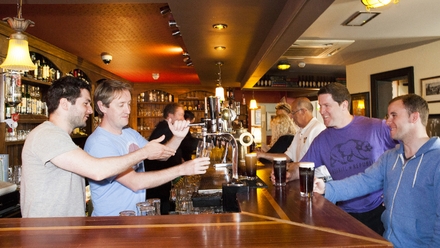 Cast members from Fair City launch Dooliner. Sam O'Mahony (plays Finn McGrath), Victor Burke (Wayne Molloy), Maclean Burke (Damien Halpin) and David O'Sullivan (Decco Bishop). Image David Olsthoorn
Hotelier John Burke spoke at the launch about the importance of the upcoming festival "this is the first time a festival like this will be held outside of Dublin and is a great opportunity for Doolin".
The event aims to feature 15 different beers from the best micro-breweries in Ireland, which will "showcase the best of Irish Craft Beers" he added.
"It is also a great fit for Doolin as the village is nationally and internationally renowned for its famous pubs and music. We hope that the event could become an annual event and that it becomes synonymous with Doolin in much the same way as the Oyster Festival in Clarinbridge" Mr. Burke concluded.
The annual Doolin Craft Beer Festival will take place on the grounds of Hotel Doolin from 24-26 August 2012. Further information is available from www.hoteldoolin.ie or +353 65707411.