Calling all bakers, food enthusiasts and cupcake aficianadi, the time of year has come for you to take your arsenal of whisk, mixer and piping bag and test your skills, in the quest to become Ireland's best cupcake maker
Dr Oetker have returned with their annual Cupcake Challenge and this year the competition will see bakers across the country compete to win a prestigious trip to the home of the cupcake, New York City.
From now until June 30th, get baking, piping and, of course, taste-testing, your favourite cupcakes and enter them into the home of the cupcake challenge on cupcakechallenge.ie There is no catch for this competition, simply bake and design your best cupcakes, using at least one Dr Oetker product, and try your luck at winning the title and trip!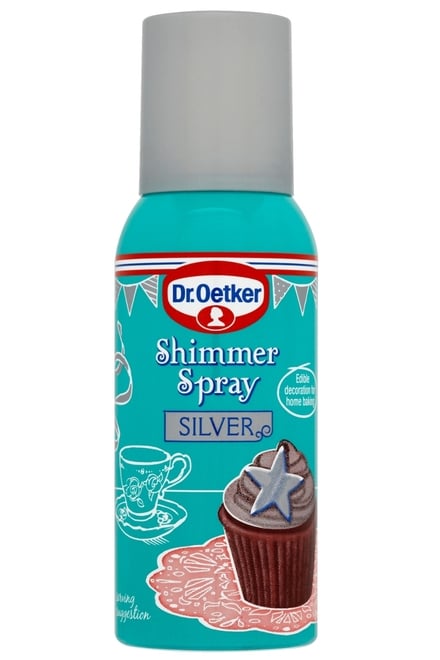 Dr Oetker's new edible shimmer spray, which comes in both silver and gold to decorate your cucpcakes with!
With a vast array of products available in all good supermarkets, Dr Oetker has all your baking essentials covered. Use marshmallows, sprinkles or chocolate moons & hearts to decorate your cupcakes. Lace your indulgent cupcakes with Dr Oetker fudge pieces, and you can even now use their brand new gold or silver glitter spray and their easy swirl, vanilla cupcake icing!
Baking fanatic, model and Celebrity Come Dine With Me Ireland winner Roz Purcell is pictured celebrating the return of Dr. Oetker's Cupcake Challenge.
The competition calls on budding home bakers nationwide to stir up a storm in the kitchen! The baker who shows the most creativity in their cupcake wins a fabulous holiday to the home of the cupcake, New York. Keep checking back for our latest cupcake recipes on our Dr Oetker page throughout the duration of the competition.
For recipes, baking inspiration and handy tips, log onto the website or check out the company on Facebook and on Twitter (@droetkerbaking).
We are on Twitter too if you want to get involved and join the conversation, we would love to see your cupcake designs, so come say hello @rtefood.