By a stroke of good fortune, Kathryn Thomas was in the presenter's chair on The Ray D'Arcy Show on Monday, March 20th, where she was, no doubt, the envy of many thousands of women across the country.
Right in front of her, on display from auctioneer Martin Nolan, was a collection of jewellery worn by some of the most legendary screen icons of the 20th century, including a stunning necklace worn by Vivien Leigh and other pieces of jewellery worn by Grace Kelly, Elizabeth Taylor, and Clark Gable.
We need your consent to load this Facebook contentWe use Facebook to manage extra content that can set cookies on your device and collect data about your activity. Please review their details and accept them to load the content.Manage Preferences
On top of that, the collection included two sets of gorgeous earrings which graced the ears of none other than the 20th century's most iconic screen goddess, Marilyn Monroe.
"The Marilyn Monroe earrings, we've two sets here from Some Like it Hot and Gentleman Prefer Blondes."
"We estimate them between 30 to 50 thousand per pair but we've sold Marilyn Monroe's earrings over 200K… just for costume jewellery, which is amazing. The real collectability is in the person that wore them."
Despite these extraordinary valuations, the jewellery, which you can see up close in the video above, is notable for its complete absence of valuable gemstones. No diamonds, no rubies, no pearls.
Instead, they were designed by movie jeweler, Eugene Joseff, whose stature as a jewellery designer for some of the most timeless Hollywood classics matches the movie stars who wore his pieces on screen.
All of the pieces in the clip above and more will be on display at the Museum of Style Icons at Newbridge Silverware from now until May 20th, after which they will continue their tour of the world before being auctioned in November in the United States.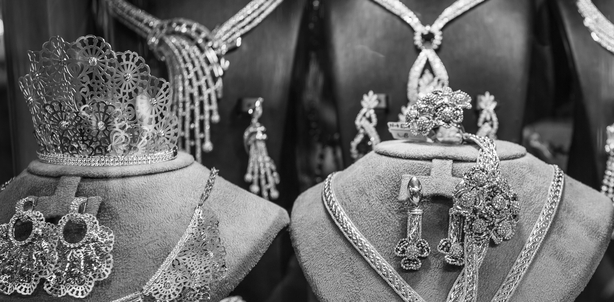 If you want the full story, and the story about how the auctioneer, Martin Nolan, made his journey from a village outside Athlone, Co Westmeath, where we grew up, to becoming a partner in the world's most renowned celebrity auction house, Julien's, take a dip into the video above.
And just in case you are wondering about Martin's credentials, he's the man who sold Marilyn Monroe's rather revealing 1962 "Happy Birthday, Mister President" dress for a world record $4.8 million, as well as the red leather jacket worn by Michael Jackson in the epic video for the single, Thriller.
Quite the pedigree, I'm sure you'll agree.
This interview was first broadcast on Monday 20th March on The Ray D'Arcy Show. You can listen in full by clicking here.