RTÉ's live award-winning farm show Big Week on the Farm is back for a third series – and this time, it's heading to Co Waterford!
Next week, Ella McSweeney and Áine Lawlor will present the live show at 7pm each night from a purpose-built studio on the fields of a dairy farm overlooking Dungarvan Bay.
Last year, farmer Patrick Shalvey and his family, from Cootehill, Co Cavan, hosted the show.
This year, it's the turn of farmer Gillian O'Sullivan, who along with her family – her husband Neil, and their children Fionn (6), Hannah (4) and Tim (2), will help audiences understand farming in the 21st century.
The O'Sullivan family have been farming for generations – and Gillian's father and mother Marianne and Michael Wall are still heavily involved in the farm.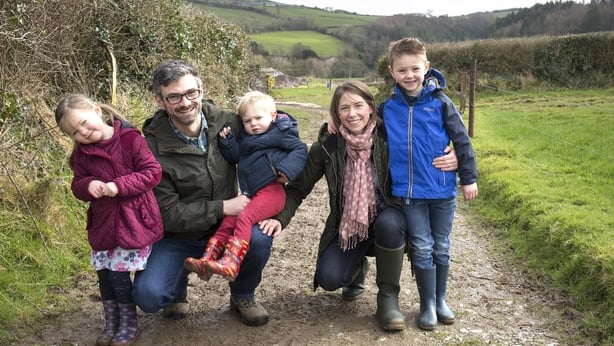 In unique and beautifully filmed footage – and with the help of animal behaviour experts, hidden cameras and drones, the O'Sullivan family will learn about the covert lives of some of Ireland's most fascinating wild animals.
Meanwhile, location presenters Darragh McCullough and Helen Carroll will be broadcasting live from ten different farms across the country – and helping us shed light on what it's like to farm in the 21st century.
Will farms of the future be inhabited by a selection of robots and artificial intelligence?
And following on from the huge success of last year's Big Week on the Farm sheep-shearing Guinness World Record, this year's team will be hoping to break more records.
From calving to lambing and laying, Big Week on the Farm will provide the nation with real-time access to the incredible lives of Ireland's farm animals and farmers. Don't miss it.
Watch it at 7pm every night from Monday April 9th to Friday 13th on RTÉ One.