Last June RTÉ Learn linked up with our friends at the Irish Second-Level Student's Union (ISSU) to bring you daily exam diaries. Now, we hear from some of this year's contributors to see how it all panned out.
We have video diaries from Eleanor McCahill up top, Jamie Mac Giolla Bhain below and the ISSU President, Caitlin Faye Maniti, has shared her personal reaction and a message in her new role.
Caitlin writes...
With my exam number and my password at hand, I logged into my candidate self service portal this morning. I had kicked my parents out of my room, so they were eagerly waiting by the door. I took one deep breath and pressed the login button. The symbol of completion from a tough six years of secondary school was on my screen. The squeal of excitement was enough confirmation for my parents to know that I was okay.
After many sleepless nights, I'm so relieved that I have received my results and can start a new chapter. I was delighted with my results and hope to study Entrepreneurship in Maynooth university in the coming months. The class of 2022 have many other hurdles yet to face with regard to accommodation, fees and the cost of living, but I'm confident that after such a difficult journey we will get through these challenges too.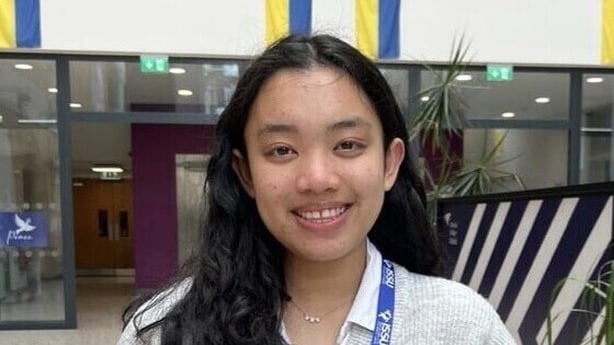 Leaving Certificate class of 2022

A Chairde,

As the President of the Irish Second-Level Students' Union (ISSU), I would like to congratulate every single one of you on your results. No matter how many points you have achieved, know and understand that we have just gone through one of the hardest exams that we are ever going to face in our lifetime.

We did that, all while going through very uncertain times. It was a bumpy road to say the least and however long it took we have finally crossed through the finish line. So keep your head up high and be proud of the journey that we have faced together. I wish you all the very best as you all take the step into the next chapter of your life.

Go raibh mile maith agat,

Caitlin Faye Maniti

ISSU Uachtarán
Press play below to see Jamie's thoughts on how it went.
Anyone with any questions can contact the ISSU at leavingcert@issu.ie and can see a list of supports at www.issu.ie/help
They can also contact the National Parents' Council Post-Primary (NPCPP) leaving cert helpline on 1800 265 165.
Click here for some great advice and tips from the Institute of Guidance Counsellors!