There were over 130 worlds created and thousands of hours of work put in by young people all over the country for the Ireland's Future Is MINE...BUT we can finally reveal the four provincial winners PLUS the submissions who have achieved highly commended status!
RTÉjr and their friends at Microsoft Dream Space asked you to harness Minecraft Educational Edition to redesign your locality in a more sustainable way and we were blown away by what we saw.
But, we should take a moment to say well done and thanks so much to all the teachers and pupils who signed up and submitted their work. If you availed of the 120 free accounts, you still have access to Minecraft Education Edition for the rest of the term!
Sign up for the Dream Space Newsletter so that you hear about all the future Minecraft: Education Edition LIVE events the team will be running – www.aka.ms/dreamspacenews
Get your Completion Cert here for Dream Space TV!
It was so hard to pick who would go on in the competition but let's get to it:
Connacht Champions - St Hugh's, Dowra, County Leitrim
Leinster Champions - Moyvore Primary School, County Westmeath
Munster Champions - St Brigid's Primary School, Midleton, County Cork
Ulster Champions - St Michael's, Rackwallace, County Monaghan
On 21 and 22 March, the Ireland's Future Is MINE Semi-Finals took place on site in Microsoft Ireland's Dream Space in their headquarters in Dublin.
Click here to find out who made it to the Final and who will appear on the e-Sport extravaganza which will be on RTÉ TV this summer!!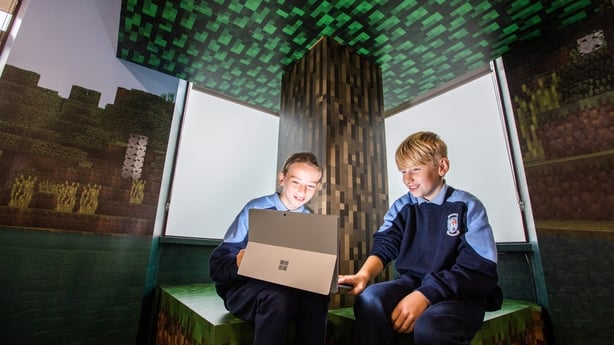 And the following schools will also receive a trophy and other cool goodies to say well done and to recognise their amazing work as highly commended entries!
4th, 5th & 6th Class, Faughart Community National School, Louth.
6th Class, Rush National School, County Dublin.
5th & 6th Class, St Patrick's National School, Loch Gowna, County Cavan.
6th Class, St Clare's Convent National School, County Dublin.
5th Class, St Marys Primary School, Edenderry, County Offaly.
5th Class, Scoil Moibhi, Skerries, County Dublin.
4th, 5th & 6th Class, Clontuskert National School, County Galway.
6th Class, Loreto Junior School, St Stephen's Green, Dublin.
6th Class, Scoil Chearbhaill Uí Dhálaigh, Leim An Bhradáin, Cill Dara
5th Class, Ballycanew National School, County Wexford.
4th & 5th Class, Ardagh Boys National School, Rosscarbery, County Cork.
5th Class, St Paul's National School, Navan, County Meath.
4th Class, Breaffy National School, County Mayo.
6th Class, Scoil Naisiunta Muire, Rampark, County Louth.
5th Class, Bishop Foley Memorial School, Carlow.
Rang a 5, Gaelscoil Riabhach, County Galway.
We know that everyone had a great time building, learning and exploring with the help of Amanda and Corey, so we should all give them a virtual round of applause too!!
You can always keep an eye on Ireland's Future Is MINE for more news as we head for the Grand Final and to review everything you have learned.