The Ireland's Future Is MINE competiton is down to the last four. We have our Provincial Champions but everyone at RTÉ and our friends at Microsoft Dream Space, we just wanted to say THANK SO MUCH AND WELL DONE!
A special thanks to Amanda and Corey who were a big hit with all the schoolchildren as they guided them through the world of Minecraft: Education Edition.
We have been blown away by the incredible creations that have been built in primary school classrooms across the island of Ireland since September 30th.
Click here to see the All-Ireland semi-finalists!
Have a look at some of the things you will have learned on the journey and don't forget you can look back on all the Dream Space TV episodes with Amanda and Corey HERE!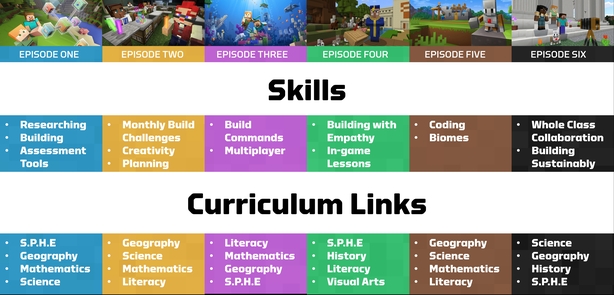 So, what's next?
Even if your school did not enter the competition there was lots of amazing work done in classrooms.
If your school has completed this series of Dream Space TV, download your certificate of completion so that your students can be recognised for all the hard work they have put in over the past six episodes and the trojan work that was put into their Ireland's Future Is MINE builds.

Stay tuned to find out who the Ireland's Future Is MINE provincial winners are and be sure to cheer them on as they enter the final in April 2022.
If you would like to keep up to date with other educational experiences and resources from Dream Space, be sure to sign up to this newsletter. 
Keep on building! Over 900 teachers from across the island of Ireland availed of free Minecraft: Education Edition accounts from our www.IrelandsFutureIsMINE.com website.
These accounts are going to remain active and useable until the end of the academic year. Keep an eye on @MS_eduIRL, our Twitter, for potential Minecraft: Education Edition live events from the Dream Space team over the coming months.
Once again, a huge thank you from everyone at RTÉjr, the Dream Space crew, and the Minecraft: Education Edition team for getting involved in this project.
If you have any questions get in touch with Dream Space here.