The final episode of Dream Space TV is here which can only mean one thing - the Dream Space crew are here to tell you all about the Ireland's Future is MINE competition!!
Everything has been building up to this - We want your class to build a greener (sustainable) version of your local community!
In this episode Amanda and Corey look back on how much we have learned - not just with Minecraft: Education Edition but also across all the other subject areas too.
AND they look ahead to the All-Island competition, they tell you what our judges are expecting and give you some insider tips to keep in mind when preparing your build and video entry.  
Keep an eye on RTÉ Learn as we will be telling you more about how to submit your entry very soon. You won't need to upload before the start of December so the main thing now is to plan and start your build.
AND HAVE FUN!!!
But first, download the student activity sheet for the final lesson below...

For teachers in the Republic of Ireland don't forget to download this TEACHER GUIDE and the CURRICULUM GUIDE.
AND for teachers in Northern Ireland download the TEACHER GUIDE and the CURRICULUM GUIDE.
If you have any questions related to using Minecraft: Education Edition, this episode of Dream Space TV or about saving the work you and your class are doing, be sure to head over to our support page HERE.
AND don't forget it's not too late to sign up here - www.irelandsfutureismine.com
Check out some this handy guide that gives you some help as you plan your build...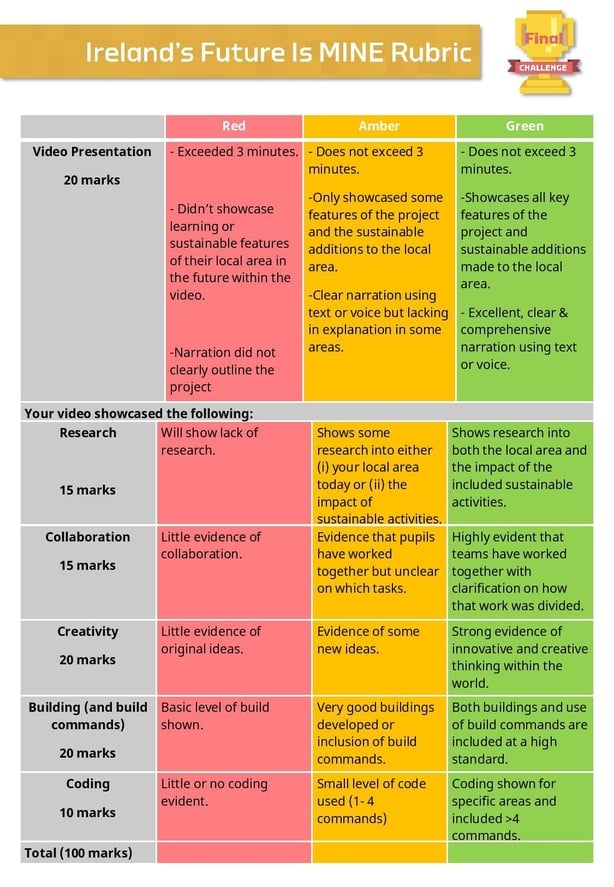 THIS IS GOING TO BE GREAT!!!