Is it stretching a pun to the say the excitement is BUILDING UP after Ireland's Future is MINE launched last week!?
Read all about Ireland's Future Is Mine here!
This is a joint initiative between RTÉjr and Dream Space using Minecraft: Education Edition as an educational tool to engage school communities in both the Republic of Ireland and Northern Ireland.
If they can dream it, they can build it and when we combine the fun of Minecraft EE with teaching and learning. Everyone is ready to learn, ready to to build and to have fun while doing it.
Dream Space TV on RTÉ Learn is here to help!
From Episode One on Thursday, 30 September right through to Episode Six on 11 November, each week there will be a new learning experience which supports teachers and pupils on learning new skills, mining new knowledge and building their craft.
And when the Dream Space TV episodes are done, you certainly won't be, because RTÉjr, Dream Space and Minecraft: Education Edition will provide all primary schools involved something to aim for! A goal!
The chance to be the best. To build the best and to work together. So keep tuning in, learn new skills, try something new and apply your new knowledge to build a better world for all and remember our motto: The world is yours. The future is MINE.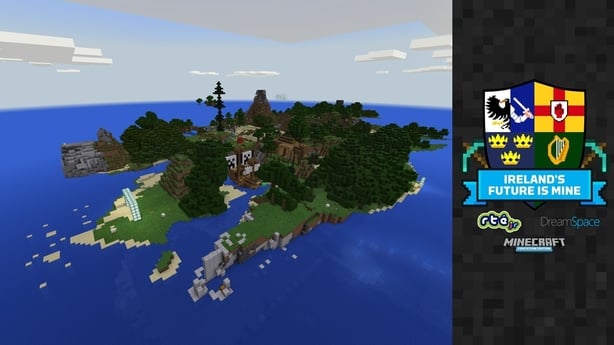 What do I need to
If you are a school in the Republic of Ireland, make sure to use the unique code sent to you by post to claim your free Minecraft EE accounts at irelandsfutureismine.com.
If you are based in Northern Ireland, get your devices and C2K accounts at the ready because Dream Space TV is en route to support you on this learning journey.
On Thursday, 30 September, the first of six Dream Space TV episodes will be here on RTÉ Learn for you and your pupils to watch, participate and learn from.
Want to get a head start...?
Why not check out our full teacher guide for the Republic of Ireland HERE
AND the curriculum guide HERE
If you are in Northern Ireland, check out our teacher guide HERE
AND the curriculum guide HERE
Equipment at the ready!
Download Minecraft: Education Edition onto your devices in school, print off the pupil resource sheets HERE and mark 30 September on your calendar!
Let us know you are taking part on your social channels by using the #IrelandsFutureIsMINE
Microsoft Dream Space was developed and launched by Microsoft Ireland in 2018 to provide immersive, research-based STEM experiences for students and teachers to enhance their STEM skills alongside crucial social-emotional skills such as empathy, creativity, ethical decision making and collaboration.
Ireland's Future is MINE is a joint initiative between RTÉjr and Microsoft's Dream Space.