Film fans, are you ready to make your own movies??
Well, the FÍS Film Awards are open for submissions right now. Primary schools in the Republic of Ireland have until Monday, 27 June to make their final cut!
The films have to be less than five minutes and you can find out all about the guidelines and how to enter at the official website - fisfilmproject.ie/competition
Whether you are a newcomer to FÍS or want to refresh your skills before embarking on a new film making project with your pupils our comprehensive suite of resources will support you.
Check out the resources for teachers here!
Judging Criteria Highlights
Imagination and creativity
Originality of the story
Curricular relevance (include details of subject/strand/strand unit where relevant)
Support of pupils' literacy and/or numeracy skills development
Excellence in set design, costume design, film direction, film production, the use of sound, acting, cinematography, etc
Excellence in the art of storytelling
Excellence in the use of special techniques, eg animation or special effects
Excellence in visual interpretation of a story or concept
Cuirfear faílte ar leith roimh scannáin as Gaeilge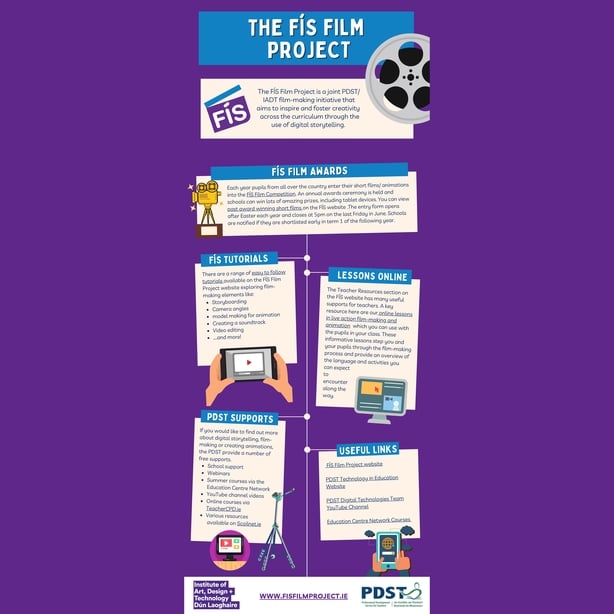 All entries will be acknowledged via email, judging will take place in early Autumn. The shortlist will be announced before the end of September.
Following this competitive process shortlisted schools will be invited to a 'red carpet' event at the Helix Theatre, Dublin for the National FÍS Film Awards Ceremony.
Each year over 900 school children attend the prestigious ceremony which is filmed and broadcast via live stream by students from the Institute of Art, Design & Technology's (ADT) National Film School.
Check out last year's winners here!
About FÍS Film Project
The FÍS Film Project is an initiative of the Department of Education managed by Institute of Art, Design & Technology's FÍS Office and the Professional Development Service for Teachers (Technology in Education Dept.)