The 16th annual FÍS Film Awards Ceremony took place on Friday, 19 November and it was an amazing celebration of the next generation of film makers!
The event was hosted by RTÉ's Sinead Kennedy, with special guest Minister Norma Foley TD, and it celebrated the work of over 1,500 pupils.
It was hosted virtually due to COVID but the full ceremony will be available to watch HERE very soon!
The Aileen MacKeogh Film of the Year Award 2021 went to film titled 'The Son of the Grabber' made by pupils from St Hugh's National School in Leitrim.
The 54 pupil, three-teacher school also received the award for Best Direction for their Irish folklore film. A story, from their parish of Ballinaglera, is about a journey taken in the dead of night and the events surrounding it.
It was a unanimous decision by the judging panel to award film of the year to The Son of the Grabber.
Some other 2021 winners included:
Shortlisted films throughout Ireland battled it out for the contest with the judging panel shortlisting just 18 films.
Counties represented across the award-winning films include Limerick, Donegal, Dublin, Galway, Kerry, Laois, Leitrim, Waterford, Cork, Sligo, Wicklow, Kildare and Tipperary.
This year saw a variety of awards up for grabs with accolades for Outstanding Achievement in Film Making for: Costume Design, Sound Track, Adaptation, Special Effects, Best Newcomer, Best Junior, as well as awards for curriculum relevant films that included subject areas such as History, Science and COVID-19.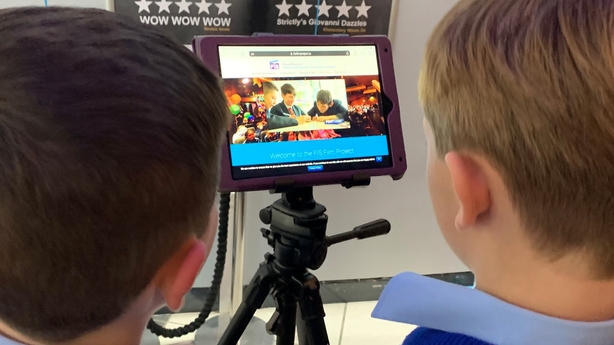 More of this year's shortlisted films can be viewed on the FÍS Website HERE!
And you can download the full list of winners HERE!!
The FÍS project is there to introduce and lead pupils, often as young as six and seven, through the filmmaking process.
The award ceremony will be filmed and broadcast by third level students from the IADT's National Film School, MA in Broadcast Production for Radio & TV to provide them with hands-on professional and practical experience.
Post-production of the awards is produced by students on IADT's BA in Film & TV programme.
To find out more about the FÍS Film Project go to their website HERE!