Féach timpeall. Cad atá ann? Cé atá ann? I ndáiríre. Timpeall orainn, tá daoine lena saol féin, lena scéal féin, lena scáth féin.
When we really look around us, and try to understand the perspective of others, we can be very surprised by what unfolds right before our eyes.
Samhlaigh domhan eile ar fad, áit a bhfuil an teanga taobh tuathail amach agus an saol bun os cionn. Ní thuigeann tú an bia, an ceol, an t-airgead…conas is féidir leat teagmháil a dhéanamh nuair atá tú féin trína chéile? Ach b'fhéidir go bhfuil níos mó cosúlachtaí ná mar a shíltear, nuair a osclaíonn tú do shúile - agus do chroí…
Can you imagine being in a strange world where everything seems foreign - where you can't figure out the food or the music, never mind the language? How are you supposed to connect with others when it's all so confusing? But perhaps there are more similarities than it seems, if you can open your eyes - and your heart...

Is beochan nua é Timpeall, cruthaithe ag Graffiti Theatre Company agus Jane Lee, ag féachaint ar an draíocht a thagann as teagmháil cineálta le duine eile, agus súile oscailte an pháiste. D'fhás an beochan neamhspleách seo as léiriú nua amharclainne de chuid Graffiti, dar teideal Trasna.
Níl ann ach cúig nóimead álainn i gcuideachta na gcarachtar seo, a thugann faoi deara gur féidir leo ceangal agus cumarsáid a dhéanamh le chéile, in ainneoin a gcuid difríochtaí. Ag úsáid fíor-bheagan teanga (Gaeilge agus teanga nua-chumtha an domhain spéisiúil seo), spreagann an beochan chun cainte muid.
Tá acmhainní ann as Gaeilge a bheidh oiriúach do pháistí 8+ sa seomra ranga nó sa bhaile: ANSEO!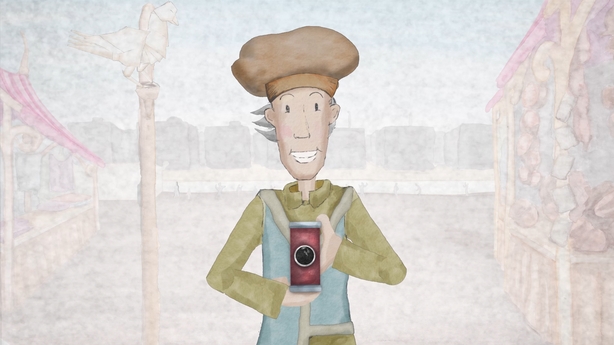 Timpeall is a new short animation created by Graffiti Theatre Company and Jane Lee. The animation emerged from Trasna, a new theatre production by Graffiti. It explores the magic that grows from moments of kindness between people, and the wide-eyed perspective of a child.
It is just five minutes of gentle adventure with these characters, who come to understand that connection and communication are possible, against the odds. Using minimal language (Irish and the imagined language of this strange world), the animation itself inspires communication.
Timpeall is accompanied by a resource pack of activities English which are suitable for children aged 8+ in the classroom or at home.
You can download the resources here: English resources
This project was made possible by the generous support of Foras na Gaeilge, The Arts Council and the Arts Office of Cork City Council. The team at Graffiti is delighted to share this animation with you!
You can find out more about Graffiti's work with children and young people at: www.graffiti.ie.