Ever wondered how you can turn a bucket upside over your head and not get wet?
Join the StrongWomen Science team, scientists-turned-circus performers Aoife Raleigh and Maria Corcoran, to learn the science behind the tricks at home.It's all in their new film launched for STEPS Engineers Week.
Have a look at the video 'How to Use Engineering to Make Stuff' up top!
StrongWomen Science are dedicated to using their astounding circus tricks to explain how science works. Aoife is an electronic engineer and she uses her engineering expertise and circus skills to make even complicated ideas and processes simple and fun.
Fans of After School Hub might recognise Maria too. She was on the show showing us some cool tricks and you can catch up on them all HERE!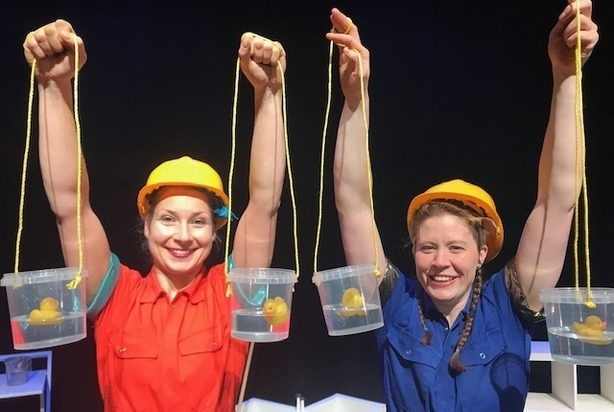 Why not try this fun activity sheet! CLICK HERE TO DOWNLOAD
You will need to do this outdoors as there is water and a lot of movement involved!!
AND to celebrate International Women's Day next week you can join them for a special free event with thanks to Tallaght Libary on 8 and 9 March!
You will need to register HERE!
The show and workshops were created by Circus250, a Mayo-based circus creation company, and tours Ireland and beyond. Last year StrongWomen Science headlined at the Abu Dhabi Science Festival and won Best Family Friendly Event in the UK, the first science show to ever do so.
This year, the same team won the Bank of Ireland Better Together Arts Award for the county to develop the new circus ecology show Breathe. Circus to Make You Gasp about respiration and recovery.
You can find out more about StrongWomen Science and other Circus250 shows at www.circus250.org.
In the meantime, keep on practicing those circus science tricks!