On World Oceans Day let's meet some of the scientists doing amazing work on the high seas with The Marine Institute in a special live YouTube broadcast.
Just press play above from 10.30am!
Here are the people involved...
David O'Sullivan - Advanced Mapping Services
David is part of the Advanced Mapping Services team at the Marine Institute and Ireland's national seabed mapping programme, INFOMAR. David was offshore Chief Scientist for the SeaRover surveys (2017-2019) which mapped sensitive marine habitats at depths of up to 3000 metres in Ireland's offshore territory using the ROV Holland 1. The SeaRover team mapped cold-water coral reefs, documented new species within Irish waters and discovered a rare shark nursery 200 miles west of Ireland.
Claire Moore - Fisheries Scientist
Claire is a fisheries ecologist, and says she feels more like a detective then a biologist. She works on solving biological puzzles around the health and productivity of our oceans, piecing together valuable information collected at sea, in ports and labs, to produce statistical models that inform our decisions for a sustainable future.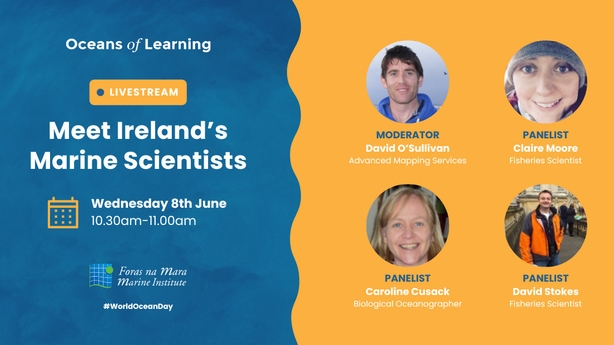 David Stokes - Fisheries Scientist
David is an enthusiastic fisheries scientist with over 25 years' experience in data collection and analysis, both in marine and freshwater. David has worked with the Marine Institute for the last 22 years to run the Irish Groundfish Survey program on the RV Celtic Explorer, which originally started on the Celtic Voyager combined with chartered commercial fishing vessels.
Caroline Cusack - Biological Oceanographer
Caroline leads the Marine Institute's annual ocean climate survey on the RV Celtic Explorer. She is also involved in ocean observation projects that monitor the health of our ocean. Recently she has carried out research related to developing marine ecosystem climate services.
And click here to see more Oceans of Learning.
Learn all about jellyfish here.