Congratulations to Aditya Joshi (15) and Aditya Kumar (16) who took home the top prize at the BT Young Scientist and Technology Exhibition 2022.
Reem from RTÉ news2day caught up with the winners and asked them about their project and what they plan to do next!
The Third Year students from Synge Street CBS clamed the award for their project entitled: A New Method of Solving the Bernoulli Quadrisection Problem.
Their project in the Intermediate section in the Chemical, Physical & Mathematical Sciences category.
They received the top prize of €7,500 and the BTYSTE perpetual trophy.
The young students will now go on to represent Ireland at the European Union Contest for Young Scientists in September 2022.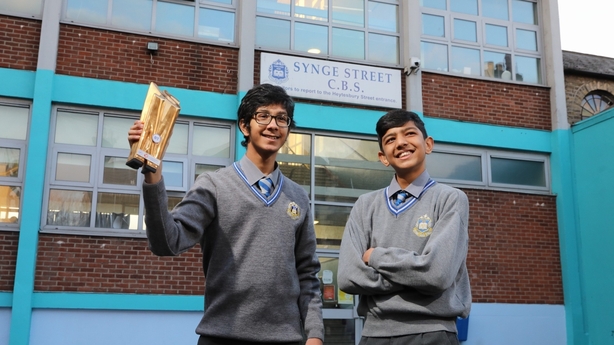 Read Reem's full report here on RTÉ News online.
See more winning projects here as explained by the students themselves.
Tune in to news2day on RTÉ2 and RTÉ Player weekdays at 4.20pm!
And you can catch up on the show on RTÉ Player any time - Click here!!