To perform well at the Olympics athletes need to have the right fuel for their bodies. Here, Team Ireland nutritionist Dr Sharon Madigan tells us about her job, how she got here and the importance of eating well.
Please view this article here, on RTÉ.ie, to watch Sharon's video from Tokyo!
My name is Sharon Madigan and I have worked at Sport Ireland Institute since 2010. This is my fifth Olympic Games with Team Ireland.
For this games I was based initially at the boxing holding camp which was a two hour flight from Tokyo and then I moved to the main holding camp in Fukori City which is a three hour bus journey from Tokyo.
Some of my work is focused around hydration, menu planning, cooling due to the very hot conditions, snacks and travel prep. There's lots of variety!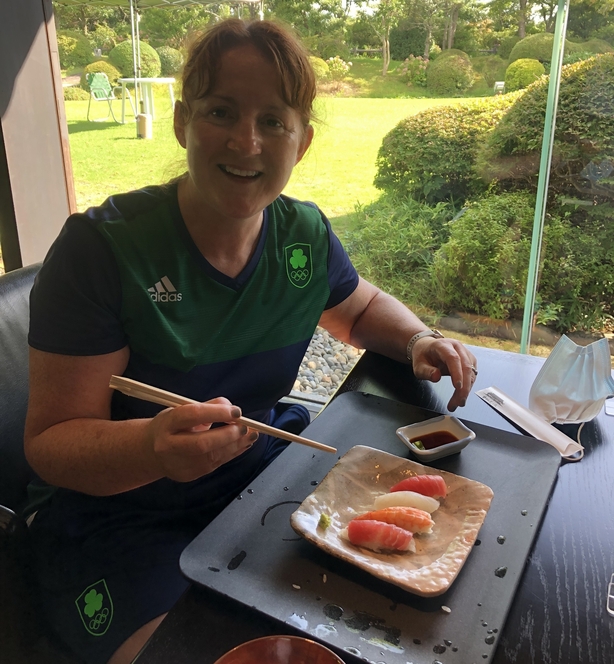 Good nutrition can have a real positive impact on the health and well-being of all athletes which then can have a big impact on performance. I work mainly with rowing, boxing and judo and some athletics. Different athletes have different needs when it comes to their sport.
So, for example judo will be over on one day in the Olympic Games but boxing will last for the full 16 days if the boxer gets to the final.
There are lots of mixed messages out there when it comes to food and what you should eat. One of the key messages I focus on is that food is neither good or bad and one meal or treat is not a problem. It's how you put things together in the long term that's crucial.
When I was at school I really enjoyed the science subjects and I also really enjoyed cooking and food. So a career in nutrition and dietetics really interested me. The points were very high so I didn't go straight to the degree that I wanted but into a general science degree and then to a masters degree in dietetics.
I am now much happier that I took this route as it allowed me to develop lots of skills that I wouldn't have got if I had gone straight into dietetics initially.
I always loved sport. I played basketball, volleyball and Camogie at school and college and other sports like tennis. I continued to play basketball mainly through college and I actually still coach basketball. It was this interest in sport along with my qualifications that took me into specialising in sports nutrition.
Thanks so much to Sharon for taking the time to writing all the way from Japan.
Make sure to cheer on Team Ireland all in Tokyo and follow them on RTÉ TV, Radio and Online.